Writer Lucas Aykroyd spotlights some perfect places to enjoy travel and tourism in British Columbia while sampling craft beer at the same time.
The wait is finally over. It's time to get back out there and explore British Columbia this summer. When you visit BC attractions that offer craft beer, it just makes your sightseeing adventures that much more refreshing.
You'll find great craft beer whether you're visiting BC's lush parks and gardens or its lively museums and art galleries. From iconic hotels and lodges to exhilarating bike rides and wildlife experiences, the BC Ale Trail has got you covered with numerous brews to sample all over this Western Canadian province.
Let's check out 15 British Columbia attractions that offer craft beer from BC. And remember – this is just a little taste!
Note: Some of these attractions do require skill and coordination, so perhaps save the beer for a post-excursion reward, and always drink in moderation.
---
Vancouver
Burgeoning with huge western red cedar and Douglas fir trees, Stanley Park remains Vancouver's most popular tourist attraction. The iconic 1,000-acre urban park bordering the West End is home to herons, beavers, raccoons, and coyotes.
Whether you're strolling around Lost Lagoon, admiring the Lions Gate Bridge from Prospect Point, or biking around the 8.9-km Seawall, you'll naturally work up a thirst. Head to the Stanley Park Pavilion or the Prospect Point Bar & Grill to throw back Central City's Red Racer IPA or Red Truck Beer Company's Blackberry Bourbon Ale.
The Vancouver Art Gallery attracts visitors with world-renowned Emily Carr paintings like Big Raven and Red Cedar and contemporary art exhibitions like Vancouver Special: Disorientations and Echo.
The in-house 1931 Gallery Bistro serves flavourful brews from Four Winds Brewing's tart Nectarous Sour to Bomber Brewing's heavy-hitting Russian Doll Stout. Afterwards, you can explore the recently refurbished Robson Square and šxʷƛ̓ənəq Xwtl'e7énḵ Square, the plaza north of the Vancouver Art Gallery that received a new Indigenous name in 2018.
---
Vancouver's North Shore
In North Vancouver, the 1889-launched Capilano Suspension Bridge offers Indiana Jones-style thrills, including the Treetops Adventure's viewing platforms perched high in the rainforest and Cliffwalk's vertiginous views overlooking the Capilano River.
Catch your breath at the Cliff House Restaurant, whose beer list ranges from Backcountry Brewing's Widowmaker IPA to Off the Rails Brewing Co.'s Czechmate Pilsner.
Just up the road from the Capilano Suspension Bridge, Grouse Mountain offers an awesome athletic challenge with the Grouse Grind, a steep 2.9-km climb that takes most hikers an hour and a half.
Even if you opt to ride the Skyride aerial tramway 1,610 metres to the summit, you'll likely be in the mood for liquid refreshment after checking out the lumberjack show, the Eye of the Wind turbine, and the wildlife refuge with wolves and grizzly bears. You'll definitely need some fluids if you go mountain biking or ziplining at Grouse Mountain.
On the Altitudes Bistro patio, enjoy a spectacular panorama of Metro Vancouver while sipping Wildeye Brewing's Choppy Waters IPA or Deep Cove Brewers and Distillers' POG Sour, which is fermented with passionfruit, orange, and guava.
---
Victoria
In a typical year, Victoria's world-famous Butchart Gardens gets more than a million visitors. There are a million things to see at this 1904-founded attraction just north of the provincial capital, ranging from the old limestone quarry that was transformed into the Sunken Garden to the wooden footbridges and traditional boar-scarer that grace the Japanese Garden.
At the Butchart Gardens dining room, you can get Hoyne Brewing core beers like Hoyne Pilsner and Hoyne Dark Matter.
Overlooking the Inner Harbour, the recently revitalized Fairmont Empress Hotel is as much a symbol of Vancouver Island's biggest city as the nearby Parliament Buildings. Built in 1904, the Empress has hosted famous guests like Barbra Streisand, Harrison Ford, and Queen Elizabeth II.
While this Francis Rattenbury-designed luxury hotel is best-known for serving afternoon tea, you can grab a seat at the Q at the Empress bar and choose from BC craft beers ranging from Category 12 Brewing's Juicy Data Hazy IPA to Vancouver Island Brewing's Q Blonde Lager. On the luxurious, perks-laden Fairmont Gold Floor, the honour bars include Phillips Brewing's Blue Buck Ale and Central City's non-alcoholic Red Racer Street Legal IPA.
Vancouver Island Brewing sells limited-edition 2021 Pod Packs – featuring four collaborations with other Island breweries – in support of resident killer whales in the Salish Sea.
Pod Packs furnish a nice complement to your whale-watching tour with Prince of Whales or Eagle Wing Whale & Wildlife Tours, launching out of the Inner Harbour. You can find Pod Packs at Vancouver Island Brewing's Government Street brewery or local liquor stores. (To be clear, you'll want to drink them after your tour, not on the boat. The orcas thank you in advance.)
---
Tofino
The luxurious Wickaninnish Inn is an ideal launching pad for a day of surfing or fat biking at Tofino's 2.5-km-long Chesterman Beach. Facing the open Pacific Ocean on Vancouver Island's west coast, this Relais & Chateaux property near Pacific Rim National Park offers infinite ways to relax, from the fabled Ancient Cedars Spa to the in-room hot tubs and gas fireplaces.
Beers available on draft at The Pointe Restaurant include Tofino Brewing's Blonde Ale and Longwood Brewery's Island Time Lager.
For those seeking an adrenalized outing with wind, waves, and wildlife, the Tofino Resort + Marina's Ultimate Adventure Tour brims with variety.
When you head out with your guide on a 21-foot Grady White fishing boat, you could spot grey whales surfacing near Vargas Island or black bears foraging on the shores of Vancouver Island for clams and mussels.
Drop crab traps in Lemmens Inlet and come back later to pick up Dungeness crab that you can enjoy freshly cooked at the resort's waterfront 1909 Kitchen restaurant for dinner.
1909 Kitchen's excellent selection of draft beer includes Yellow Dog's High 5 IPA and Driftwood Brewery's Blackstone Porter.
---
Whistler
In 2010, Whistler served as the official host mountain resort of the Olympic and Paralympic Winter Games, co-hosting with Vancouver. Fun fact: after Canada's Jon Montgomery surprised the experts by winning the gold medal in men's skeleton, he swigged a pitcher of beer that he was handed outside Black's Pub in the Whistler Village during his celebratory march.
Today, while Whistler remains best-known as North America's top ski resort, a two-hour drive north of Vancouver, it also abounds with summer activities like axe throwing, bear viewing, hiking, rock climbing, and riding the Peak 2 Peak Gondola.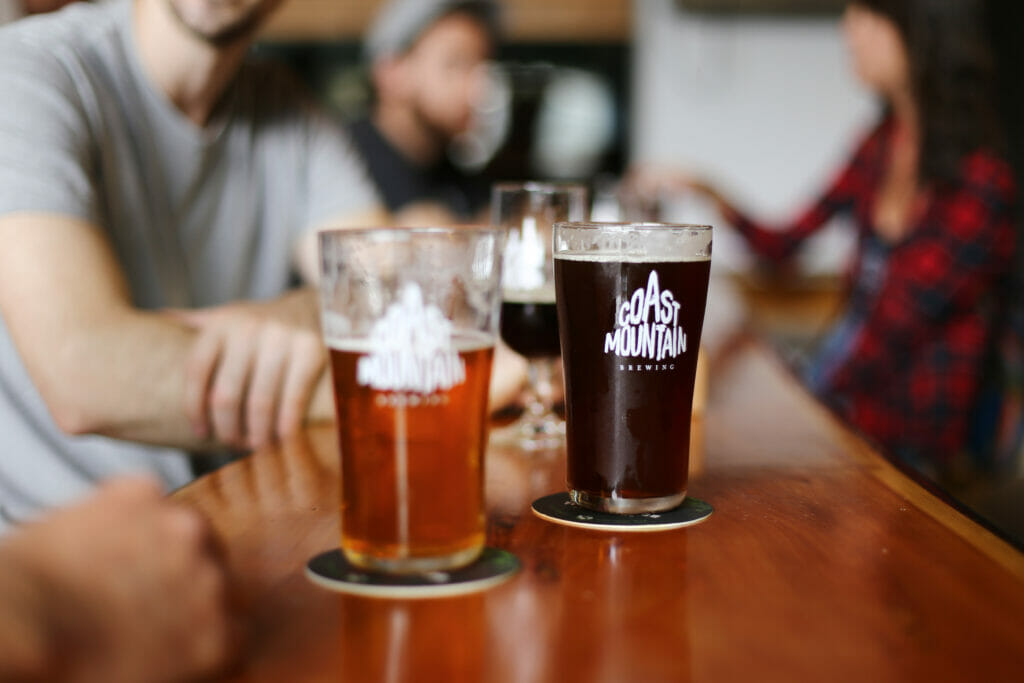 When you're ready to kick back with a gold medal-worthy brew or two, the BrewHouse at the Whistler Olympic Plaza awaits with such flagship beers as Grizzly Brown Ale and 5 Rings IPA. Also, head to Function Junction to sip a pint of Black Tusk Ale at Whistler Brewing or Hope You're Grapefruit IPA at nearby Coast Mountain Brewing.
---
Squamish
Situated roughly halfway between Vancouver and Whistler, the Sea to Sky Gondola offers unparalleled views overlooking Howe Sound.
Take the 10-minute gondola ride up to the Summit Lodge, 885 metres above sea level, and enjoy an easy, family-friendly hike along the 1.3-km Panorama Trail or get your heart rate up on the epic, 8.4-km Al's Habrich Trail through the backcountry. The 100-metre-long Sky Pilot Suspension Bridge is another can't-miss experience at this Squamish attraction.
Whether you wind up feasting on pizza, poutine, or pork ribs on the Sky Pilot Restaurant's spacious, sunny patio, you can wash it all down with a pint of Sky Pilot Northwest Pale Ale from Howe Sound Brewing, which has been brewing beer in Squamish for 25 years. Reservations are recommended.
And once you've taken the gondola back down, be sure to check out A-Frame Brewing and Backcountry Brewing, which are both located in Squamish.
---
Penticton
As one of BC's best-loved rail trails, the Kettle Valley Rail Trail runs close to 650 km from Hope to Castlegar. For recreational cyclists, the scenic, easygoing ride from Penticton to Naramata – a 21-km, four-hour round trip – is an unquestioned highlight. Biking through the rolling hills next to the soul-soothing expanse of Okanagan Lake, many visitors enjoy checking out the award-winning Naramata Bench wineries. Look for Abandoned Rail Brewing to open along this stretch later this summer.
Indeed, beyond the vineyards and orchards, Penticton is also home to a captivating craft beer scene. You can easily kick off or wrap up your Kettle Valley Rail Trail odyssey with some outstanding brews.
Just a five-minute ride from where the trail starts on Vancouver Avenue, hit up Cannery Brewing's taproom for a pint of Sunblink Berry Sour or Naramata Nut Brown Ale.  Also check out Highway 97 Brewery's new location right next door.
---
Golden
Orphaned at just five months old, Boo the grizzly bear got a new lease on life at the 20-acre Kicking Horse Grizzly Bear Refuge.
Located at Golden's Kicking Horse Mountain Resort on the BC-Alberta border, the refuge offers multiple interpretive tours to view this magnificent bear, including the Ranger Assist Program. Twice daily (9 am and 3 pm), rangers – accompanied by up to five guests – visit Boo in his habitat and make sure he gets his daily vitamin supplements.
To enhance your beer nutrition, check out the Peaks Grill, just a 10-minute chairlift ride down from Boo's refuge. It serves such thirst-quenchers as Moody Ales' Lavender Sour and Fernie Brewing's First Ascent Gose.
Debuting in June 2021, the Golden Skybridge is currently Canada's highest suspension bridge, swaying 130 metres above a valley in the Columbia Canyon. Teeter across a second, 80-metre-high suspension bridge, and gaze at the Columbia and Purcell mountain ranges and a towering waterfall. Ziplines and a giant swing are in the works for this exciting new Kootenay Rockies attraction.
Craft beer lovers can quaff the likes of Whitetooth Brewing's Thread the Needle Witbier or Nelson Brewing's Hooligan Organic Pilsner at the on-site Village Grill.
---
Bella Coola
When a lodge is located within eyeshot of a site known as Stupendous Mountain, you're setting the bar high. Fortunately, Tweedsmuir Park Lodge – marking its 90th anniversary in 2021 – has all the fresh air, natural splendour, and upscale amenities required to deliver a stupendous British Columbia experience for adventurous souls.
Just over an hour's flight from Vancouver on the Central Coast, the Bella Coola-area lodge offers luxury chalet stays, e-biking, and fly-fishing excursions along the Atnarko River. Ancient First Nations petroglyph-viewing opportunities, a new 1.1-km Via Ferrata climbing route overlooking the Great Bear Rainforest, and the chance to see grizzly bears and black bears foraging in their natural habitat are other key highlights.
With dinner, guests can drink BC craft beers like Steamworks Brewing Co.'s Flagship IPA and Whistler Brewing's Hazy Trail Pale Ale.
For more information about British Columbia attractions, see Destination BC.
---
Travel in BC
Travel is part of our DNA and we're all excited to see it return and welcome our neighbours from Alberta and the rest of Canada. Summer 2021 is a great time to #exploreBCnow and connect with family and friends and explore everything British Columbia has to offer – great cities, incredible nature, and parts less travelled ready to welcome people. Step 3 has a lot of changes, such as masks being optional for those who have had both vaccination shots, and showing proof of vaccination is not required. It's important to remember we are all learning as we go, and we need to have kindness and patience at the heart of everything we do. We're asking everyone to be patient as we work to get our services to the same high levels they were before the pandemic. We're improving quality all the time as we address staffing shortages, train new staff, and adapt to new guidelines. The B.C. government information on travel and business rules are online at www.gov.bc.ca/covidtravel.