Five Island-based breweries collaborate on the 2021 Vancouver Island Brewing Pod Pack with each beer named after a different orca.
Two years ago, Vancouver Island Brewing launched the first Pod Pack, a special initiative aimed at raising funds to support resident orcas in the Salish Sea. Last year, plans for a second Pod Pack were derailed by COVID, but now the Pod Pack is returning with four new beers brewed collaboratively with four other breweries located on Vancouver Island or the Southern Gulf Islands.
"The Pod Pack project is a community effort with everyone working together to make great beer and raise as much funds as possible to support Pacific Salmon Foundation," said David Nicholls, General Manager of Vancouver Island Brewing.
As I wrote in my blog about the 2019 Pod Pack, the orca — or killer whale — is synonymous with Vancouver Island culture. Southern Resident Killer Whales are endangered, however, with a population of only 74 in total alive today. Researchers have made strong links to declining salmon stocks affecting the health and vitality of orcas. Chinook salmon represent their main food source and an average killer whale must consume 18-25 adult salmon daily to survive.
According to Vancouver Island Brewing, the 2019 Pod Pack project raised more than $15,000 for the Pacific Salmon Foundation to support wild BC salmon stocks, a vital food source for southern resident killer whales. They hope to match or improve that in 2021. $1 from each 4-pack will go to the foundation again this year. In addition, in place of the Pod Fest the brewery staged in 2019, VIB is selling stylish Pod Pack t-shirts with all proceeds going to the foundation.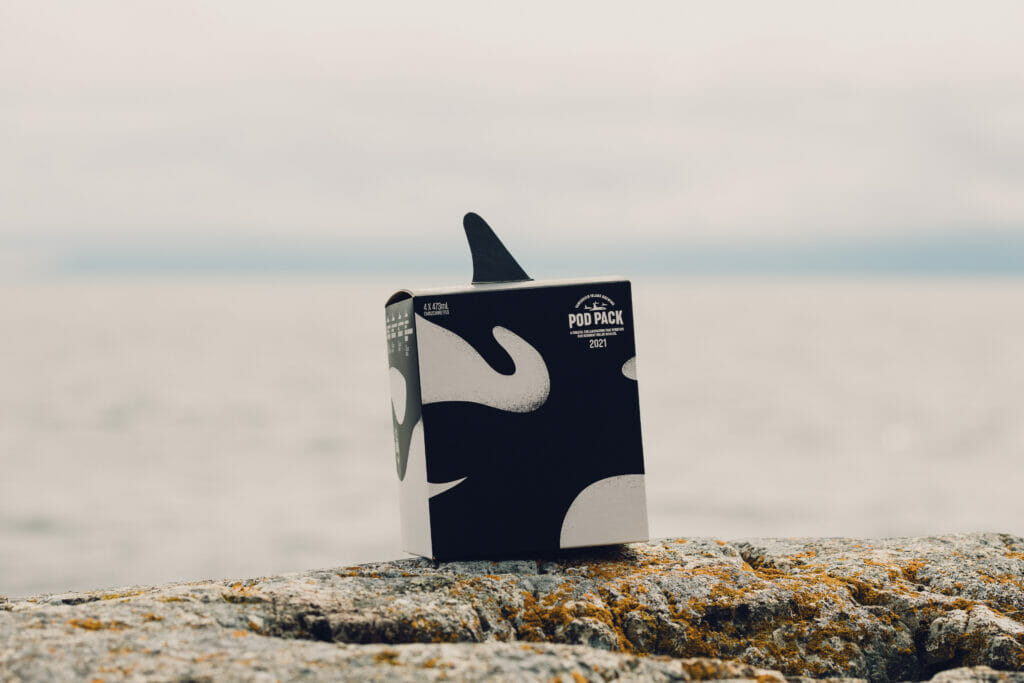 The 2021 Vancouver Island Brewing Pod Pack
The Pod Pack includes four unique beers, each one a collaboration between Vancouver Island Brewing and another island-based brewery. The beers are named after actual orcas, members of one of the Southern Resident Killer Whale pods that have been carefully studied by marine scientists for several decades.
---
Mike Rosé Pale Ale (5.2% ABV)
brewed with Whistle Buoy Brewing – Victoria, BC
The namesake of scientist Dr. Michael Bigg, who was known as "the father of killer whale research," Mike (J-26) is a 30-year old male member of the J-Pod who has two living siblings, Alki (J-36) and Echo (J-42), and one younger sibling who passed away before the age of four, Scarlet (J-50).
---
Solstice Plum & Rosemary Saison (4.2% ABV)
Brewed with Ace Brewing – Courtenay, BC
Solstice (L-89) is a 28-year old male who can most likely be found travelling with his mother since the passing of Granny (J-2), one of the best-known orcas in the world who was believed to have lived for more than 100 years. Solstice is the offspring of Spirit (L-22).
---
Tahlequah Pacific Gose (4.8% ABV)
brewed with Mayne Island Brewing – Mayne Island, BC
Tahlequah (J-35) became known worldwide in 2018 when she carried her deceased calf (Ti-Tahlequah) for 17 days while researchers monitored her activity. Then, in September 2020, she made headlines again for successfully giving birth to a healthy calf, Phoenix (J-57). She is 24 years old.
---
Wave Walker Helles Bock (6.8% ABV)
brewed with Ucluelet Brewing – Ucluelet, BC
Wave Walker (L-88) got his name because when he was first spotted riding the wave from his mother's slipstream. The 28-year-old orca is now the only living member of the L2 family group.
---
Look for the Pod Pack in Your Local Liquor Store
The Pod Pack is being distributed to liquor stores on Vancouver Island and throughout the Lower Mainland. It is also available for sale at the brewery in Victoria.