Hoyne
Brewing

EST. 2011 | Victoria
A community-focused brewery built on the legacy of its popular founder.
After earning a strong reputation while brewing at two local brewpubs for more than 20 years, Sean Hoyne struck out on his own with this family-run brewery in 2011. Located in the Rock Bay brewery district next door to Driftwood Brewery and close to a few other breweries and brewpubs, Hoyne Brewing has built on its founder's legacy to establish itself a community leader and a fan favourite among many local beer drinkers. The brewery has grown substantially since 2011, expanding the range of beers it produces considerably.
Hoyne's beers are always excellent examples of their styles, brewed with high quality ingredients, including malts sourced from traditional regions to reflect the type of beer, such as the UK, Germany and the Czech Republic. There's no better way to make a beer taste authentic than to use the ingredients and methods that made that beer style famous in the first place.
The brewery is also committed to sustainable practices, including working with local farmers and suppliers, utilizing a zero-emissions delivery service, and building slowly and steadily, keeping the long term in mind rather than chasing fads. That way, we can be sure that Hoyne's beers will keep tasting great for many years to come.
Hoyne's Growler Station & Retail Store is open Monday to Saturday from 11 am – 6 pm.
Recommended Beers
Fancy a flight? Here are some sampler suggestions for Hoyne Brewing
Pilsner
Hoyne Pilsner
Pint Glass Dark
Dark Matter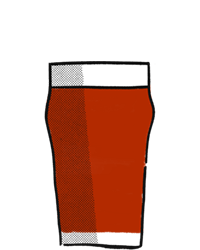 Pint Glass Red
Appleton's Finest British Ale
Fun Fact:
Sean Hoyne was a graduate student in English Literature at the University of Victoria when Swans Brewpub opened in 1989. He applied for the position of brewmaster there and won the job after bringing a six-pack of his home brew to the job interview. After being mentored by BC craft beer pioneer Frank Appleton, who had built Swans, Hoyne moved to the Canoe Brewpub when it opened in 1996 and then struck out on his own in 2011.