Cannery
Brewing

EST. 2001 | Penticton
One visit to Cannery Brewing's popular taproom will reveal that this brewery is all about great beer and community.
Named after its original location – the old Aylmer fruit and vegetable cannery – Cannery Brewing built a new 12,000-square-foot brewery in downtown Penticton in 2015. The new facility can produce more beer than ever before, and features a taproom with a big patio, perfect for soaking up that Okanagan sunshine. In addition to beer and light meals, the family-friendly taproom offers a selection of old-school board games, free music every Sunday evening, and a busy events calendar on other nights, too. And with its location near the Kettle Valley Rail Trail, Cannery is the perfect destination at the end of a hike or bike ride.
You can also listen to this Cascadian Beer Podcast episode featuring Cannery Brewing.
Visit the family-friendly Cannery Backyard during the spring and summer for a relaxed, space to hang out. The fully-licensed outdoor oasis features food items like you would enjoy in your own backyard as well as a rotating food truck each weekend.
Recommended Beers
Fancy a flight? Here are some sampler suggestions for Cannery Brewing
View All Beers
Tulip
The Muse Extra Pale Ale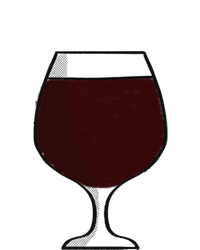 Snifter Dark
Sunblink Berry Sour
Pint Glass Dark
Naramata Nut Brown Ale
Fun Fact:
Cannery Brewing's founders, Ron and Patt Dyck, operated the popular Country Squire restaurant in nearby Naramata for 23 years before being persuaded by their chef and aspiring brewmaster, Terry Schoffer, to open the brewery. They brewed their first batch of beer on April 1, 2001, no foolin'!