All over British Columbia, craft breweries are starting to celebrate the holiday season with special beer releases.
Many Christmas-themed beers are a little darker and stronger, making them well suited for the colder, darker days of winter. Some include spices and sugars or tasty additions like cranberries, chocolate or orange peels to celebrate the season. There are even some champagne-like beers that are ideal for New Year's Eve. It's the time of year that many of us like to socialize and celebrate, and the same is true for craft breweries who team up to collaborate on special releases.
Here are some suggestions for holiday-themed beers that can be found on the BC Ale Trail:
A Kootenay Collab from Fernie Brewing, Nelson Brewing, Mt. Begbie Brewing & Whitetooth Brewing:
Powder Hwy Dark Saison (5% ABV)
This Kootenay Collaboration celebrates ski season in the mountain playground of British Columbia known as the Powder Highway. It was brewed with seven specialty malts, including naked oats and smoked malt, along with European hops and cranberries, resulting in a dark and dry Saison with a touch of smoke and a tart kick. The perfect après beer to pair with light Kootenay powder!
Nelson Brewing can be found on the Kootenay Rockies West Ale Trail. Fernie Brewing, Mt. Begbie Brewing and Whitetooth Brewing are on the Kootenay Rockies East Ale Trail.
Quesnel's Barkerville Brewing presents:
Cold Snap Winter Ale (5.5% ABV | 17 IBU)
This wonderful beer, which has been described as "Christmas in a glass," was actually created by accident. Brewer Erin Dale started off brewing a batch of brown ale, but because of a typo on the recipe sheet, she had to adjust on the fly. The addition of orange peel, ginger, vanilla and a hint of molasses led to a new beer that was so popular in Quesnel that they knew they'd have to bring it back every winter — and find a proper name for it. So they held a naming contest online and Cold Snap was chosen as the winner.
Barkerville Brewing can be found on the Northern BC Ale Trail.
Torchlight Brewing in Nelson, BC, offers two winter beers this year:
Oh Baby It's Cold Outside Winter Ale (6.5% ABV | 20 IBU)
A rich and dark ale, spiced with coriander, cardamom, cocoa and vanilla. When you're chilled to the bone this winter warmer ale will bring the feeling back.
Mountain King Golden Stout (5.4% ABV)
A golden stout?!? Roasty and smooth with a subtle chocolaty finish, this surprising beer was brewed in collaboration with No. 6 Coffee who custom roasted a blend of coffee to be used in this recipe.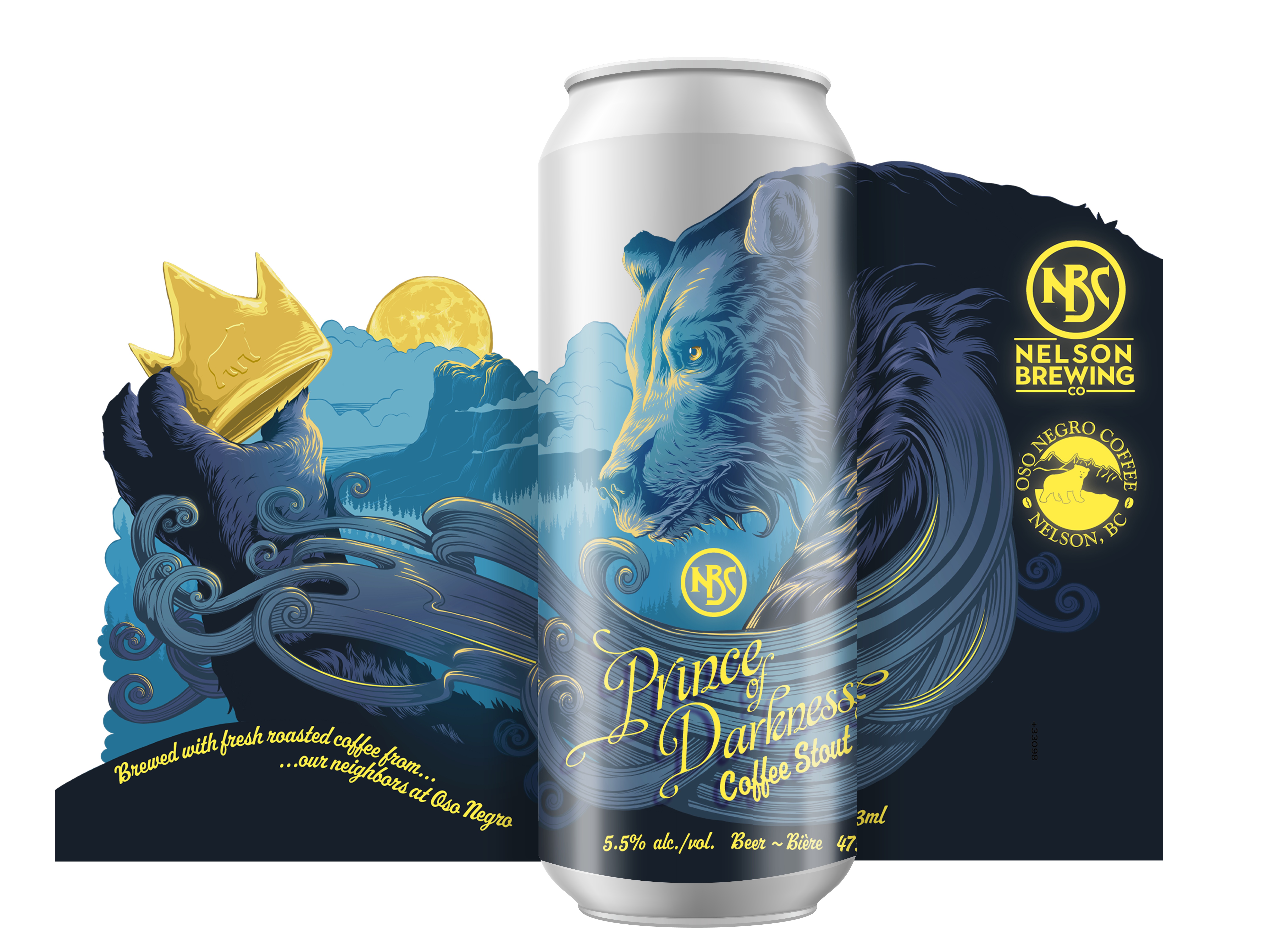 Nelson Brewing has also brewed a special winter beer:
Prince of Darkness Coffee Stout (5.5% ABV)
This annual seasonal beer is brewed with fresh roasted Oso Negro coffee.
Nelson Brewing and Torchlight Brewing can be found on the Kootenay Rockies West Ale Trail.
Moody Ales in Port Moody, BC, has brewed two special winter beers this year:
Cranberry Orange Sour (6.3% ABV | 24 IBU)
Tart and slightly salty with a burst of cranberry, finishing with orange.
Mint Chocolate Stout (5.6% ABV | 30 IBU)
Brewed with cocoa powder, cocoa nibs, lactose and peppermint tea for a rich, minty flavour.
Just down the street, Moody Ales' new sister brewery, Bakery Brewing, has released two special seasonal beers:
Cranberry Ginger Winter Saison (6.8% ABV)
Tart berry flavours with hints of tropical fruit transitioning to warming winter spices and ending with a dry, refreshing finish.
Belgian Dark Strong with Cherries (9.4% ABV)
A rye whiskey barrel-aged beer that offers complex flavours of vanilla, spice and cherries.
Moody Ales can be found on the Port Moody Ale Trail. 
North Vancouver welcomed several new breweries this year, including House of Funk Brewing where every beer spends some time fermenting and/or conditioning in oak barrels or foeders (big wood vessels that hold hundreds of litres of beer). To celebrate its first Christmas and New Year's Eve, House of Funk has released three special seasonal beers:
Kaldi Coffee Sour (6.5% ABV)
Foeder-aged, mixed culture golden sour conditioned on house-roasted Ethiopian coffee.
Deliverance Wild Ale (6.8% ABV)
Barnyard funk, pine resin, and champagne bubbles. Ideal for cellaring or celebrating.
Debauchery Bourbon Barrel Aged Imperial Stout (10.5% ABV)
Aged for nine months in Basil Hayden bourbon barrels. Black velvet, dark chocolate, rich and complex. 
House of Funk Brewing can be found on the Vancouver's North Shore Ale Trail.
Everyone has favourite holiday movies they like to watch and re-watch every year. The folks at Backcountry Brewing apparently like Home Alone, which they are celebrating with the release of a special beer with a name inspired by a quote from that film:
Keep the Change Ya Filthy Animal (9% ABV)
Brewed with house toasted coconut, vanilla beans and espresso, and aged in Woodford Reserve bourbon barrels.
Backcountry Brewing can be found on the Squamish Ale Trail.
Another popular holiday film is Die Hard, which Ravens Brewing has referenced in the name of one of two special releases that are part of a seasonal four-pack:
Welcome to the Party, Pal Cranberry Orange Gose (4.3% ABV | 8 IBU)
Celebrate the season as only John McClane can with this seasonally flavoured beer.
Hot Chocolate Porter (6% ABV | 30 IBU)
Conditioned with cacoa nibs, rich silky dark chocolate flavours are at the forefront of this robust porter.
Ravens Brewing can be found on the Fraser Valley Ale Trail.
Staying in Abbotsford, Field House Brewing has two special seasonal beers on offer this December:
Bourbon & Oak Infused Salted Black Porter (6.6% ABV | 25 IBU)


Brewed with traditional Dutch licorice candies and infused with Kentucky bourbon and American oak.

Dark Sour (10% ABV)


Drenched in juicy local blueberries and deep purple blackberries, and soured with the brewery's house culture.
Field House Brewing can be found on the Fraser Valley Ale Trail.
Nearby in Langley, Dead Frog Brewery is celebrating the season with five, count 'em five, special beers:
Winter Beeracle Winter Ale (7% ABV | 24 IBU)
A winter ale that features flavours of dark chocolate, hazelnut and orange.
Mandarin Orange Kettle Sour (6.5% ABV | 8 IBU)
A juicy, bright amber ale with a splash of fresh orange, a crisp malt base, and a refreshing sour finish.
Frostbite Winter IPA (6.5% | 45 IBU)
Hazy, snow white IPA with juicy hop flavours of orange, citrus, and a hint of spice.
Black Frost Dry Hopped Porter (6% ABV | 25 IBU)
A rich porter dry hopped with lavender-infused Cascade hops.
Balls Be Droppin' New Year's Brut IPA (7% | 24 IBU)
A bubbly, bright golden IPA with notes of mango and white grape.
Dead Frog Brewery can be found on the Fraser Valley Ale Trail.
Over in Penticton, Cannery Brewing has a special beer for the holiday season:
Kindling Imperial Stout (9% ABV | 60 IBU)
Brewed with roasted coffee from Homestead Roastery in Naramata, bittersweet chocolate, oats and coconut.
Cannery Brewing can be found on the Penticton Ale Trail.
Vancouver Island Brewing in Victoria has two special beers out for the holidays this year:
Chardonnay Sour (7.2% ABV | 22 IBU)
An ode to the Chardonnay grape, this beer is dry and crisp with flavours of pineapple, tart apples, and pear. Perfect for New Year's Eve.
Barrel-Aged Hermannator Ice Bock – 2018 Vintage! (9.5% ABV | 25 IBU)
Smooth and malty with vanilla and oak – call it the Bourbonator. Bonus: this has actually been cellared for a year for you!
VIB can be found on the Victoria Ale Trail.
Nothing says "Thank You!" quite like this wonderfully packaged beer from Hoyne Brewing in Victoria:
Gratitude Winter Warmer (9% ABV)
A full-bodied, strong amber ale brewed with cloves, nutmeg, and cinnamon, and pre-wrapped in beautiful paper.
Hoyne Brewing can be found on the Victoria Ale Trail.
Vancouver's Strange Fellows Brewing likes to celebrate the holidays in its own strange and wonderful way, including its "Strange Kristmas Market" called Krampusmarkt (held from December 6-8 at the brewery) where you can even get photos taken with Krampus. Of course, you will also want to enjoy a glass of their special holiday beer:
Krampus Belgian Abbey Dubbel (8.5% ABV | 30 IBU)
Rich and malty with hints of chocolate, coffee and cherry Twizzler.
Strange Fellows Brewing can be found on the Vancouver Ale Trail.
Another popular option is the advent calendar pack that offers beer lovers the chance to sample a new beer every day of the month. LoveShack Libations has two different mixed packs available in December, each of which feature these two special winter beers that are also available on their own at the brewery:
Winter Wonder Ale (6.2% ABV | 23 IBU)
Brewed with

cinnamon, cloves, nutmeg, allspice ,vanilla, star anise and honey

. Smells like Christmas, tastes like beer.
Vanilla Bourbon Stout (7.6% ABV | 22 IBU)
Flavoured with bourbon-soaked oak chips and aged in the bottle since February, this is rich, dark and delicious.
LoveShack Libations can be found on the Vancouver Island Ale Trail Part 2.
From Surrey comes the Red Racer Great Canadian Outdoor Adventure Pack, which features 24 brand new beers that have never been released before now.
Central City Brewers and Distillers can be found on the New West, Delta, Surrey and Richmond Ale Trail.
Featuring 12 exclusive and never released craft brews from Phillips' Tasting Room, this is a space force to be reckoned with.
Phillips Brewing can be found on the Victoria Ale Trail.
Last but certainly not least, the Craft Countdown Pack from Parallel 49 Brewing in Vancouver features 24 unique and new brews. It's the most wonderful time for a beer!
Parallel 49 Brewing can be found on the Vancouver Ale Trail.
Enjoy some of the wonderful holiday events being hosted throughout December and sip on some seasonal special releases this winter.