The time for holiday cheer is near
and what better way to get in the spirit
than with craft beer?!
It's nearly December and your local craft brewery is likely hosting a festive event or pouring a winter-inspired beer near you. Get in the spirit with a great brew and check out what's happening this holiday season on the BC Ale Trail.
Field House Brewing in Abbotsford is having a holiday pop-up on the patio on November 30th from 1:00pm to 5:00pm. Local vendors will be featured on the brewery's patio, with promotional deals happening throughout the weekend on food and merch inside.
Fellow Abbotsford brewery, Ravens Brewing, is hosting a few events this December. The first is an artisan market and gallery night featuring local artists and artisans on December 5th. The event starts at 5pm and admission is free.
On December 13th, they will be doing a beer cocktail tasting at the Kariton Art Gallery for the "Eat, Drink, and Be Ugly" ugly Christmas sweater-themed art market party. Then on December 14th, head back to the brewery and enjoy a screening of the hotly debated "Holiday classic film," Die Hard. Craft beer and seasonal treats will be served during the event. Tickets are $10 and include admission and one beverage, with a $5 beer special for the rest of the evening. Doors will open at 6pm and the film starts at 7pm.
In Chilliwack, Old Yale Brewing is having a holiday sip 'n shop tonight from 4:00pm to 9:00pm. Good food, live music, and local vendors will be hosted at the second edition of this annual event.
Tree Brewing will start their fifth annual advent keg-lendar on November 30th. A new cask will be tapped every day for the 24 days before Christmas, with a passport to keep track and prizes to be won as you're enjoying each cask.
Downtown Kelowna's Winter Street Market and Tree Light Up is happening on December 1st. Water Street will host a festive street market with local vendors, food trucks, and BNA Brewing will be pouring!
Kelowna's CRAFT Beer Market is hosting CRAFTMAS on Bernard, a holiday-themed pop-up bar with seasonally-inspired cocktails. Held from December 4th to December 29th, stop in to enjoy the festive ambiance and get in the Yuletide spirit. They'll also be throwing a New Year's Eve party starting at 7pm. Tickets for NYE will include dinner, with an exclusive menu created by their executive chef, and a DJ and dance party.
Freddy's Brewpub is getting their holiday on too, hosting over 150 corporate Christmas parties throughout the month of December (all the way until Christmas Eve). If your company isn't going to the brewpub this year for some great eats, beers, and bowling, be sure to stop by on New Year's Eve! With a BrewHAHA NYE comedy show, a DJ and dance, champagne at midnight, and a specially brewed Christmas cask, plus unlimited bowling, an appy buffet, party favours, and great prizes at attached McCurdy Bowling Centre, the event is sure to be a fun-filled way to say goodbye to 2019!
In Nelson, the Winter Kickoff Carnival is on November 29th. Hosted by Nelson Kootenay Lake Tourism, the event will have Nelson Brewing Company, Backroads Brewing, Torchlight Brewing, and Angry Hen Brewing all pouring. Plenty of other events are planned until December 7th in the region to welcome in the winter season.
Kaslo's Angy Hen Brewing will also host regular Saturday afternoon bonfires on their patio in December, featuring live local music. December 7th will be a special Saturday at the brewery, though, with hot chocolate, a holiday-themed LEGO competition and live music playing around the bonfire all day. Downtown Kaslo hosts their Santa Claus parade and Light Up event with timed lighting of Front Street's storefronts on that same Saturday.
Fernie Brewing is launching a few special brews this week! First up is a Kootenay collaboration brew, named the Powder Hwy Dark Saison, tonight at their tasting room! Next Thursday, December 5th, they'll also be launching two more winter favourites, the Snowblind Belgian-Style IPA and the Sap Sucker Maple Porter.
Whitetooth Brewing in Golden is celebrating their third anniversary on November 30th with a 70s-themed evening planned before the holiday events kick off in December. Two collaborations with fellow Kootenay breweries will be launched at the event, as will the return of their Nordic Imperial Stout.
Then on December 7th, the brewery celebrates opening day at Kicking Horse Mountain Resort (which some locals would argue is better than Christmas). Elk Run & Riot will be playing at the brewery for the occasion. Whitetooth will be hosting their annual gingerbread building contest in mid-December too, with the exact date to be confirmed so stay tuned!
Cannery Brewing is home to Santa from 12:00pm to 1:30pm on December 1st and 8th. Bring the kids to see Santa and Mrs. Claus (by donation, with proceeds going to South Okanagan Children's Charity). Enjoy a festive atmosphere, some board games, and a flight or a bite while you're at it.
Ring in 2020 with Slackater Brewing on December 31st at their Brew Year's Eve event. Regular tickets to the evening ($20 before December 1st, $25 afterwards) include live music from Midnight Special Revival, a welcome glass of Slackwater's beer, canapes, and midnight bubbles. $60 tickets ($55 before December 1st) include a limited seating of dinner, served in three courses between 7:30pm and 9:00pm.
In Kamloops, Noble Pig Brewhouse will have a New Year's Eve "Spike Pig Dinner." This will be a food and beverage-paired event, with rotating areas and fun activities organized throughout the tasting room. Tickets are $80 and available at the brewhouse.
Sorrento's Crannog Ales will be at the Enderby Christmas Market on December 7th from 10:00am to 4:00pm in Enderby. The brewery is also hosting an open house at their farm on December 21st from 10:00am to 4:00pm. Between a special cask tapped for the event and a collection of local vendors to purchase some last-minute gifts from, enjoying organic craft beer by the fire will be the perfect way to spend an evening.
In Salmon Arm, the Barley Station Brew Pub is getting limber for winter with a series of yoga stretch and sips, hosted every Sunday in December from 9:15am to 10:15am starting this Sunday, December 1st. Come for the yoga and stay for the brunch and beer (or kombucha or mimosa). The cost for all four weeks of yoga classes is $70 and includes your first drink too! Claim your spot on the yoga mat by calling Angela at 250-803-8786.
Barley Station is also hosting a holiday pop-up shop featuring local artisans on December 5th and 12th from 3:30pm to 9:00pm. Eat, drink, and get your shopping done in a fun-filled atmosphere!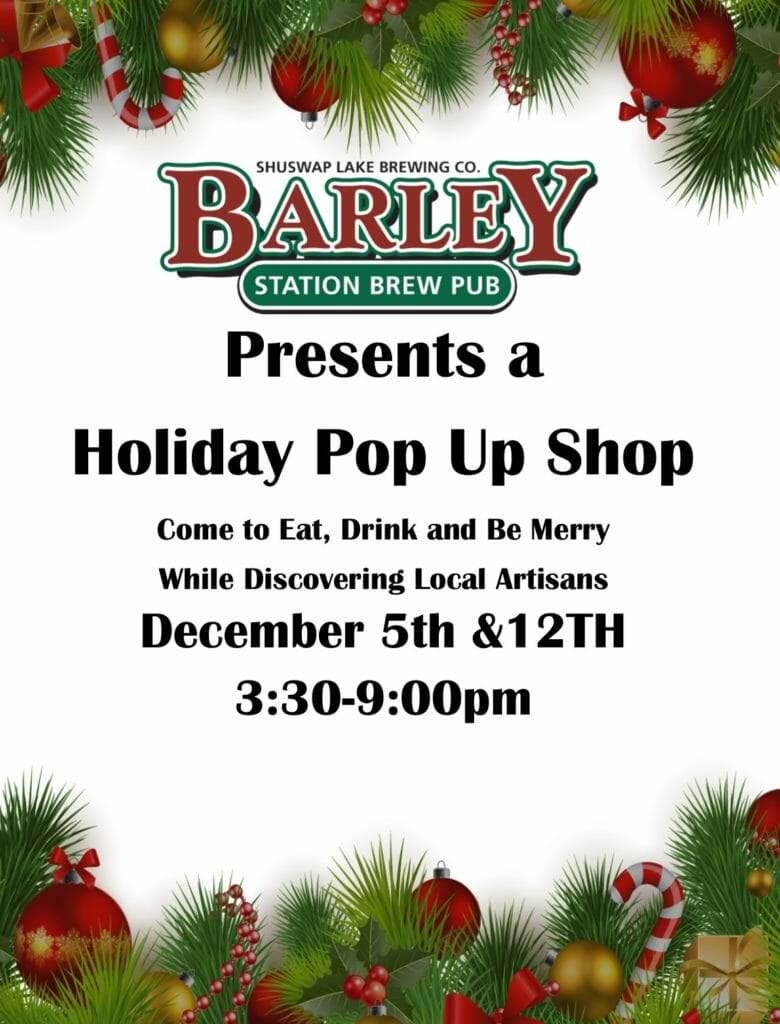 Smithers Brewing is hosting a special event on December 4th from 6pm to 9pm with world-renowned First Nations artist, Roy Henry Vickers. The brewery teamed up with the artist to create a Skeena seasonal series that celebrates, as well as brings awareness to, the importance of the mighty Skeena River in the region. Vickers will be in attendance to discuss the collaboration and will also be signing limited edition original artwork. All four seasonal beers will be on tap, with more special offers on during the event too.
Three Ranges Brewing in Valemount is hosting a Plaid Friday event tomorrow, November 29th, at the brewery. Plaid-wearing patrons will get $1 draught beer and every item of plaid worn will equal an entry into their plaid hat draw. On December 6th, the brewery will be celebrating their sixth anniversary with a party and special release of their 6th Anniversary Ale. Visitors to the taproom between November 30th and December 6th can enter to win a 2019/2020 season's pass to all of VARDA's managed snowmobile areas,  with the winner's name being drawn at 6pm at the anniversary party.
Leading up to Christmas, there will be two other events to enjoy. From December 12th to 24th, the Three Ranges 12 Days of Christmas will feature unique daily deals on beer and merchandise. On December 21st, the taproom is hosting their annual ugly sweater party, with festive fun and prizes being awarded for most creative, original, funniest, ugliest, and beyond ugly sweater selections.
Moody Ales will be launching their third annual Christmas Market tonight too (from 6pm to 10pm) and will be hosting another market every Thursday until December 19th. Customers can come by for a flight or pint and do some Christmas shopping from a range of rotating local craft artisans and small businesses.
Backcountry Brewing is hosting a fundraiser event tonight, featuring bingo, photos with Santa, and a DJ in the later hours. Last year, this event raised $2,000 for Community Christmas Care in support of families in need. This year's proceeds will go to the same local organization. Backcountry is also hosting a "New Year's in the Backcountry" party with DJs on New Year's Eve.
Howe Sound Brewing is participating in the Santa Claus Parade down Cleveland Avenue on November 30th with a Howe Sound Brewing Float. They'll also be hosting a Winter Craft Market on December 1st at the brewery with 15 local vendors selling wonderful holiday gifts. Entry will be by donation and raffle prizes will be drawn, with proceeds going to Community Christmas Care.
A-Frame Brewing has a whack load of stuff going on in December, starting with a release of a winter seasonal imperial stout on December 3rd. Their third annual Christmas Party will be on December 14th from 7pm to 11pm at the brewery (tickets are $15). On December 15th, they're also hosting their third annual Gingerbread Cabin Building event from 12:30pm to 5:30pm. Tickets are $25 and include everything you need to build that delicious cabin of your dreams, but make sure to get yours before kits sell out!
A holiday-themed edition of their Trivia on Tap event, prizes (including for best or ugliest sweater-ed team), and lots of fun is scheduled for December 17th. And finally, on December 31st, ring in the Newfie New Year at 7:30pm with a "Midnight" Screech Toast in true Newfie style at A-Frame.
On December 19th, Persephone Brewing's brand new food truck, Farmhand Food, is set to open and will be serving food from Thursday to Sunday all winter long. On Christmas Eve, the tasting room will be open from 9am to 5pm and is hosting a pancake breakfast and toy swap. Families are encouraged to bring a well-loved toy to be wrapped and placed under the tree for swapping.
Strange Fellows is hosting their annual Krampus Markt from December 5th to 8th. Take photos with Krampus, learn how to make something new in one of their seasonal workshops, and enjoy shopping from more than 30 local artisans.
Parallel 49's Bad Santa Warehouse Party is happening on December 14th from 6pm to 12am. With live music, seven beer taps (and a cider), a food truck, and free entry to those wearing a Santa Hat, this is sure to be a merry evening. Santa hats will also be available at the door by donation, with proceeds going to the Greater Vancouver Food Bank.
Andina Brewing is throwing a Fiesta de Navidad on December 21st and 22nd with great beer, food, and fun holiday music. They're also hosting a holiday movie night every Wednesday in December at the brewery. Holiday favourites will be screened on their giant projector for patrons to enjoy.
Steamworks Brewery in Burnaby is hosting a Boxing Day cask night with a one-off cask, Porky's Food Truck, and live music by Juno-nominated artist, Brandon Isaak. The event starts at 5pm, with music starting at 5:30pm. Steamworks holiday beers will also be available to enjoy.
Vancouver's CRAFT Beer Market is hosting a New Year's Eve party too! The Black & Gold event starts at 7:30pm and includes an exclusive menu, feature cocktails, and a DJ and dance party.
On the North Shore, Wildeye Brewing is hosting a Battle of the Brewers Cask Fest on December 14th. They're also having a tiki-style New Year's Eve party, featuring a DJ to get your boogie on until next year!
Vancouver Island (parts I & II)
Longwood Brewery will be doing a cask night at Milton Street Public House on December 18th. They're also participating, along with White Sails Brewing, at the beer garden at Vancouver Island Market which will be held from December 12th to 15th in Nanaimo.
Gladstone Brewing is having their Ugly Sweater Party on December 7th. The brewery opens at noon, with live music playing from 7pm to 9pm. Break out your ugly sweater and enjoy their special winter collaboration beer with Vancouver Island Brewing, as well as food specials and more, at the event. On January 14th, Gladstone is also celebrating their 5 year anniversary with a party and super secret special beer release so mark your 2020 calendars!
Cumberland Brewing is celebrating their fifth year in business on December 23rd. Stop by the brewery throughout the month to cheers this feat and enjoy the festivities fully!
LoveShack Libations is also putting together advent calendars full of craft beer joy and special seasonal 12-packs, available for purchase at the nano-brewery in Qualicum Beach. 
Save-on-Foods Memorial Centre will host the Christmas Craft Beer Show this weekend (on November 29th and 30th). The fourth edition of this event has nearly 40 breweries (and cideries) pouring, including the likes of locals Bad Dog Brewing, Howl Brewing, Hoyne Brewing, Lighthouse Brewing, Moon Under Water, Phillips Brewing, Sooke Brewing, Sooke Oceanside Brewery, Twa Dogs Beer, Vancouver Island Brewing, and more from Vancouver Island and the lower mainland. Patrons that dress up in holiday cheer will be automatically entered to win some of the event's fun prizes. Day passes and weekend passes are still available for purchase.
Hoyne Brewing will also be in attendance at this weekend's Craft Cartel indie arts market, held on November 29th until December 1st at the Da Vinci Centre. You can find them at the Moss Street Holiday Market on December 14th too. It might be your last chance to pick up a Gratitude gift pack for the beer lover(s) in your life!
Victoria Caledonian Brewery & Distillery, home of Twa Dogs Beer, is going to be hosting their annual Robert Burns Day celebration on January 24th and 25th. Enjoy the beginnings of 2020 with a four-course meal and a night of pipers, drums, poetry, and whisky, featuring the distillery's first ever single malt whisky!
Spread some holiday cheer with a craft beer
Whether you're planning on taking holiday visitors to your favourite local establishment, enjoying one of these festivities at a brewery or tasting room, or simply celebrating the winter season with a special brew in hand, have a fun and safe December.
Happy holidays to you and yours!