Throughout February, Metro Vancouver craft beer lovers can take part in Tasting Passports along TransLink's Dine the Line to collect stamps at up to 64 participating businesses for a chance to win a Staycation package, transit passes, swag and more! Blogger Yasmine Hardcastle takes us on a passport preview.
As a born and bred Vancouverite, I am a lifelong transit taker. Prior to moving to England a couple of years ago, my partner and I would often hop on transit to check out new or favourite breweries over a weekend or on Fridays after work. It's just the smart way to safely enjoy Metro Vancouver's craft beer scene — which I've missed since moving. And as I now live in the countryside, I've also missed reliable transit.  So while I was back in Vancouver for a short visit in January, I jumped at the chance to preview the BC Ale Trail's five new Tasting Passports created in partnership with TranLink's Dine the Line for a little tasting tour.
The BC Ale Trail, in collaboration with Translink's Dine the Line, encourages residents and visitors to get out and explore car-free in February by hopping on Translink to explore craft breweries and brewpubs with Tasting Passport promotions running in five different Metro Vancouver regions:
As the above indicates, I was spoiled for choice. Being short on time though, I made some strategic location choices. And because craft beer and tasty snacks are meant to be enjoyed in good company, my photographer friend Jana joined me for a couple of afternoons of catch-up time and photo fun. We topped up our Compass cards*, grabbed our Dine the Line tasting passports and off we went. 
*Did you know that your Compass card top-up balance doesn't expire? I kept my Compass card for that very reason when I moved to England. — I knew I would need to use it again!
Port Moody Ale Trail 
My partner and I lived in Port Moody before moving to England, so we were frequent wanderers of Murray Street, more commonly known as Brewers Row. And when we didn't live as close, it was a brilliant day trip on the train. With that in mind, Jana and I decided to hop on the SkyTrain for an afternoon in Port Moody to enjoy a couple of flights and pints. Metro Vancouver shined bright for us that day, so the 45-minute ride from Downtown Vancouver — with a little switchover at Lougheed Station — to Moody Centre Station was particularly scenic. 
Our first stop for some sips, snacks and a stamp on the passport was Yellow Dog Brewing, where the Shake A Paw Porter still has a firm hold of my heart. If you ask me what the best seat in the house is, I will always say the back patio, but you'll enjoy your brews wherever you sit. And for all my dog parent friends, FYI that this is an especially dog-friendly brewery (as is Parkside Brewery).
Our next stop for a stamp on the passport was Brave Brewing, which makes its home in what was once The Bakery Brewing. The Brave view on things shows an appreciation for the simple and good things in life. Like potato chips, of which you get a small cup with your beer flight. And while I'm not a lager girl in particular, the Grace Under Pressure Lager may change my mind. Enjoy your pints inside or outside by the cozy fire pit knowing that the brewery has pledged 1% of their profit, product, time and equity to support non-profits in the community.  
The bright building colours of Rewind Brewing also caught my eye, but I've added them to my list for my next visit back to Vancouver.
Yeast Vancouver Ale Trail
I have spent a lot of time exploring Yeast Vancouver breweries, but it occurred to me that I had only ever been to Strange Fellows Brewing once(!). Strange Fellows is known for exploring traditional beers and putting them out into the world with a quirky spin and gorgeous can and bottle art. So this had to be the first brewery we visited on day 2 of our craft catch-up. When you get there, be prepared to stay a while, as the varied food menu pairs very well with what's on tap. 
With me coming from Downtown and Jana coming from Burnaby, we met up at Commercial Drive Station to catch the Westbound train to VCC-Clark Station. The brewery is a quick bus ride on the 22 or a 15-minute walk from the station. And because we got there just after they opened, we enjoyed a chat with brewery staff members. 
Our beer recommendations: the Velvet Porter and the Talisman West Coast Pale Ale.
After a flight and some snacks, we had a bus to catch, but Off the Rail Brewing and Luppolo Brewing would have been next on the list. 
Vancouver Brewery Creek Ale Trail
From Strange Fellows, we hopped on the 22 going south — and a quick one-stop connect on the 99 B-Line going west — to head over to Vancouver's Mount Pleasant neighbourhood. It was time to settle in at Main Street Brewing on the Brewery Creek Ale Trail for a flight and some delicious flatbread. Housed in a heritage building built in 1913, MSB has barrel-aged beers on tap and delicious Bodhi's Kitchen food on the menu.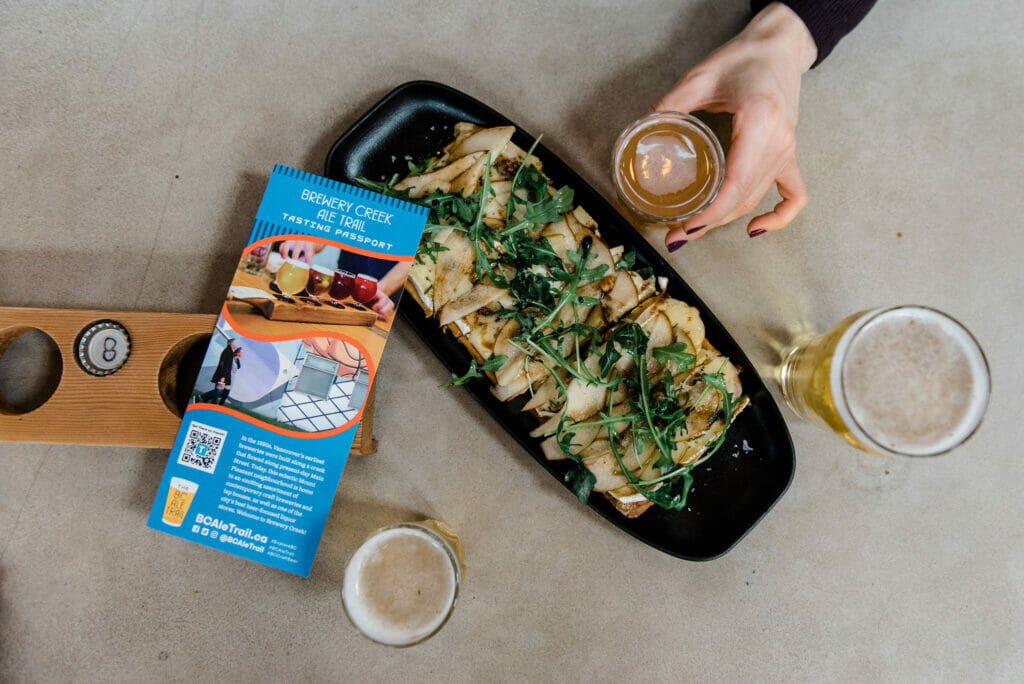 As you've probably gleaned from previous beer choices on this excursion, I'm a dark beer person — the Brimstone Czech Dark Lager Lager has always been right up my alley. This time was no different. Jana is more of a lighter beer person, so her pick was the Naked Fox IPA.
You know when you catch up with a good friend and time just flies? That's what happened here with good beer and delightful pear and brie flatbread. If you're better at watching the clock or feeling ambitious on your own passport ale-venture, head down the block on Main Street to Brassneck Brewery. After a pint and a snack, tap your Compass card on the 19 heading north, hop off at West 2nd Avenue and walk a couple of blocks to Faculty Brewing. This is where I used to love having a beer flight with a kombucha chaser. 
I absolutely loved re-exploring Metro Vancouver craft breweries and catching up with a wonderful friend while I was back in the city. Playing tourist in my town is one of my favourite activities, and I cannot think of a better way to do it. 
Explore the North of the Fraser and South of the Fraser Ale Trails
As I mentioned before, I was short on time. But had I had an extra day, and because the Skytrain makes things quite easy, Another Beer Co and Dageraad Brewing make a nice combo on the North of the Fraser Ale Trail. And if you're up for a little ale-venture from Vancouver, or if you're going from Richmond, catch the bus at Bridgeport Station and head into Delta to visit Four Winds Brewing and Farm Country Brewing on the South of the Fraser Ale Trail.
Tap your Compass card and get passport stamps to enter to win some fantastic prizes
Beginning February 1, beer lovers can pick up a Dine the Line Tasting Passport from any of the 64 participating businesses and embark on a local tasting tour, collecting stamps with purchase. Folks choosing not to consume alcohol can also participate by purchasing food and/or non-alcoholic drinks. After earning six stamps, drop off the completed ballot at a participating business to enter to win a beer-themed Staycation package. Multiple entries are encouraged.
All five of the Tasting Passports also feature a special TransLink Bonus square. Show your Compass Card or a receipt for a TransLink ride from the same day to get a stamp in the TransLink Bonus space. This will earn you a chance to win a one-month TransLink pass and a BC Ale Trail prize pack.