Explore the Port Moody Ale Trail throughout the month of February to collect stamps on your tasting passport.
The Port Moody Ale Trail Tasting Passport is one of five special passport promotions we are running in Metro Vancouver throughout February in collaboration with West Coast Food and TransLink. It's a fun way to explore the craft beer community and to feel good about supporting local small businesses, too. Pick up a passport at one of the 6 participating businesses and plan your car-free tasting tour using this special Dine the Line transit itinerary.
Fill Your Passport to Win!
How do you participate?
Visit any of the participating businesses listed below from February 1-28, 2023 and ask for a stamp with purchase.
After collecting six unique stamps hand in the completed passport to be entered to win the Grand Prize Staycation package.
The random prize draw will take place following the contest period once all of the completed passports have been collected.
The Grand Prize Staycation package includes:
a two-night stay for two people in the Spa Suite at the At the Beach Retreat B&B
gourmet breakfasts for two at the B&B
$60 gift card for Taps and Tacos
$20 gift card for Rocky Point Ice Cream
$40 gift card from one of the breweries on Brewers Row
a one-month TransLink Compass Card
a BC Ale Trail swag pack
Several other individual prizes from the participating businesses will also be awarded.
Multiple entries encouraged!
Congratulations to the Grand Prize winner:
K. Elder of Maple Ridge.
The winning entries have all been contacted.
---
The Port Moody Ale Trail — Brewers Row
Back in 2014 it seemed like a quirky twist of fate when two breweries opened on the same street in a supposedly sleepy suburb. When a third brewery joined the original duo on Murray Street, folks began to take notice. Now with six unique operations on Brewers Row, beer lovers agree that Port Moody is anything but sleepy—it's a destination.
This is likely the most densely concentrated grouping of breweries anywhere in Canada. It will only take you five minutes to stroll Brewers Row from end to end—but of course, you'll want to stop at each of the breweries along the way. You will find a range of approaches to brewing to suit everyone's tastes—from beer beginners to hopheads, barrel freaks, and sour seekers. They offer some food options, and all the breweries encourage you to visit the food trucks parked out front on Murray Street.
---
Drink Responsibly & Take Transit
The BC Ale Trail and all the businesses participating in these promotions are committed to ensuring that beer is enjoyed responsibly by those adults who choose to consume it. No one should drink alcohol, even in moderation, before operating a motor vehicle or engaging in other activities that involve attention and skill or physical risk. We encourage everyone to take transit as you visit the participating businesses.
To help you navigate your way, West Coast Food has created specialized Dine the Line transit itineraries that can be found by following the QR code on the passport or on their website.
TransLink Bonus
The Port Moody Ale Trail Tasting Passport also feature a TransLink Bonus square. Show your Compass Card or a receipt for a TransLink ride from the same day to get a stamp in the TransLink Bonus space. This will earn you a chance to win a one-month TransLink pass and a BC Ale Trail prize pack.
---
Where Can You Pick Up a Passport?
The Port Moody Ale Trail Tasting Passport is available for free at any of the participating breweries:
Brave Brewing
2617 Murray St
Moody Ales & Co
2601 Murray St
Parkside Brewery
2731 Murray St
Rewind Beer Co.
2809 Murray St
Twin Sails Brewing
2821 Murray St
Yellow Dog Brewing
2817 Murray St #1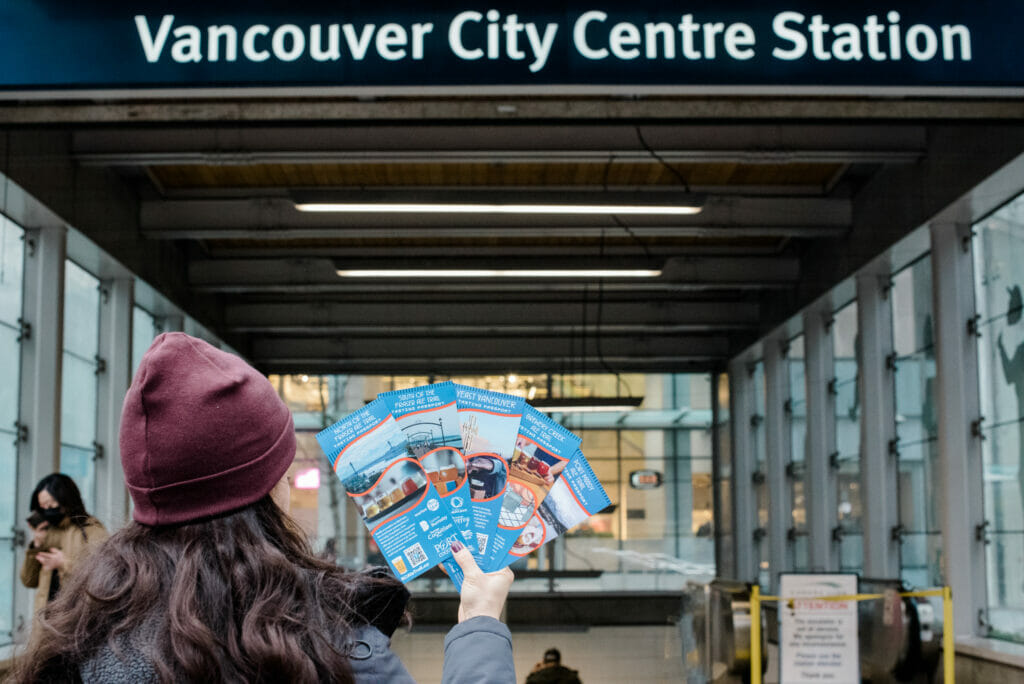 Embark on a Metro Vancouver Tasting Tour!
The Port Moody Creek Ale Trail Tasting Passport is one of five tasting passport promotions running concurrently in Metro Vancouver throughout the month of February:
North of the Fraser Ale Trail
• 11 locations in Burnaby, Coquitlam, New Westminster and Port Coquitlam.
Port Moody Ale Trail
• all six breweries located on Murray Street, AKA "Brewers Row"
South of the Fraser Ale Trail
• 14 locations in Delta, Richmond, Surrey and White Rock
Vancouver Brewery Creek Ale Trail
• 15 locations in Vancouver from Main Street/Mount Pleasant west to Granville Island
Yeast Vancouver Ale Trail
• 18 locations in East Vancouver
---