"You agreed to what?"
I've made the mistake in the past of saying that there isn't enough money in the world to get me to drink pumpkin beers, and I've managed to stick to that statement pretty well. Until now, when, in true daytime talk show style, the results are in, and this article proves that's a lie. 
So, putting on my best grin-and-bear-it face, not only am I drinking pumpkin beer, I'm going to try all the different pumpkin beers I could find in stores around me, and crown one as the champion and my favourite of the "1st Hopefully-Not-Annual BC Pumpkin Beer Bracket Invitational Based on if I Could Find Your Beer Where I Live™."
Like any good writer should do, I looked for inspiration from the source and reached out to Justin McElroy, not the American Podcaster, but the Bracketmaster General, King of the Charts, and CBC Vancouver journalist himself, to get a few tips. I expected him to say "Who are you? Why are you messaging me? Back off, that's my thing," which would have given me an easy out since I was looking for one. But alas, he was exactly the helpful, advice-giving individual I wanted him to be and was also dreading he would be. In fact, I was probably worried so much about just associating myself with pumpkin beers that some of his tips made my life so much easier.
"Make it so there are clear distinctions," he said, which really helped with the construction of the bracket. But the one that resonated the most was when he said, "Obviously when you do a bracket, you have thoughts about the thing and want to share them." I think I had agreed to this with the mindset that I could just taste some beers, say who won, and all would be OK, but that one hit home.
So off I went, tracking down one of the most polarizing beer styles and hoping that I would find enough of a selection to get this done without having to buy anything too weird (Note: That hope evaporated almost immediately).
That's right, I spent a few days calling and driving around to stores in the Victoria area, near what would normally be the tail end of this year's pumpkin beer season, to find anything that was left of what had made it to the Island. That may have led to one of the most humbling moments: going into the Cascadia Liquor store at Eagle Creek and buying all the different varieties of pumpkin beer they had in one transaction, without buying a bunch of other beers to throw them off. I brought them all home and was greeted by my wife reminding me once again that I don't like pumpkin beers and asking why would I agree to do this because I needed the reminder of what I had signed up for.
Pitting Pumpkin Pie vs. Proper Pumpkin Primer
One thing I want to point out to before getting into the actual beers is that not all pumpkin beers are actual pumpkin beers. Just like how going to a coffee shop and ordering a pumpkin spice latté provides you as much pumpkin as the plastic jack-o'-lanterns being used as decorations (see pictures below for a good example), there are two styles at play here. There are pumpkin beers, which are brewed with the massive fruit (yes, pumpkins are technically fruit) that adorn muddy patches at this time of year and slowly decompose into December on your front porch. Then there are the spiced beers, which have all the spices you would associate with a pumpkin pie, without the actual pumpkin. 
Now, of course, some beers do a combination of both, but it's important to know the difference. Important enough that in 2016 at the Great American Beer Festival, in the Pumpkin/Squash Beer category, only the Bronze medal was handed out because the majority of the beers submitted should have been submitted the Herb and Spice Beer category, and the best actual pumpkin beer submitted was only worthy of a score that gave it a bronze.
So now that we all know more about pumpkin beers than the breweries who submitted beers that year, and also more than we will ever actually need to know, it's time for this punishment to begin.
The Gourd-eous Gladiators
So, in my travels, I managed to pick up 10 beers, which doesn't make for a well-rounded bracket, but we'll deal with that later. The following descriptions are mostly all from the breweries, except in cases where descriptions weren't available, just to give an idea of what to expect from that beer before we get to the tasting.
Russell Brewing Pumpkin Pie Milkshake IPA (5.5% ABV | 20 IBU)
Rolling out the dough, scraping out countless amounts of pumpkin guts, and finding the perfect combination of spices, sounds fun right? If you're feeling lazy and all that makes you cringe, this milkshake IPA is for you. A smooth hazy IPA with a blend of cinnamon, ginger, nutmeg, clove, and an addition of lactose come together to create this no effort needed pie in a can.
Parallel 49 Brewing Schadenfreude Pumpkin Oktoberfest (5% ABV)
We've carved out a pumpkin Oktoberfest even Ichabod Crane would love. This hearty, malty lager is warmed by the mighty pumpkin and lifted with notes of cinnamon, nutmeg, all-spice, and ginger.
Brewed as a traditional Oktoberfest Lager, this beer sets itself apart from other pumpkin ales by being light and refreshing. Pumpkin is used in the mash along with traditional pumpkin pie spicing in the brew kettle. A large portion of the grain used is Munich malt which gives a nice pie crust flavour to the beer.
All treat, no trick: this rich, robust chocolate pumpkin porter is so good, even the living dead will indulge.
The base of this beer is a robust porter that uses large amounts of chocolate malts to achieve a chocolatey flavour. Pumpkin is used in the mash along with traditional pumpkin pie spicing in the brew kettle. An English strain of yeast is used to give this beer a slightly fruity yeast-derived flavour.
Pumpkin ales are as divisive as beers get. Some folks will lament the autumnal tradition and cry foul that this is everything wrong with craft beer, and some folks know how to have fun. This malt-forward ale is brewed with hundreds of pounds of pumpkin puree and punched up with a proprietary blend of seasonal baking spices. It has a pie crust-like backbone but doesn't finish overly sweet. Pumpkin ales are one of the oldest craft brewing traditions and one that we're always excited to smell coming off the brewhouse.
Fernie Brewing Ghost Rider Pumpkin Brown Ale (5% ABV | 13 IBU)
Our award-winning Pumpkin Brown Ale. This brew stems from our First Trax Brown Ale, while pumpkin, cinnamon, clove, nutmeg, and allspice are added to the mix to bring you the perfect sip of Fall.
Unfiltered to keep the real pumpkin taste alive, this brew will be switching to 473mL cans for its 2021 return.
Phillips Brewing Crookeder Tooth Barrel-Aged Pumpkin Ale (7.3% ABV)
The big barrel-aged brother to Crooked Tooth, this pumpkin ale is king of the patch. Crookeder brings a delicious vanilla bourbon punch to help light up that smile! Pairs well with tricks and treats of all kinds.
Longwood Brewery Pumpkin Patch Saison (9% ABV | 30 IBU)
This seasonal, Belgian-style Saison is not for the faint of heart. Born in a pumpkin patch and raised in the brewery, this 9% bad boy is not your grandma's pumpkin pie. Eight slaughtered pumpkins and a whole lotta spice were boiled in a cauldron of barley, hops, and anything else we could find lying around. Fly orange with full patch.
Howe Sound Brewing Pumpkineater Imperial Amber Ale (8% ABV)
An imperial ale brewed with pumpkin, nutmeg, cinnamon, ginger & cloves.
Île Sauvage Brewing La Tarte Sour Brown Ale with Pumpkin (5.7% ABV)
La Tarte is a sour brown base beer that we added pumpkins to the mash and then aged on cinnamon, nutmeg, and vanilla for a proper dose of Dat Spice Life.
Howl Brewing Spiced Pumpkin Porter (6% ABV | 20 IBU)
A classic take on the porter style, infused with pumpkin and spices that match the season.
---
The Pumpkin Pink Slip Process
So back to that issue about 10 beers. Normally you want a nice square of two to work with, so to get there, I need to get rid of two before I even sort out the bracket. 
The easiest way to make sure each brewery had an equal chance at coming out on top was to make the first preliminary heat between the two Parallel 49 beers, because who brews two pumpkin beers, let alone one? Then, because it was the easiest way to make sure there was no personal influence on who got through beyond the first round, the remaining eight beers were put through a random draw generator, leading to Steamworks and Longwood being chosen to go head-to-head in the other preliminary.
Preliminary Round 1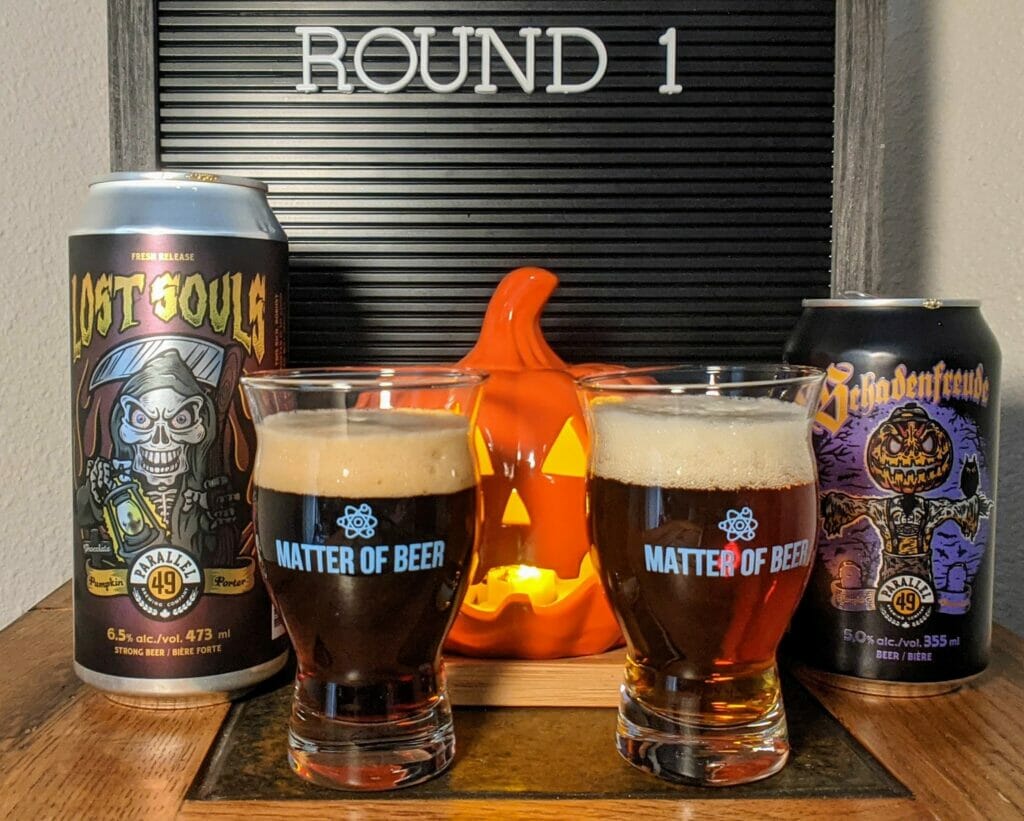 Parallel Pumpkins.
Schadenfreude vs. Lost Souls
My first impression of Lost Souls is that it's a nice, roasty porter with amazing coffee and dark chocolate notes, and a touch of bitterness to finish. But I find myself looking for anything pumpkin-related.
Meanwhile, Schadenfreude right away tells me there is some pumpkin or spice in it. There is an aroma of cinnamon, allspice, clove, and the sweetness of the malt, but when tasted, the pumpkin jumps out alongside those spices. 
The Prime Pumpkin Parallel 49 possibility has been decided and, as much as I could have kept Lost Souls around as the least pumpkined beer for my sanity, I have to go with the proper pumpkin choice, and it is Schadenfreude.
Winner: Parallel 49 Schadenfreude
Peter Piper picked an Unplanned Pumpkin Preference.
Full Patch Pumpkin vs. Pumpkin Ale
Starting with the Steamworks beer, this reminds me a bit of a milder version of Schadenfreude. It drinks like an amber ale with mild spice aroma, a lighter body, some sweetness I can tell is from pumpkin, and the flavours of pumpkin spice rounding things out to finish. This is very different from Longwood's saison.
Right away, the aroma of spiced apple, almost like an apple pie, comes through along with quite a bit of sweetness and warming notes from the 9% ABV. As the finish arrives, the squash notes take hold, and the spice falls off, reminding me that this is very much a pumpkin beer.
As much as I want to reward the Longwood beer for going big and leaning into the spirit of the beer, I find myself appreciating the easy-drinking nature of the Steamworks ale a little more.
Winner: Steamworks Pumpkin Ale
With those two victories, we've got a nice round number of eight beers to fit perfectly into the bracket.
To break it down at this stage, we can use a few themes to pick the matchups. There are two mouth-themed beers — Phillips Crookeder Tooth and Howe Sound Pumpkineater — two brown ales — Ïle Sauvage and Fernie — and Russell's Pumpkin Pie Milkshake IPA seems like a form of Schadenfreude, so it can go up against Parallel 49, leaving Steamworks and Howl as a Battle of the Big Bottles.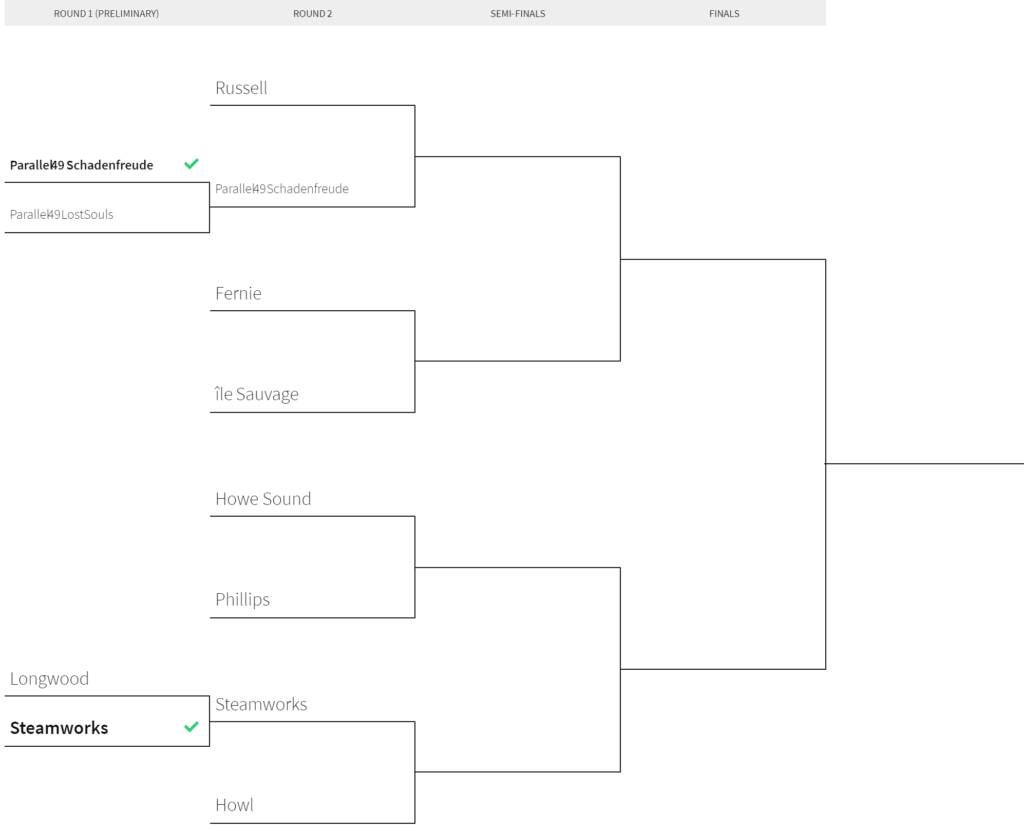 Round 2
My Milkshake brings the Schadenfreude to the yard?
Pumpkin Pie Milkshake IPA vs. Schadenfreude
The second attempt at Schadenfreude is still nice and drinkable, but how will it hold up directly against the IPA? The aroma on the IPA is spicy and hoppy, almost in a pine sense, feeling like fall. The pine notes come through in the taste as well but dissipate into a spiciness, mostly nutmeg, it seems. Its heavy body and sweetness combined with the spice notes and resinous characteristics is interesting, but just not as balanced in flavours as the offering from Parallel 49.
Similar to the Longwood saison, the Russell IPA deserves a lot of credit for trying to go for the biggest pumpkin in the patch, but sometimes, the little ones work out a little better for carving.
Winner: Parallel 49 Schadenfreude
How Now Brown Ale?
Ghost Rider vs. La Tarte
Starting with the Fernie Ghost Rider, the aroma has a sweet, mild pumpkin experience, alongside chocolate Halloween candy. Notes of chocolate and mild spice notes of cinnamon and allspice fill out the flavour with chocolate taking over, all supported by a smooth mouthfeel.
Île Sauvage's La Tarte starts with a dry sour candy aroma, with a touch of spice. The first sip is mild, with a small amount of tartness, not unlike a slightly underripe plum — jammy with a hint of spice, almost like marmalade on a piece of spice cake. Finishes clean and dry with the sour tartness.
This is such a close call, but I have to give Île Sauvage the win as the complexity of the sour with the additional notes of spice work out brilliantly. They found the sweet spot of doing something big and different, while still keeping things approachable.
Winner: île Sauvage La Tarte
This Matchup's Got Teeth.
Crookeder Tooth vs. Pumpkineater
Phillips is up first with sweet pumpkin spice aromas, and maltiness is prominent. The flavour right away brings spice and sweetness, almost no indication of pumpkin, but all the warmth of cinnamon, nutmeg, allspice, and the heat from a higher ABV. Drinks almost like spiced rum, and makes me imagine pie over pumpkin.
Howe Sound Pumpkineater's aroma has so much more pumpkin to it. Like glazed roasted pumpkin in the oven, notes of sweet potato, and savouriness. Flavour continues on that trend: heavy pumpkin with a little bit of spice, and although it's an imperial ale, the warmth is nothing in comparison to Crookeder Tooth, which is interesting considering it comes in at a higher ABV. Smoother mouthfeel, but definitely a pumpkin finish.
Pumpkineater is a great beer if you especially like pumpkin. Unfortunately, my pumpkin tolerance is lower, and I have to give it to the folks at Phillips.
Winner: Phillips Crookeder Tooth
Battle of the Bottles.
Pumpkin Ale vs. Spiced Pumpkin Porter
As before, the Steamworks offering brings some nice mild, drinkable spice, maltiness, and nothing overpowering. The Howl Porter has an almost Belgian yeast aroma, reminding me a bit of the Longwood Saison. It has an earthy quality, closer to a brown ale than a porter, probably brought on by the pumpkin. There is a touch of spice and a mild chocolate character from the malt. This is a close one, but Steamworks just seems the tiniest bit more like what I would reach for again, and drinkability is always key.
Winner: Steamworks Pumpkin Ale
So, the winners from the preliminary round are both still alive, and going up against the other two winners from Île Sauvage and Phillips to see who will be carving their way into the finals.
After a break for some pie (lemon meringue, not pumpkin; I'm not a masochist, even though the fact that I'm doing this at all may prove otherwise), the process continues.
One interesting fact to note is that going into the semi-finals, the challengers are evenly split between the Mainland and the Island, and between bottles and cans.
Semi-Finals
What Pie Goes Best with Misfortune?
La Tarte vs. Schadenfreude
Now that I've had a chance to try all the beers, it just comes down to a straight comparison. Both are stellar beers on their own, but the beer I would likely go back for more if I had to choose just one is the Schadenfreude. This is no knock on La Tarte, as it is a fantastic example of  sour pumpkin beers (and maybe the only such example??), and is a great indicator of the quality beer coming from Île Sauvage, but the drinkability of the Parallel 49 brew is exceptional.
Winner: Parallel 49 Schadenfreude
That Crooked Smile is Making Things Steamy.
Crookeder Tooth vs. Pumpkin Ale
Again, as a direct comparison, Steamworks is nicely balanced and amazingly drinkable, but Phillips does the same while pushing everything up to 11. The added oak notes, the extra oomph from the added ABV, and the overall flavour that screams fall without screaming pumpkin just leans the whole thing in that direction.
Winner: Phillips Crookeder Tooth
By this point in the process, I'm a little pumpkined out. It's pretty clear that I like malty, spicy beers (which might explain my love for Bocks and Belgian beers), and these two options are both great examples of just that. 
Final
Well, I've Gone This Far, Might as Well Finish.
Crookeder Tooth vs. Schadenfreude
Trying the two, side-by-side, the bigger, bolder beer just jumps to the forefront. If you've read this far, you probably know which one I'm talking about. Schadenfreude is a perfect beer in a six-pack as it isn't hard to have a few, and Crookeder Tooth is perfect in a big bottle to share around the table. I could easily drink both again and not feel like I'm drinking a pumpkin beer, but the one that makes me want to share its deliciousness with friends is the one that just has to come out on top.
Congratulations to Phillips Brewing and their Crookeder Tooth for winning my "1st Hopefully-not-annual BC Pumpkin Beer Bracket Invitational Based on if I Could Find Your Beer Where I Live™."
Post-Pumpkin Pontifications
One thing I've learned through this experience is that the much-maligned pumpkin beer category doesn't deserve the scorn it receives.

The Champion is adorned by its orange construction paper crown, celebrating its victory. Photo by Matt Poirier.
Would I seek out these beers again? Well, in the case of the maltier, less gourd-flavoured, and more spice-oriented options, I probably wouldn't turn them away. And in the case of those on the pumpkin end of the scale, well, that's what flights and samplers are for.
 As in all good beers, it's about what YOU like to drink, what flavours you enjoy, and what makes you happy. We have an amazing selection of beers in BC, and the best thing you can do is try them.
Was I wrong? Did I pick your favourite? Do you just want to tell me I did a good or lousy job of this? Did I make enough really bad puns? Reach out with your favourite BC Pumpkin Beers and let us know what you think should have won. 
---
Matt Poirier (Matter of Beer) is a Certified Cicerone® located in Victoria, BC. He offers services and classes ranging from beer tastings and food pairings to event representation and staff training.