As summer comes to an end, BC's craft breweries are serving up a variety of harvest-themed beers and other styles perfect for fall.
Look for these BC fall beers at your favourite local liquor store or directly at the brewery.
---
How Fresh Can You Get?
Every BC fall beer lover awaits the arrival of a very special style of beer. Fresh hop (or wet hop) beers are highly anticipated because they can only be produced once a year during the hop harvest. Brewers work with nearby farms or hop distributors to get hops fresh from the harvest and into their brew kettles within 24 hours of picking them. The resulting fresh hop beers showcase bright, grassy flavours and a distinctly fresh quality that isn't present in dried hops. However, the volatile flavour compounds in these beers break down quickly, so fresh hop beers should be refrigerated and consumed immediately.
The first fresh hop beer produced commercially in British Columbia was Driftwood Brewery's Sartori Harvest IPA, which dates back to 2009. In fact, Driftwood brewed its first batch of Sartori before it ever brewed Fat Tug IPA, which it is now best known for. Driftwood always uses Centennial hops from the Sartori Cedar Ranch in Chilliwack.
While the Sartori Harvest IPA is undeniably the most sought-after fresh hop beer in BC each fall, many other breweries make fresh hop beers too. Driftwood's neighbour in Victoria, Hoyne Brewing, produces the Wolf Vine Wet Hopped Pale Ale each fall. Sean Hoyne drove a brewery truck over to the Hope Bay Hop Farm on Pender Island in early September, loaded it with 700 lbs of freshly picked Cascade and Sterling hops, and then caught the ferry back to Victoria to fill the brew kettle.
Jackknife Brewing, which opened earlier this year in Kelowna, has just released a special fresh hop beer called Dying Wish Nordic IPA (5% ABV | 40 IBU). It features a big whirlpool addition of fresh Centennial, Cascade, and Chinook hops from the brewer's own backyard. Brewer Brad Tomlinson says he has 22 hop plants at home and another eight at the brewery itself. He describes the beer as fresh, juicy, and smooth, thanks to the bright local hops and Ebbegarden kveik yeast.
Here are some more fresh hop beers to look for in the coming weeks:
And, as a counterpoint to all of these fresh hop beers, Victoria's Île Sauvage Brewing decided to brew a special West Coast IPA called Ouest…
---
Oktoberfest!
The annual Oktoberfest celebration in Munich is famously the world's biggest beer event with more than six million people attending the event every year. Typically, it runs for nearly three weeks, beginning in mid-September until early October. It was first held in 1810 to celebrate the wedding of Prince Ludwig and Princess Therese, and has been an annual event ever since. For more than 200 years, it has only been cancelled because of wars, economic disruption in the 1920s, and now, sadly, the COVID-19 pandemic.
For now, we can only fantasize about being part of a crowd of happy people in one of the giant tents, hefting enormous one-litre steins of beer and singing along to the oompah band. However, many BC craft breweries produce German-style beers, including their own versions of the traditional Festbiers or Märzens served at Oktoberfest each autumn. These are delicious lagers that are brewed to be slightly stronger and darker (more amber than yellow) than the typical Helles (light) lagers that German breweries make year-round. 
Several BC breweries have produced Festbiers that you can sample as part of your very own Oktoberfest celebration at home. Pros't!
Ludwig Festbier – Strange Fellows Brewing (5.4% ABV | 25 IBU)
This special release is brewed with German-imported floor-malted grains and continental Hallertau Tradition hops. The result is an exceptionally clean and smooth beer with an elegant malt character and floral hop finish.

Marzen – R&B Brewing (5.9% | 25 IBU)
This rich Oktoberfest lager won a gold medal at the 2019 BC Beer Awards.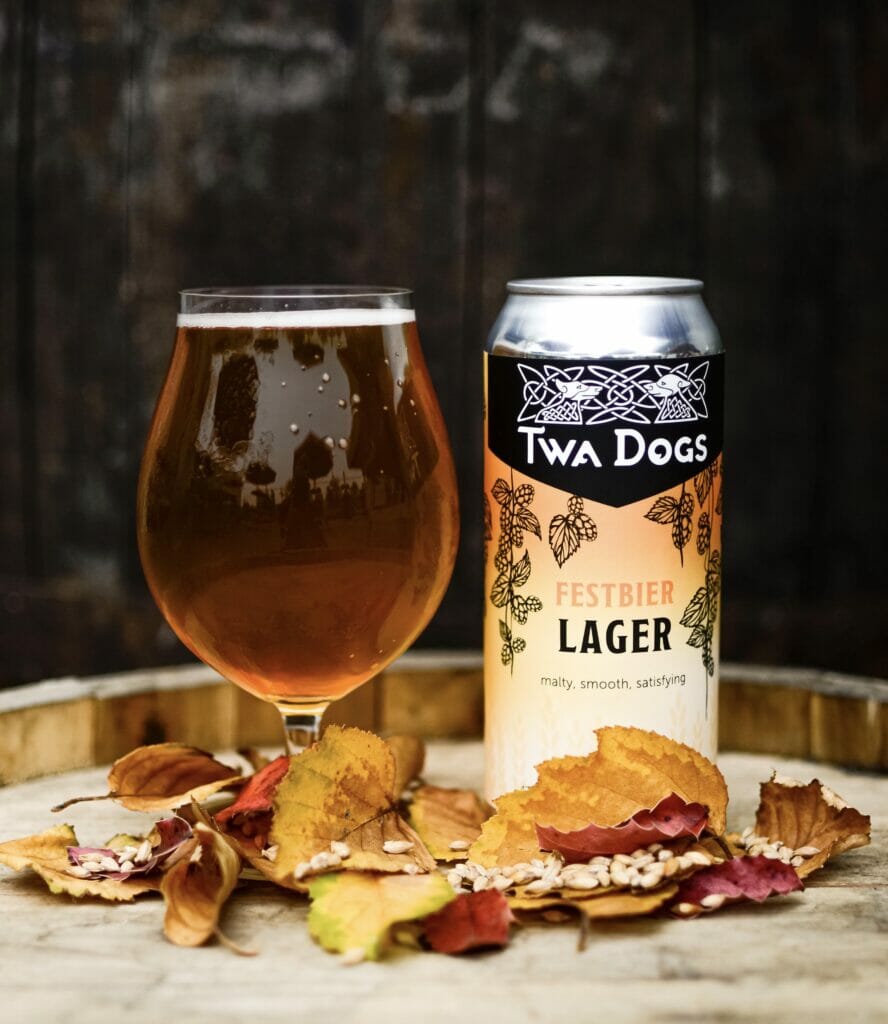 Festbier Lager – Twa Dogs Brewery (6.4% ABV | 35 IBU)
This beer was brewed during the initial COVID lockdown, which resulted in lots of conditioning time that made for a smooth, malty lager.
Here are some more Oktoberfest-style beers to look for this fall:
---
Enjoy A Taste of the Harvest
Craft breweries also love to celebrate the arrival of autumn with special beers featuring the agricultural bounty of the harvest season, including fruits, grains, and even squash.
Horace Wild Sour with Plums – Strange Fellows Brewing (8% ABV | 5 IBU)
Brewed with Bradshaw Plums from Oyama in the Okanagan, this beer spent over a year in a 6000L French oak foudre. The result is a mildly sour beer with a deep, dark fruit character.
Maiden Harvest Saison – Foamers' Folly Brewing (6.5% ABV | 27 IBU)
This farmhouse saison features triticale, a hybrid of rye and wheat from the first yield of the brewery's own farm in Maple Ridge. More subtle and complex than rye, and boasting the same body as wheat, the triticale was paired with a citrusy, lightly-phenolic yeast, and hopped with just enough Sabro hops to incorporate notes of citrus and cedar.
BC Blueberry Sour – 33 Brewing Experiment (6.1% ABV | 5 IBU)
Rustic Saison – 33 Brewing Experiment (5.8% ABV | 10 IBU)
33 Brewing Experiment has two very interesting harvest-themed beers out this fall. The BC Blueberry Sour is a mixed culture sour that was brewed with far too many BC blueberries, while the Rustic Saison is a mixed culture, foeder-aged saison that is bright and tart with notes of stone fruit, white grape, and pink peppercorn. 
Lavender Saison – Twa Dogs Brewery (6.7% ABV | 23 IBU)
Brewed with locally grown unmalted rye and wheat, Vancouver Island-grown lavender, and Moroccan orange peel, this saison is fermented by a special Lithuanian Farmhouse ale yeast.
AION Farmhouse Ale – House of Funk Brewing (7.0% ABV)
House of Funk's first anniversary beer, Aion, is a culmination of the brewery's house cultures developing over the year, providing a unique harmony of acidity, aged complexity, and funk. Also, look for Diana, a Brett Saison brewed with barley, wheat, rye, buckwheat, spelt and oats; hopped with Loral and fermented directly in barrel with Brettanomyces and a house saison yeast culture. It was made in honour of the brewer's aunt Diane who passed away around the time the brewery was under construction.
Here are some more harvest-themed beers to look for this fall:
---
Did someone say pumpkin?
Last but not least, many breweries make pumpkin beers, incorporating the popular fall flavours of pumpkin pie spice in a wide variety of beer styles. Here are a few to try:
Squash Gourdon – Red Collar Brewing (6.5% ABV | 20 IBU)
Squash Gourdon is a pumpkin beer made exclusively with sugar pumpkins grown at Thistle Farm in Kamloops and lightly spiced with allspice, nutmeg, and ginger.
Full Patch Pumpkin Saison – Longwood Brewery (9% ABV | 30 IBU)
A Belgian-style saison brewed with pumpkins and spices.
PumpkinEater Imperial Pumpkin Ale – Howe Sound Brewing (8.0% ABV)
Howe Sound has been brewing this deliciously dark and rich pumpkin beer for a long time, and this year it will be packaged in cans as well as the usual 1-litre bottles.
Ghosts Pumpkin Spiced Latte Milk Stout – Silver Valley Brewing (5% ABV | 25 IBU)
Silver Valley called this beer a "wacky experiment that turned out waaaayyyy better than expected." They took a classic Milk Stout and added coffee from Smoking Gun Coffee Roasters along with a touch of pumpkin spice at the end of the boil.
Can't get enough Pumpkin??
---