This is the latest instalment in the Hops Among Friends series, which is designed to showcase the people that make up the craft beer scene on the BC Ale Trail.
My most recent Hops Among Friends interview was with Chris Vandenberg from Slackwater Brewing in Penticton. At the end of the interview, Chris recommended that I interview Cam McKeigan, the head brewer and co-owner of Smithers Brewing, which opened in June 2018 in the town of Smithers on the Northern BC Ale Trail.
It was great to speak with Cam about his background, his passion for craft beer, and his pursuit of outdoor adventures. I now have a trip to Northern BC on my future adventure bucket-list! I'm excited to meet Cam in person in April when he comes to Penticton for Okanagan Fest of Ale.
KL: How did you get started in craft beer?
CM: Well it depends on how far back you want to go. My dad was a homebrewer when I was growing up in Ontario. He only ever used kits, the kind he got from a grocery store. But this really planted a seed for me as I grew up. Later on, I left Ontario and moved to BC to go to school.
A few years later, in 2013, I was living in a matchbox-sized apartment in Vancouver. Both myself and my roommate at the time had a passion for craft beer. I did some research and then spent about $200 to buy what I needed to brew my first batch of beer on my stovetop. It was… really bad. Looking back, I can pinpoint what went wrong. I didn't follow a recipe, because I wanted to build my own, but at that point, I had no understanding of how to use ingredients to balance flavours. While the beer sucked, I really enjoyed the process.
At that time, I was going to UBC to get my teaching degree to follow in the footsteps of both my parents. After a few brew days, however, I realized I wanted to completely change direction. I used my time in Vancouver to do the responsible thing and get my teaching degree, all the while continuing to work on my home brewing. I finished up my teaching degree at a time when there were no teaching jobs in BC except up in Prince Rupert. So, off I went to Prince Rupert to start what turned out to be a very brief teaching career.
I've loved the North since I first came here in 2009, and it was here that I thought I would open a brewery. However, Wheelhouse Brewing was already in Prince Rupert when I moved there in 2015, so I went into Wheelhouse and offered to work there part-time. Fortunately, at the time, Wheelhouse wanted to expand their team and so I got a part-time job there. I taught high school during the day, and I brewed beer at Wheelhouse by night. Wheelhouse turned out to be an unbelievable opportunity. Although I had a bunch of homebrews under my belt, this was my first credible professional brewing experience.
From my early days there, Wheelhouse knew that I wanted to open my own brewery. In fact, it was Wheelhouse's head brewer and part owner Craig Outhet who first introduced me to Blaine Estby, who was working for Northern BC Tourism at the time. Blaine, along with partners Sascha Hillebrand and Adin Bennett, had been talking about opening a brewery in Smithers and they reached out to Craig for some advice on starting a northern brewery. Craig introduced me to Blaine in early 2017, and I moved to Smithers in 2018, once construction of the new brewery was underway. At that time, Smithers was a great location for a brewery, as it was the last community on the western part of Highway 16 that was big enough to support a brewery, but didn't yet have one.
KL: What do you love most about the craft beer industry?
CM: I love this industry. For me, it's about the people and the camaraderie. If you aren't in the industry, it's difficult to understand. The public often doesn't understand why people from "competing" craft breweries are friends. They think we are competing for shelf space with one another, but that's not the case. We are on the same team, competing against big, corporate beer. When you meet someone in the craft beer industry, you're all just instantly friends.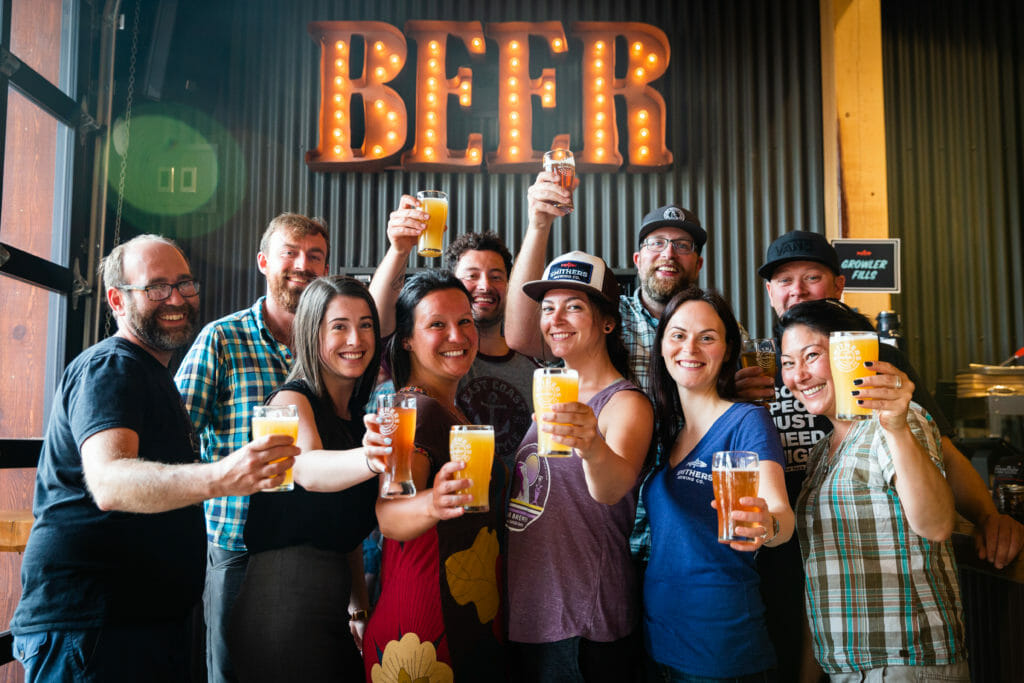 The first beer festival I attended as a vendor was the Kiwanis Ale Fest in Prince George. That's when I saw how friendly all of the craft breweries were with each other. At the time, I was still a teacher and was moonlighting as a brewer. I loved teaching and I was getting pretty good at it… but who would you rather spend your day with….24 teenagers, or 24 beers?
I like that you make friends in this industry, and you keep them along the way. Great friends. There may be 700 or 800 kilometres between the northern breweries, but when we all get together, it's like Christmas.
I also think it's cool that this is one of the last few remaining industries where you don't need to be accredited to be able to do your job and do it well. I mean, I started brewing beer in my kitchen. By the time I moved North, I knew how to make beer, I just didn't know how to make it commercially until I got the opportunity to do so at Wheelhouse Brewing.
KL: Tell me about one of your beer accomplishments to date that you are most proud of.
CM: I'm very proud of being partially responsible for bringing sour beers to the North. I brewed my first commercial sour beer at Wheelhouse. Beer drinkers up here can be quite conservative, so brewing a commercially successful sour beer was not a given. Any time we brew something non-traditional up here, we have to educate our consumers who may not have ever seen anything like it before. I brewed a dry-hopped Kettle Sour at Wheelhouse and it was well-received.
I then ported this experience over to Smithers Brewing. We actually opened with a sour on tap, our Flower Power Kettle Sour. It's a kettle sour that we infuse with a number of different flowers. We brew it periodically throughout the year, and people love it. Whenever we brew it, we can't keep it on the shelf.
There's something else I'm quite proud of. We brewed a batch of beer around this time last year without using any water. Our friends at Bulkley Valley Hive & Honey approached us with an idea. They have a lot of birch trees on their property, and they wondered if we could use their birch sap. This really intrigued me. They brought 200 litres of birch sap in. It tasted even cleaner than our water, and I used it to brew a pilot batch of beer on our 1.5 HL system. I brewed a Bohemian-style Pilsner. It had subtle woody, earthy, and spicy notes, and a silky mouthfeel that normal Pilsners don't have. It sold out in a couple of days. This spring, we hope to sustainably collect enough birch sap to do a full batch. I think we might be the first brewery to brew a batch of beer without using any water, and I'm quite proud of that.
KL: What can we expect out of Smithers Brewing going forward?
CM: We want to be able to balance brewing both traditional and innovative beers so that all of our customers can find something they like on tap. Personally, I get bored with a beer – even an excellent one – quickly. I don't want to get stuck brewing the same old styles, just because they sell well. Don't get me wrong, a brewery could be very successful up here brewing good quality, standard beers exclusively… but that's not what we want. We want to be innovative in addition to brewing traditional styles. I enjoy trying beers from all over the world and then thinking about how we can make those styles work in the North.
An example is our London Fog Dark Mild. It's an English-style Dark Mild, which is one of my favourite beer styles. We added Earl Grey Tea and vanilla to it, and people here can't get enough of it. It's a limited, seasonal release. The base beer is traditional, but the addition of tea definitely isn't. Beers like this are perfect for swaying someone who may not like more commonplace offerings. It's the same with our Strawberry Rhubarb Pie Blonde that we offer in the summer. Our Flower Power is another good example. It pours red because of the use of hibiscus flowers, which people don't expect. We hear from people all the time that they didn't know they liked beer until they tried one of these weirder takes on the stuff. Sometimes you have to give people an innovative reason to try beer.
KL: What else do you have coming at Smithers Brewing?
CM: We just launched a barrel program. We've got six barrels now, but within a month we'll have 10. It's tiny in the grand scheme of things, but it's something that has been really important for me to get going. As this is a purpose-built brewery, we were able to build with enough space to have a barrel room. I've always been fascinated by wild fermentation and wild beer. I've had some experience working with these as a homebrewer, but I'm excited about doing it now on a commercial scale. I also love the way wood can influence the flavour of the clean-fermented beer.
We are currently aging a Scottish-style beer in a bourbon barrel. Each year we also make a Vanilla Whiskey Porter, and up until recently have used oak cubes to get the flavours we want. I'm excited to have gotten some single malt casks to produce a proper barrel-aged version of this beer next year.
KL: What is it like brewing in Northern BC?
CM: Living in the North, sourcing ingredients can be both difficult and very expensive. So, we are really excited to launch a beer with a unique local ingredient. It's a sub-arctic berry called a haskap. It's like a northern blueberry, but more tart and earthy. We've partnered with Living Roots Family Farm, which grows haskap berries about 30 minutes outside of Smithers. We brewed a pilot batch of Haskap Berry Sour last winter, which was very successful. The haskap berries turn the beer an electric shade of purple.
This year, we brewed a full batch of Haskap Berry Sour. After kettle-souring, clean-fermenting, and conditioning on haskaps, half the batch was kegged off, while the other half was put into wine barrels with wild yeast and bacteria. We've already released the clean-fermented half with great success, and hope to release the wild half in about a year.
We've also brewed several batches of a beer called Gose-Busters on our pilot system. Each batch was conditioned on different fruit from Northern BC, including blueberries from Valemount and cherries from Terrace. This batch of Gose-Busters will be brewed with haskaps. We brewed a full-size batch of it this time, which we hope will be ready for Okanagan Fest of Ale.
KL: You moved to Smithers in 2018. What are your thoughts on living in Smithers?
CM: I've loved Smithers since the first time I visited. I was here in 2009 as a tree planter and I fell in love with the quaint mountain town. It's an industry town with forestry and mining, but it's also very picturesque. It feels like European Alps. We have some of the best alpine hiking in the Northwest, maybe even in the province. There are lots of trails and forest service roads here to access the backcountry. The hiking is so good that when I lived on the coast, I would drive the four hours from Prince Rupert to Smithers to hike. I've been hiking here for five years. The Babine Mountain Range is one of my favourite places to hike, and it's just a 20-minute drive from the brewery.
KL: Smithers is a bit out of the way for some people. Why do you recommend people come and visit Smithers?
CM: If you like outdoor activities, we have it all here. As I mentioned, it's such a great place for hiking. There is a ski hill that you can see from the patio of our brewery with tons of downhill and backcountry skiing. The Bulkley Valley is wide and flat, so there are also lots of opportunities for cross-country skiing and snowshoeing. In the summer, the mountain biking trails here are insanely good. In the fall, we have world-class steelhead fishing here.
I also love that Smithers gets four full seasons. I had forgotten what four seasons were like after years on the coast. Plus, housing is affordable here, and there is a lack of crowds. I can do some beautiful hikes and not see too many people.
KL: Have you found any special hidden gem that someone has to do?
CM: Depending on the season, I'd say get up into the Babine Mountain Range. I really like the Joe L'Orsa Cabin, which is maintained by Babine Provincial Park. It can sleep up to 20 people, and it's a fairly easy 8km hike in. Some people even ride horses in. It's about $20/night, on the honour system. It's a real hidden gem, with waterfalls all around, a glacier stream, and incredible sunsets.
KL: What do you love about the craft beer scene in Smithers?
CM: As far as breweries per capita, Smithers can't be beat. We have two breweries here and both are doing well. Statistically speaking, this community barely has the theoretical population to support one brewery. However, Smithers was ready for craft beer, and has really embraced both establishments. We opened in June 2018. Bulkley Valley Brewery opened up just before us in March of 2018.
We have a purpose-built brewery, which we built with expansion in mind. We originally had 100 hL of cellar space, and our original plan was to have doubled it by the end of year three. But the demand was so high that within 16 months, we had already more than doubled our cellar. We feel very grateful for the support of our community.
KL: You are in BC's Majestic North. What else do you love about where you live?
CM: Northern BC is such a well-kept secret. There are super friendly people, affordable housing, and incredible and majestic landscapes.
I'd encourage people to take an epic road trip and come visit. There is a well-maintained highway system with stunning views and incredible scenery and activities. I'd recommend a two to four week road trip. From Vancouver Island, I'd suggest taking the ferry from Port Hardy to Prince Rupert. Visit Wheelhouse Brewing and do the Khutzeymateen Grizzly Bear Tour, a catamaran experience along the north coast where you can see orcas, grizzlies, and bald eagles. From there, head to Terrace and visit Sherwood Mountain Brewhouse. Take the Nisga'a Highway 113 to the Nass Valley and visit Lava Bed Provincial Park and the hot springs there. Head back down to Terrace, then to Smithers. Check out Joe L'Orsa Cabin in Babine Mountain Provincial Park and then come have a couple of beers in town. From Smithers, drive 4 hours east to Prince George. Grab a wood-fired pizza and a pint from CrossRoads Brewing & Distillery. Put your trivia knowledge to the test during trivia night at Trench Brewing and Distillery. From Prince George, head to Quesnel and check out one of the only BC breweries almost completely run by women, Barkerville Brewing. Make sure to check out the historic mining town of Barkerville while you're there. Then backtrack to Prince George and on to Valemount where the scenery and mountain biking are both out of this world. Michael from Three Ranges Brewing will show you a good time.
KL: Who else in the craft beer industry do you find interesting and why?
CM: Well I'd like to give a shout out to Craig Outhet, the head brewer and part owner at Wheelhouse, because he gave me my shot in this industry. But I'd like for you to interview Erin Dale at Barkerville Brewing. She is the head brewer there, and she is making excellent beer. She has a great perspective on brewing to share.
Stay tuned for the next instalment of the Hops Among Friends blog series, where I chat with Erin from Barkerville Brewing. Until then, cheers!