Bulkley
Valley Brewery

EST. 2018 | Smithers
Smithers' favourite après destination is the perfect place to park it after a long day on the slopes.
As you drive down the main drag of Smithers, you could be forgiven for thinking you'd stumbled into an East Kootenays ski town like Golden or Revelstoke, what with the faux Bavarian architecture and Hudson Bay Mountain Resort looming overhead. The "Nelson of the North," as the locals like to refer to it, is a great place to play, whether that means skiing, hiking, mountain biking or fishing. And when you're done, one of the hottest après destinations in town is Bulkley Valley Brewery with its selection of approachable West Coast-influenced craft beers. There are skis on the wall, tap handles made out of bike parts, and on sunny days, the garage doors get hauled open to afford breathtaking views of the mountains.
Recommended Beers
Fancy a flight? Here are some sampler suggestions for Bulkley Valley Brewery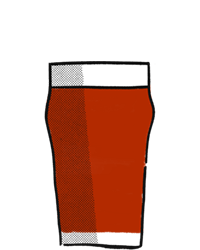 Pint Glass Red
Rippie Red Ale
Pint Glass
Northern Jewel Haskap Wheat Ale
Weizen Dark
Ullr Oatmeal Stout
Fun Fact:
Bulkley Valley Brewery is solar-powered — during a recent power outage, it was able to stay open and keep the beer flowing.