It's a tale of triumph when an old dog learns new tricks and is recognized as a leader of the pack. R&B Brewing — a Vancouver craft beer pioneer — was nearly left behind by the craft beer evolution and explosion in the 2010s, but investment from a fellow brewery opened the doors to one of the funkiest and friendliest tasting rooms in the Lower Mainland. Today, 24 years after releasing its first beer, R&B has earned the BC Ale Trail's 4th Annual Best Brewery Experience Award.
BC breweries have built an incredible reputation for their ability to create an amazing experience for visitors — award-winning beers in infinite varieties alongside delicious food, served by proud staff who are the backbone of this warm community. Combined with the unique, modern, classic and eclectic designs of taprooms across the province, they provide you with a lasting impression.
Over the last couple of months, the general public had the opportunity to vote for the brewery they thought deserved to win this award.
Congratulations to R&B Brewing from The BC Craft Brewers Guild in conjunction with WEST COAST TRAVELLER.
---
R&B Brewing co-founder and Vancouver sales manager Barry Benson — the "B" in R&B—has been there for every sip along the way. He is possibly the youngest 62-year-old you'll ever meet, full of enthusiasm and conviviality. In conversation, he is able to weave together disparate topics such as punk rock percussion, beer festival streakers, and Conrad Gmoser and Nigel Springthorpe's beards, at the drop of a coaster.
The staff at the R&B Ale & Pizza House share these traits. They bring energy, whether cracking jokes at the bar, enthusiastically recommending the Mushroom Bianca pizza special, or setting you and your friends up for a patio session in the sun.
With Love Rollercoaster on the stereo, fresh-hopped beer and a jerk chicken pizza in front of us, classic LPs on the ceiling above us, and a taxidermist's finest hour in the form of a spread-winged raven behind us at the bar, Benson and I chatted about the brewery's sore spots and soar spots.
---
R&B Brewing—with its proud moniker, "East Van Original" — was established in 1997. Its East 4th Street location is in Vancouver's historic brewery district, Brewery Creek. This district is largely centered within the Mount Pleasant neighbourhood, Vancouver's first suburb — southeast of the downtown core. 
This neighbourhood was the site of a short-lived brewing industry in the late 19th century. Mount Pleasant was transforming from wilderness into a residential and industrial hub, with water from Brewery Creek — one of many fresh streams flowing through the area — harvested for business use, including the brewing of beer. With overuse, the creek began to shrink, eventually disappearing from public view in the 1920s. Partly, this was due to urban development paving over waterways, but the breweries in the area slowly shuttered their doors following multiple amalgamations and the introduction of Prohibition. No creek, no breweries, no need to honour the name — at least for another 70 years.
Fast-forward to the 1990s. Two friends — Benson and Rick Dellow (soon to be "The R" in R&B) — were trying to find a path to continue working in the beer industry while not travelling so much. Former Molson employees, they made a jump together to Newlands Systems, a brewing equipment manufacturer. They designed and set up breweries in Japan, Russia, the USA, and Canada (including Mt. Begbie Brewing in Revelstoke and Russell Brewing in Surrey). 
They decided to act upon their desire to stay rooted and start their own brewery, but Vancouver wasn't the first choice.
"We originally thought we might start the brewery out in Tofino," Benson said. "We were going to have Hugger Lager and Logger Lager and see which one sold better."
After briefly considering North Vancouver, Benson and Dellow started looking around Vancouver, when a building in Brewery Creek "popped up."
"It was perfect," Benson said, reminiscing on how the site had to be adapted for brewing. "The whole building used to [belong to] BDH Chemicals as a chemical warehouse and distribution site. The brew house was in a safe room with sprinklers. It already had drains, though we couldn't use them. The old piping was glass-lined so the chemicals could flow to the sewer but didn't burn the pipes."
Brewing gear was brought in, the original loading bay was turned into the malt handling system, and Brewery Creek was soon to have its first brewery in many decades. The adaptability of this building for brewing won the day despite the fact that, in the mid-1990s, Mount Pleasant wasn't living up to its name. It was a run-down neighbourhood where crime, drug abuse, and neglect were readily apparent. Neighbouring buildings housed sweatshops. 
"It was a nasty, nasty neighbourhood," Benson said, recalling that their back alley was often littered with needles.
Within that context, and shaped by provincial beer production laws of the time, it's no surprise that their business plan for the brewery focused strictly on manufacturing instead of hospitality. Their beers were to be sold in kegs or as packaged products.
"When we set the brewery up," Benson said, "you could either be a microbrewery that produced in-house and sold out-house, or you could be a brewpub that produced and sold in-house, like Spinnakers." 
After bandying about prospective names for the brewery — Vancouver Brewing Company and the tongue-stumbling Brewery Creek Brewing Company were early options — Rick and Barry put their initials in lights. R&B Brewing was off and running with the two of them sharing all brewing and marketing/distribution duties.
Benson said that working at Molson taught them a lot about quality control, and they aimed to bring that level of technical care to their brewing. However, the beers were designed to be the opposite of the ubiquitous macro lager, starting with the malty Red Devil Pale Ale. Later additions to the core line-up included Sun God Wheat Ale and Raven Cream Ale.
R&B were early adopters and promoters of cask ales in Vancouver. These are beers that are conditioned in a sealed vessel (typically a 40-litre metal barrel called a firkin) and often have special ingredients or different hops added, resulting in creative one-off small batch brews.
"We put the first cask beer engine in a restaurant – the Irish Heather – and they were going through about two to three casks a week," Benson said. Cask nights at legendary venues such as The Whip and Dix BBQ & Brewery followed and cask festivals became a regular part of BC's craft beer calendar. 
"It got to the point where you could get a glass of cask ale every night of the week at two or three different places." 
Creating casks proved to be a great way for brewers to experiment and to get feedback from beer drinkers on different flavours. A well-received cask experiment might evolve into a packaged product, Benson said, and casks are still on hand on weekends at R&B today.
Throughout the first decade of the 2000s, R&B grew to a team of more than a dozen employees and followed a rock 'n roll ethos. The brewery was wired with giant speakers; whoever got to brew got to choose the music.
The 2010 Winter Olympics in Vancouver marked a particularly opportune time for the brewery to make big sales as it helped provide beer for a German pavilion.
"Beer from Germany was imported, but they ran out," Benson laughed. "Beer was brought over from Germany in a large military cargo plane, but there was nowhere it could land in Vancouver. They had to land in Alberta and ship the beer here. During that time, we got orders for 30 kegs, 30 kegs, 30 kegs…"
"The yearly capacity here is about 5,000 hectolitres. During the Olympics, we did 600 hectolitres in one month."
Unfortunately, this temporary production boost was not a precursor to more immediate success. The Lower Mainland was about to experience a dramatic rise in the number of craft breweries, especially in East Vancouver. 
In 2012, the neighbourhood welcomed Coal Harbour, Parallel 49, and Powell Street; 33 Acres and Brassneck opened mere blocks away from R&B in 2013. Bomber, Main Street, Postmark, and Strange Fellows opened their doors in 2014. Thanks to recently relaxed liquor license laws, most of these breweries were able to build and operate tasting rooms on site, while R&B, depending largely on sales of packaged product and keg accounts, was unable to adapt.
While a growler station was shoe-horned into the front of the building, a lack of wheelchair access hampered any attempts to redo their space. Plunking a tasting room into their office and lab space while bringing in guests through a delivery dock lift wasn't going to work. The old chemical warehouse that allowed them to get started was now a toxic deterrent to new business.
"This brewery was built on a 1997 business plan," Benson pointed out. "Our sales were plummeting and we were trying to decide what to do. It was too late for Rick and I to restart or put together a new business plan. The crunch was coming and the cash flow wasn't."
"We thought we'd sell the brewery."
Enter Howe Sound Brewing. The Squamish brewery, opened in 1996 by the Fenn family, was looking to expand its footprint in Vancouver. After opening the Devil's Elbow Ale House on Beatty Street in 2014, Howe Sound successfully purchased R&B in 2015 but kept the brands separated.
"They recognized that Howe Sound has a unique Sea-to-Sky feel, outdoorsy, while R&B is more funky, rock 'n roll," Benson said. "I think it was a really good decision."
There was a complete turnover of staff at R&B except for Benson and Dellow — and Dellow eventually left as well, returning to work with Newlands Systems as a senior project brewer. (Dellow is currently the head brewer at PoCo Brothers Brewing.)  Benson, no longer a co-owner but now a sales rep for the brewery, had to grit his teeth as the new owners enacted changes to the core beer lineup he had co-developed 18 years previously.
"I went through half a year of resentment," Benson admitted. "They chopped the Sun God, they started [messing] around with the recipes … but after about six months, I went 'You know what? You guys do what you need to do, and I will sell it. I'll be the B in R&B, and I'll be an ambassador."
And what Howe Sound did was put an influx of capital into the brewery, leading to two major developments: new brewing equipment to increase capacity, and the ability to expand. Adjacent space was acquired and plans were set in motion to open a tasting room and kitchen.
In 2016, with R&B Brewing's refreshed production space taking up the rear of the building, the new R&B Ale & Pizza House opened up front, welcoming craft beer fans into a comfortable and laid-back 60-seat tasting room. 
"When this first opened, I was sitting here with Trevor [Magee of Howe Sound], just looking around — can you believe this?" Benson said. "It was frickin' packed. Everyone was enjoying themselves." 
There's synergy but not always symmetry: light fixtures don't necessarily match, much of the signage is hand-written, and the vibe is undeniably East Van. There's nothing that could be described as cookie-cutter, and for an 800-square foot space, it really rewards exploration. Sit at a wooden table and peruse the packed bookshelf behind you during one visit; come back on the weekend for a cask ale and watch a soccer game on a giant pull-down screen, or grab a window seat on a long padded booth to listen to a local DJ.
Speaking of music: the tasting room is purposefully designed to be a music-forward space. How many breweries feature a reel-to-reel as part of the decor?  Many of the vintage speakers that used to blast out the brewers' favourite tunes in the brewery were brought out to the tasting room, re-wired, and mounted on the walls. You might hear soul, funk, ska, or rock – no matter the genre, the music sounds great in here.
At this point, it should be noted that Benson himself is an accomplished drummer, performing in a jazz band (The Jazzholes) and with punk outfit Aging Youth Gang.
The bar — guarded by a stuffed raven — has a dozen taps, representing six core beers and filled out with experimental or seasonal brews and the occasional cider or guest tap. Benson acknowledges that the one-offs and specialty beers drive a lot of return business, so the brew team and kitchen team are given free rein to experiment and develop new recipes. A dill pickle gose might not be for everyone's tastes, but it'll certainly grab your attention.
"We're putting out one specialty brew every three weeks, so the [brewers] experiment a lot," Benson said. "Let's see how charred oak works in a cask — would it work in a larger thing? How does this syrup or this flower work? We are continuously re-establishing ourselves with our [one-off] beers."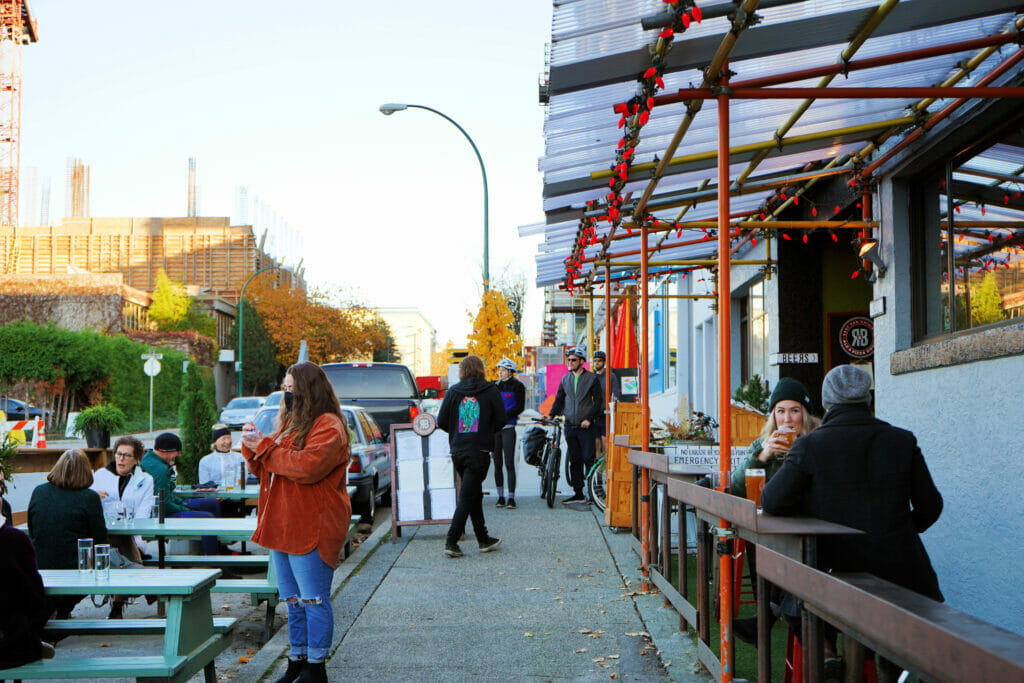 Fast-forward again to the onset of the COVID-19 pandemic. R&B's production facility returned to the forefront to help the business navigate the first few months of closures. While the Pizza & Ale House was closed, the business survived on "crazy" amounts of off-sales and sold take-away pizzas. When the taproom re-opened, self-service switched to table-service and reduced capacity indoors was balanced by an expanded patio space outdoors.
Benson was even laid off for three months, which he described as a potential early look to what retirement will feel like: "My wife was the happiest, happiest person around and I got so much stuff done around the house." 
He's back at work now with the rest of the staff, and they are already scheming for R&B's 25th anniversary next year. Some of the brewery's original beers might be resurrected; a Brewery Creek collaboration beer and a Brewery Creek block party have also been discussed. 
These plans are at the forefront of a recently-renewed independence. Howe Sound Brewing was purchased by Solterra Development Corp. in December, 2020. As Benson tells it, there was also interest in purchasing R&B Brewing, but Solterra wanted the building as part of the sale. The owner of the building refused, so R&B entered 2021 as its own entity under the direction of the Fenn family.
If you think that Benson might lament his position as a former owner, think again. He's absolutely at ease with his sales and spokesperson role as part of a talented team. 
"I get to do what I really like, which is going out, selling beer, meeting new people. The brew crew we have is the most amazing brew crew ever. The front of house staff is great. It's a pleasure working with this group."
---
R&B Three To Try
Dude Chilling Pale Ale: a classic West Coast pale ale and an ode to the prank art re-naming of a nearby park. The can label is a great example of the revamped hand-drawn label designs by Saint Bernadine Mission Communications.
Märzen: gold-medal winner at the 2019 BC Beer Awards. This German lager has all the bready maltiness appropriate for the Oktoberfest season.
Green Screen IPA: a canned IPA with a partially-blank green label that renders itself invisible during Zoom meetings. Admit it, a surreptitious beer would make these meetings much more bearable.
---
R&B Brewing is part of the Vancouver – Brewery Creek Ale Trail, along with 10 other breweries and four taphouses. The pizza and ale house is a 15-minute walk from the Olympic Village (Canada Line) SkyTrain station or an 11-minute walk from the Main Street-Science World (Expo Line) station.
Please travel conscientiously, arrange a designated driver, and do not drink and drive. As of October 24th, 2021, you must show proof of double-vaccination for COVID-19 to be permitted entry. Please respect public health orders and hospitality workers. Thank you for your kindness!