The 10th Annual BC Beer Awards were announced on October 19, 2019 in Vancouver, BC.
Awards were given in 31 beer-style categories during the ceremony held at the Croatian Cultural Centre. This was the largest competition to date with 1200 entries from 121 breweries around British Columbia.
The big winner of the night was actually BC's brewing school: the Brewing and Brewery Operations program at Kwantlen Polytechnic University (KPU) in Langley, which took home five individual awards for beers, including two bronze awards, two silvers and one gold for its Birra Rossa.
KPU's Brewing program has been operating since 2014. It is the only brewing diploma of its kind in BC and the first brewing program in Canada to be recognized by the Master Brewers Association for offering a standard of excellence in brewing education. Students study the science, production, and business of brewing craft beer. The two-year, full-time program combines building a solid foundation in brewing science with hands-on practical learning in a state-of-the-art pilot brewery located on KPU's Langley campus. Many of its graduates now work at breweries throughout British Columbia and outside the province.
Nancy More, who teaches on the faculty at KPU, was also celebrated with a Legends Award, recognizing her 40 years as a woman trailblazer working in an industry long dominated by men. Two other Legends awards were also announced: Gerry Erith was lauded for helping make Brewery Creek Liquor Store a mecca of craft beer in the 2000s, and Gerry Hieter and John Rowling were given awards for creating and managing the Great Canadian Beer Festival for 26 years before retiring last year.
The other big winner of the evening was Dageraad Brewing from Burnaby, BC, which took home seven beer awards, including first-place prizes for Burnabarian (Belgian Ale), Five (Saison) and 10° (Strong Belgian Ale). Dageraad also won three third-place awards and one second, and even swept the entire Strong Belgian Ale category. It also won two Creative Industry awards for Best Bottle and Best Can designs.
Brassneck Brewery, located on the Vancouver Ale Trail, won five awards, including two bronzes, one silver, and two golds for Heftechnik (German Wheat Beer) and No Brainer (North American Light Beer). Bomber Brewing, also in Vancouver, won four: one gold for its Bomber IPA, along with two silver and one bronze.
Richmond's Fuggles and Warlock Craftworks won Best in Show for its Pixel Pils, which took first place in the German Pils category. Fuggles also won a gold for its Mountain View Black Currant Sour (Specialty Wild Ale category). You can visit Fuggles and Warlock on the New West, Delta, Surrey and Richmond Ale Trail.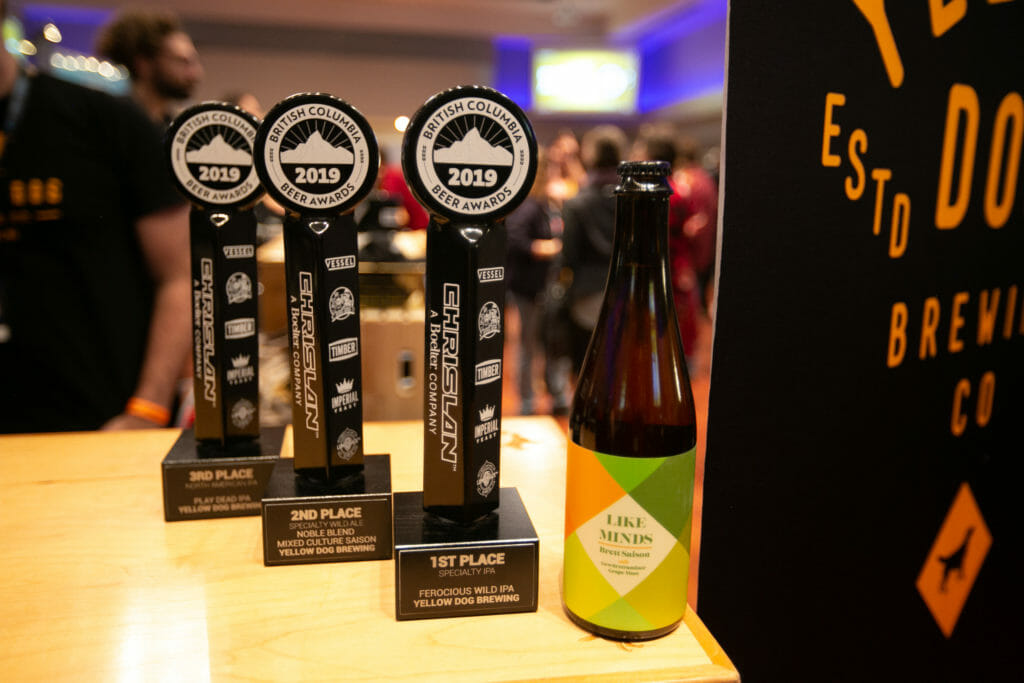 More category winners from BC Ale Trail breweries included:
Another notable winner was Île Sauvage Brewing in Victoria, which won a bronze medal for its Loral Brett Saison and a gold for Shiro Shiro. The brewery was also named Rookie Brewery of the Year.
North Vancouver's House of Funk Brewing is another rookie brewery that fared well, winning two second-place awards for Ignis Lichtenhainer and Debauchery Bourbon Barrel Aged Imperial Stout. House of Funk opened earlier this year and can be found on the rapidly expanding Vancouver's North Shore Ale Trail.
Tiny Mayne Island Brewing made a big splash at the event by winning first place in the Specialty Wood Aged beer category for Punch's Farmhouse Ale. The beer was made in memory of Punch Robson, a "Mayne Island legend who was known to paddle his rowboat across the Georgia Strait to Tsawwassen to go dancing with the ladies and then paddle back in time to milk the cows in the morning." It was aged in a wine puncheon for nine months.
The complete list of winners can be found here.