Let's go "behind the scenes" as our photo/video team visits breweries in the Cowichan Valley on Vancouver Island.
A lot of work goes into producing the BC Ale Trail. We start off by researching and consulting with the breweries and local tourism agencies to determine the activities and sites we will feature. Then, we send out our video-photography team to obtain the images we will use to showcase the breweries and local attractions. That team is made up of Geoff Tomlin-Hood (Director of Photography) and Karolinka Zuzalek (Videographer and Editor) work for The Number, the creative agency that produces all of the content for the BC Ale Trail project.
I caught up with Geoff and Karolinka in the Cowichan Valley as they were starting a three-day visit to Vancouver Island. As I arrived at Red Arrow Brewing in Duncan, BC, I found them already in action: filming people in the brewery's attractive tasting room. They moved around the room in tandem, rarely speaking other than to ask someone to hold a glass a certain way or to take another sip of beer while they filmed, often directing each other to shift their camera position with a nearly imperceptible head gesture.
They have visited more than 50 breweries in the past 15 months.
It was immediately obvious that Geoff and Karolinka are comfortable working together — and that they had done this many times before. Indeed, the duo has visited more than 50 breweries on the BC Ale Trail over the past 15 months. Over that time, they have figured out lots of tricks, including conducting audio interviews inside a vehicle because breweries are noisy places with people talking and machinery such as fans or compressors running in the background.
After spending a couple hours at Red Arrow we moved over to the Craig Street Brewpub, also in Duncan. At one point, while Geoff was shooting photos of the upstairs patio, I took the opportunity to chat with Karolinka.
"Working as a team is just effortless for us," she said, pointing out that they had already worked together on projects prior to the BC Ale Trail so it wasn't a big learning curve for them. "I think a lot of what we do is intuitive."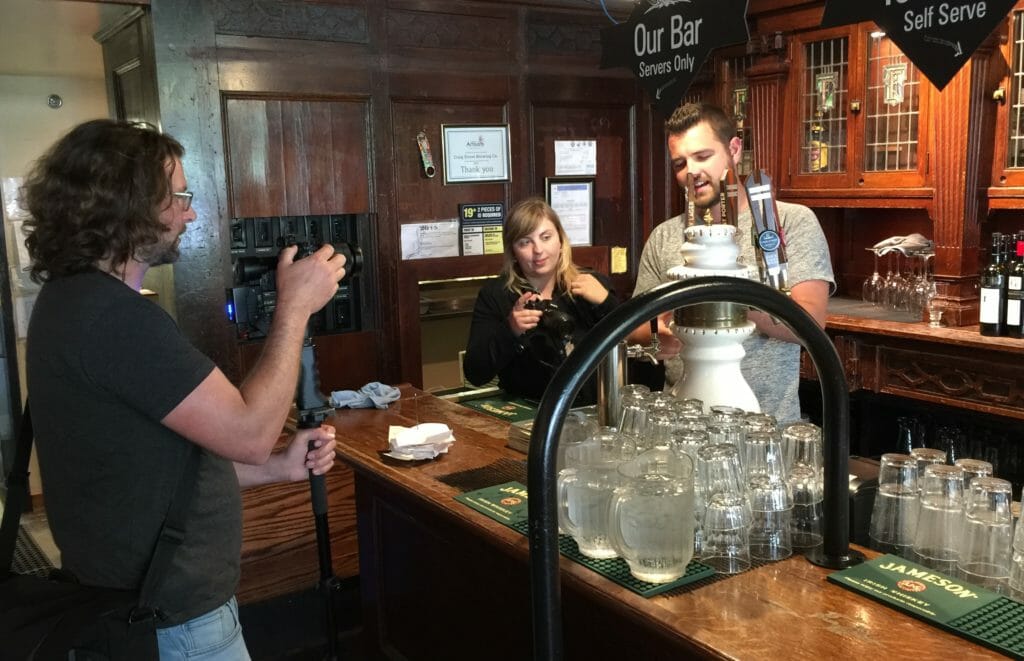 Observant visitors to the BC Ale Trail site might recognize Karolinka because she often appears in the video and photo collections, usually sipping a beer. Geoff appears occasionally, too. They both enjoy meeting the people who work at the breweries. It's one of the perks of their job that they get to sample beer from all the breweries they visit.
"We love beer," Karolinka answered with a smile, adding "Geoff is an IPA guy. I like IPA, too, but I think I'm more willing to go outside the box."
Later, when Geoff joined us for lunch, I told him what she said, and he chuckled, admitting, "Yes, I'm a hop head." When I pointed out he was drinking a porter at the time, we all laughed. "I'm not going to let it go to waste!" he said.
Geoff was very excited to take on this job.
"Something like this has never existed before," he pointed out. "To be able to go and document all the trails was an amazing opportunity."
Apart from visiting all the breweries on each ale trail, Geoff and Karolinka also get to experience activities recommended by the local tourism agencies. So far, this has included hikes, bike rides, zip lines, kayak expeditions, clam bakes, and much, much more. Later on this Vancouver Island trip, they were scheduled to go snorkelling with seals in the waters outside Nanaimo.
"We get to do all the fun things the DMO (Destination Marketing Organization) want us to do!" Geoff acknowledged with a big smile.
After the "fun" trips to visit breweries, though, their work is not done. Photos need to be sorted and edited, and all the video footage has to be edited down to a final cut that is about two and half minutes long. Here's an example from the Kootenay Rockies East Ale Trail, which we launched last October — see if you can spot Karolinka in it.
Keep your eyes open for their work as we launch several more ale trails throughout the summer.