brewery
Riot Brewing
EST. 2016 | Chemainus
Contact & Directions
Celebrate the riot that is life at this beautiful, custom-built Chemainus brewery.
Founders Aly and Ralf were active members of the Vancouver beer scene throughout the 2000s — she as a brewer and he as her best bud and wingman. They decided to make the jump over to Vancouver Island and open their own brewery, but it took quite a bit longer than either imagined. Nonetheless, after several years of perseverance and unflagging optimism, their baby named Riot finally opened in Chemainus. It's a beautiful spot in a community that is relatively new to craft beer. Drop by for a taste in the tap room or on the sun-drenched patio out front. Also, now proudly serving Bicycle Pizza! If you get a chance to meet Aly and Ralf, ask them to tell you a story or two about their experiences opening this brewery. You'll be having a riot in no time.
Riot Brewing won two gold medals at the 2018 World Beer Cup, a nearly unheard of achievement considering only a handful of breweries from across Canada won a single medal.
Fun Fact
Riot Brewing hosted a pair of popular South Korean TV personalities as part of their tour of Vancouver Island in 2017. During the visit, a lot of beer was consumed, and the brewery staff defeated the visitors in a Giant Jenga competition with the prize being a case of beer. Destination BC staff actually picked up the winning beer in South Korea and hand delivered it to the brewery.
To see the video, click on the link below. Riot's part starts at the 6-minute mark. It's worth it just to see Ralf dancing on the bar!
Recommended Beers
Fancy a flight? Here are some sampler suggestions for Riot Brewing
Pint Glass
Lipslide Lager
Tulip
Junk Punch IPA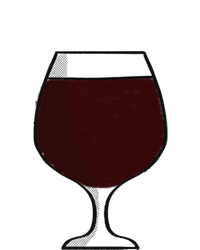 Snifter Dark
Working Class Hero Dark Mild