The South Arm of the Fraser River Provides Beer, Food and Scenery for the Perfect Day Away
South of Vancouver lies a burgeoning oasis for craft beer lovers, foodies, and anyone who wants to explore and be a tourist in their own backyard. Delta and Richmond form a tucked-away little pocket on the south arm of the Fraser River that rewards visitors with a great day out for anyone willing to venture that way.  The region is just far enough away from the city centre to feel like a getaway, yet close enough to ensure that it's easy to get back.
Taco Fiesta at Four Winds Brewing
Although Delta is part of the New West, Delta & Surrey Ale Trail, any visit to the region must include a stop at Four Winds Brewing Co.  A suitable start to your journey would include lunchtime tacos from the brewery as they are second to none.
Four Winds began offering tacos about two years ago and since then they've had to expand their kitchen (and soon their brewery!) to accommodate the popularity. On weekends, the tasting room is often full to capacity with people awaiting the daily taco specials to accompany the delicious brews. Arrive closer to noon to avoid a longer wait.
Four Winds began producing excellent beer from moment one, and they continue to do so to this day.  Any visit should include a glass of their La Maison Wild Saison – for anyone that enjoys farmhouse-style ales this is a must.  Other classics are their Elementary Lager for those that are of a lighter inclination.  Finally, any trip for tacos would be incomplete without sampling their Nectarous Dry-hopped Sour Ale, a true classic.
Bowling for Flights at Monkey 9
After lunch, a quick drive through the tunnel and across the river takes you to Monkey 9 Brewing.
Monkey 9 has recently changed hands and is brewing up some classic beers in their small on-site brewhouse. Conveniently, the brewery is attached to a bowling alley making for a fun way to enjoy their beers and also do something indoors if the weather proves uncooperative. Try a flight to sample all that's on offer from these new kids on the block.  The Red Ale and the Blonde Ale are definitely the beers to start with.
Geeking out at Fuggles & Warlock
The next stop on any visit to the region is to head back across the highway towards Richmond for a stop at Fuggles & Warlock Craftworks.
F&W are known for their video game references and geeky appeal, but their beer is always delicious regardless of how much you know about Mario or Monty Python. When the sun is out, the patio is a great place to enjoy one of the brewery's many sour beers. On those darker days guests can instead play vintage video games or watch the the hockey game, curled up on the couch.
Fuggles & Warlock made a name for themselves out of the gate with their IPAs but have since cornered the market with their sour series.  Be sure to try whatever sour beer is on tap during their visit.  Another unmissable classic is their Last Strawberry Wit, a delicious – albeit somewhat polarizing – brew that is always worth trying for yourself.
Winding down at Britannia Brewing
The final stop on anyone's visit should be Britannia Brewing in Steveston. Britannia took over the restaurant across from Fisherman's Wharf, already a popular area for locals and tourists alike, and then set up their production brewery a few blocks down from Fuggles & Warlock.
If you're looking for a growler fill of Britannia's beer you'll need to visit the brewery itself before heading down to the Steveston location.  A visit to the restaurant and cafe rewards your journey with excellent outdoor seating plus delicious entrees and snacks for brunch, lunch and supper. Britannia can be your preferred stop for for an evening meal after a long day of brewery visits, or even as a place to start your south Fraser brewery journey if you're looking for a tasty weekend brunch.
The brewery always impresses with their Ashore Rye Porter, more reminiscent of a Newcastle Brown Ale than a traditional porter.  Another solid choice is their Sirens Chai Saison, a beer that continues to make waves whenever it's poured.
The unmissable outdoors
This region of BC is known for its marshes and parks, so any visit to the area should also be accompanied by a walk through Deas Island Regional Park or the South Arm Marshes near Four Winds Brewing. On the north side of the Fraser River, take the Dyke Road trail along the river from Steveston for an afternoon stroll, or simply explore the shops and historical buildings of Fisherman's Wharf.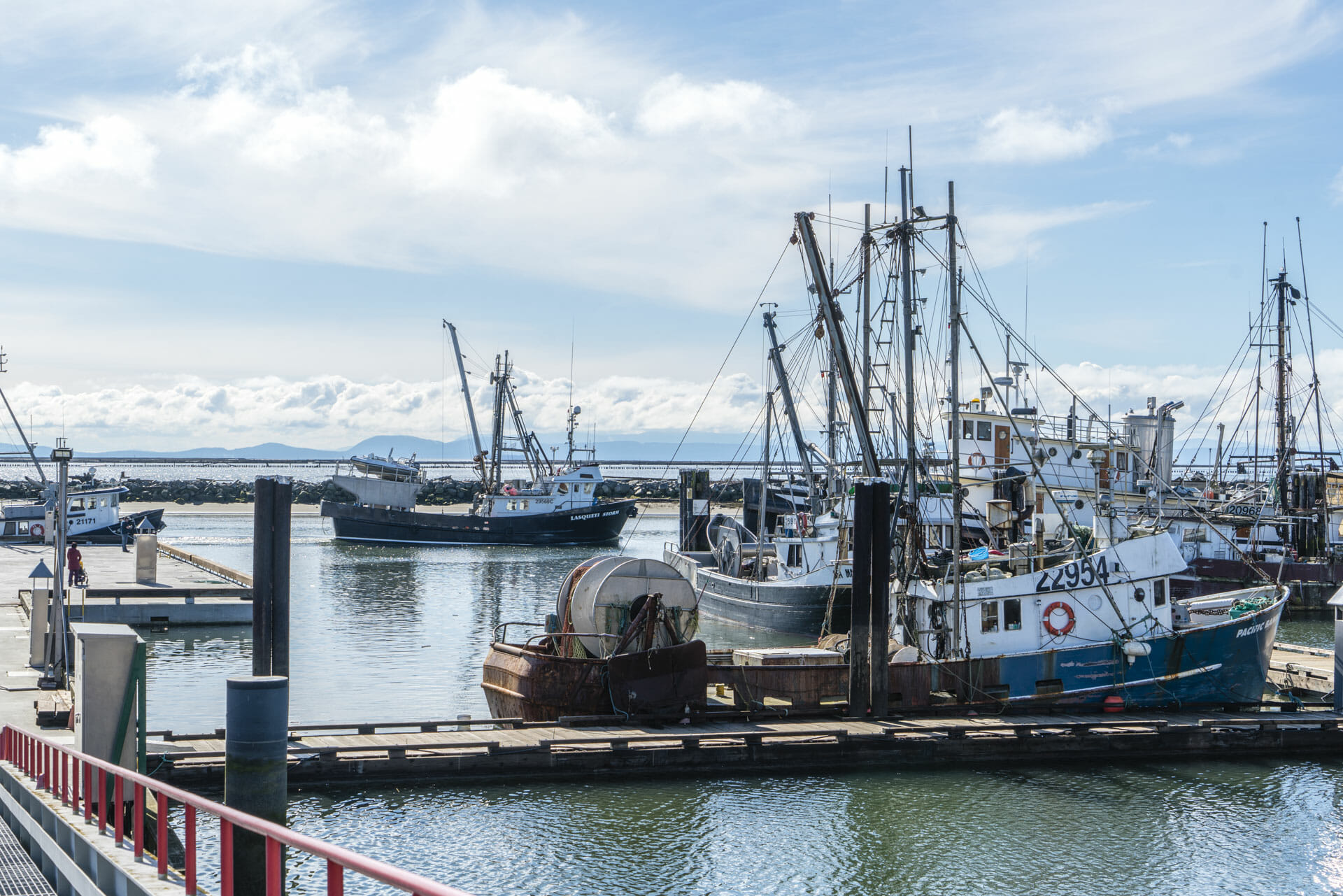 The area on the south arm of the Fraser River is an excellent place to visit for any lover of beer, the outdoors, food, or anyone trying to have a great day out of the city. On a weekend, the area can be reached from downtown Vancouver by car in 45 minutes, making it an accessible getaway with a great selection of delicious beers, incredible food, and outstanding natural beauty.