Okanagan Fest of Ale returns for its 23rd year
Festivals are a key element of the craft beer experience. Nowadays in BC there seems to be a beer-related event almost every weekend. This wasn't always the case, however. Way back in the mid-1990s there were just a few events that showcased the early pioneers of craft beer. Most people are familiar with Victoria's Great Canadian Beer Festival, but one of the other largest and longest running beer festivals in the province, Okanagan Fest of Ale takes place in a somewhat unexpected place – the small community of Penticton, located in the southern interior of BC. This year's event is coming up April 13th and 14th. 
OFOA is a source of pride for locals
Now it may be unexpected to some that Penticton has played host to Okanagan Fest of Ale for going on 23 years now, but locals have long been blessed with an abundance of breweries that pre-date the current craft beer expansion. Sandwiched between Okanagan and Skaha Lakes this popular tourist destination has long been home to Tin Whistle Brewing, Cannery Brewing and Barley Mill Brewpub, and was joined more recently by Bad Tattoo Brewing and Highway 97 Brewing. "It is a source of pride for locals – in a community of 35,000 to have such a well-attended and long running festival. We are craft beer oriented, and were that way before many larger, more connected communities became hooked on craft beer. There is strong support from volunteers and the community in general for the festival"  says Simon St. Laurent, Marketing Director for the Okanagan Fest of Ale Society. The non-profit society behind the festival is volunteer run, and focuses on giving back to the community, since 1996 over $600,000 has been distributed to area charities and non-profit organizations.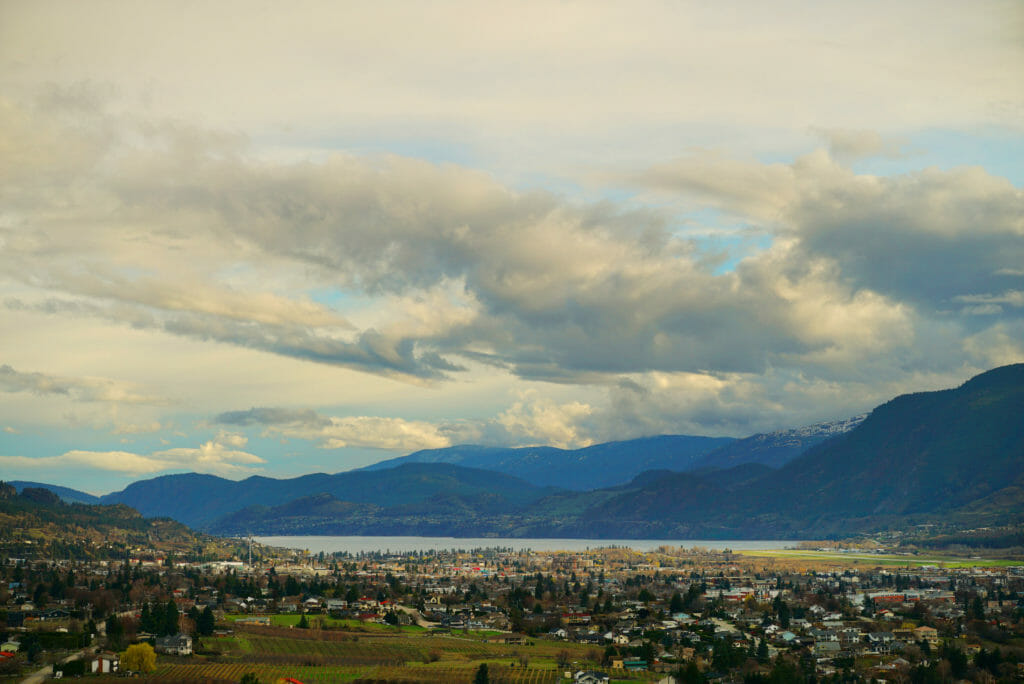 Attracting beer lovers and foodies alike
Held over the course of two days – Friday evening and Saturday afternoon – Okanagan Fest of Ale will see roughly 5,000 beer lovers sample more than 175 different beers and ciders from 69 craft producers from across BC. Joining the party are 12 food booths from local restaurants; new for 2018 sees collaborative pairings between Brodo Kitchen and Cannery Brewing, Craft Corner Kitchen with Howling Moon Cider, Nest and Nectar with Tin Whistle Brewing, Eurowennie with Four Winds Brewing and Surf Side California Street Food paired with Tree Brewing.
"We want to attract all types of beer drinkers: people new to craft beer, people who are quite knowledgeable" says Ginger Budinski, Event Coordinator. "We introduced casks a few years ago and it really excited the seasoned craft drinkers, as well as brewers who bring what they like, something exclusive to the festival, or something new they are testing the waters with."
It's a celebration of beer
Part of the reason that Fest of Ale has been so successful is that the organizers work hard to make the event attractive to breweries, as well as to attendees. According to Ginger, "the brewers are customers too, we want to make sure they are well looked after. They like coming here, the timing and the overall experience. The reception is fabulous. They get to test new product for the spring and summer. It's a celebration of beer – bring your best and showcase it. The onsite liquor store is another recent innovation that has benefitted both the festival, brewers and attendees. It allows breweries to have further sales at the festival and gives consumers access to beers that they may otherwise not be able to get in town. It's good for the consumers and gives exposure to further products from breweries."
Awards recognizing the best of the best
Another factor that sets Okanagan Fest of Ale apart from many other festivals is that each participating brewery can submit their beer to be judged by a panel of industry experts. Awards are given to the best of each stylistic category, as well as having an overall Best in Show Award. In addition to the formal judging, there is also a People's Choice Award for Best Beer, Best Cider, Best Food and Best Label Art. The task of collecting over 125 different entries to be sampled by 9 judges in a single day is quite a feat for the volunteer crew to accomplish, but the process is invaluable to both the festival and the participating breweries. The decision to convert to a completely craft-focused festival a few years ago was lent credibility by the judging process, especially during the early years when BC craft beer was just starting to take off. Receiving consumer feedback early in the year helps breweries hone in on what products would be popular over the upcoming months.
Dust off your beer duds and prepare to tap your toes
The variety of live music throughout the weekend also scores big with the crowd. A variety of acts grace the main stage, while buskers play throughout the festival venue including the outdoor area. For the 23rd year in a row, the Thursday Night Jazz Band will be launching the Saturday event. In total, 15 acts are scheduled for the 2018 weekend, featuring cameos from Travis Peterson of Red Arrow Brewing and Michael Szalay, Fest of Ale logo designer and member of Firehall Brewing's house band, Great White North. DJ Shakes will also be spinning between sets on both the indoor and outdoor stages.
A longstanding tradition for event-goers is to wear elaborate group costumes on Saturday, which makes for great crowd watching. Blend in with your own fancy or silly creations, beer-themed or not! This year introduces a new award for Best Team Tee, encouraging groups to coordinate with creative T-shirts on the Friday night. A photo booth is onsite for both days to capture the magic!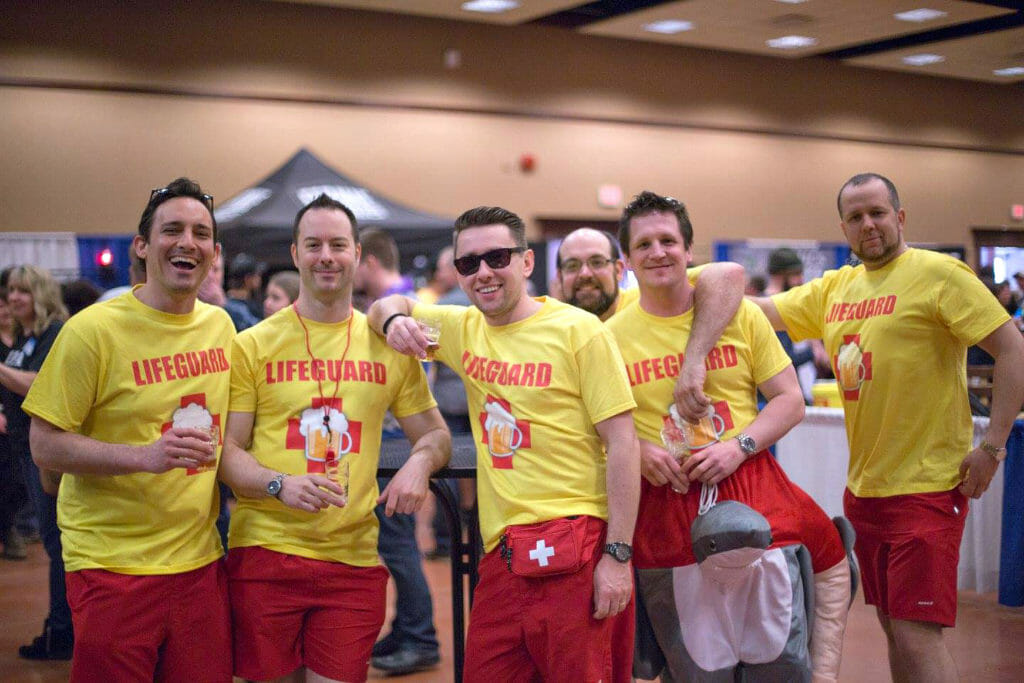 Events around town
Okanagan Fest of Ale has also inspired several spin-off events in the community, starting with a beer-paired dinner at Nest and Nectar on April 11. On April 12 Joe Wiebe presents The History of Beer in 59 Minutes at Bad Tattoo Brewing, promptly following this the party moves on to Craft Corner Kitchen for Strange Brews, a sampling of oddities from various BC Breweries and a screening of the classic Bob and Doug McKenzie film, Strange Brew. Immediately following the end of the festival on April 14 head over to Kettle Valley Station Pub for their annual cask event, Murderer's Row, and hobnob with brewers relieved of their serving duties and ready to party. Finishing up the weekend on the 15th catch the Red Eye Brunch at the Barking Parrot Bar, and finish with the Weekend Wind Down at Cannery Brewing with music by Maiya Robbie.
Pro tip for the festival
Get the weekend pass. No one can sample all the beers in one 6 hour session, and even if you make a heroic attempt you still won't remember what you drank the next day. To aid in tracking your festival favourites Okanagan Fest of Ale has the full list of beers and ciders up on Untappd. Nothing is worse than drinking the beer of your dreams and promptly forgetting who made it! Also save some tokens for the food, there are some amazing exclusive creations being featured both days, your taste buds and your hangover will thank you!
The Fest of Ale weekend proves that rather than a sleepy small town, Penticton is one of the biggest craft beer destinations outside of the Lower Mainland — check out the Penticton Ale Trail for more information. Arrive a few days early and make time to visit the region's 7 breweries and 12 cideries, not to mention the overwhelming abundance of wineries in the region.
Of the future, Ginger says what started as a grassroots festival and then ran during some of the biggest macro beer days has now come full circle again to a more local and small-business minded festival, "We're always evolving – it's a new festival every year."