Living in
Victoria,
the "Cradle of the Craft Beer Revolution,"
I'm blessed for craft brewery choice. That said, there's a special sense of nostalgia when I go back to the breweries in my hometown, Squamish.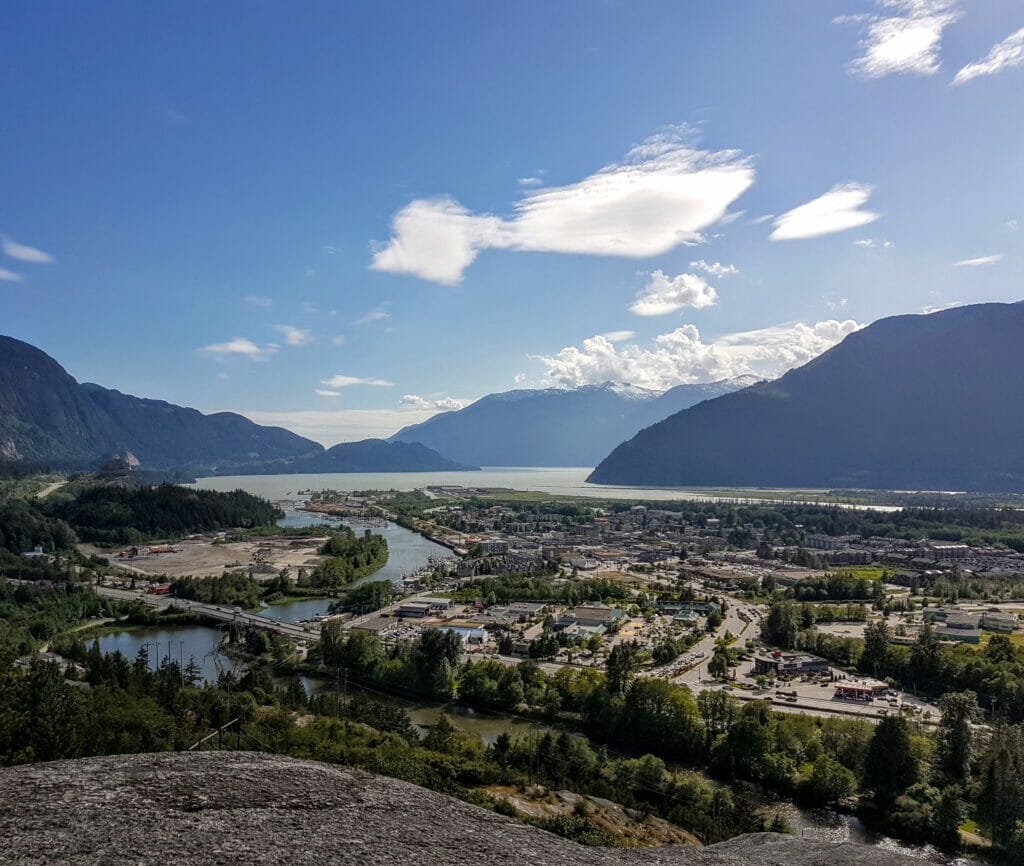 Walking into A-FRAME Brewing feels like coming home, though I may be a bit biased. I grew up in Squamish and spent summers between university semesters returning to my hometown in the mountains. 
When I went back after graduation in the spring of 2017, I discovered something had changed in town and I was not mad about it. 
Squamish had sprouted two lovely new craft breweries: A-FRAME Brewing and Backcountry Brewing. Together with Howe Sound Brewing, Squamish's craft beer pioneer since 1996, the town had firmly established itself as a mini craft beer hub. The Squamish Ale Trail was born.
Even if you're visiting for the first time, though, there's something homey about A-FRAME's tasting room. When you walk in, you're welcomed by a warm wood interior and a smiling (mask-wearing) face behind the open-concept bar. Off to the side, doors open to their patio, which is hung with string lights, surrounded by mountains, and flanked by the resident food truck, Luz Tacos.
On a recent visit home, I sat down with A-FRAME Brewing owner Jeff Oldenborger to chat about how the brewery came to be, his favourite things to do in Squamish, and what the craft beery community means to him.
Framing the Vision
Jeff and his wife/co-owner Caylin Glazier didn't plan to get into beer. While the couple was living in Port Moody, Jeff worked in the private sector, managing guest engagement and client accounts. But they kept an eye on the industry and quickly fell in love with it. 
They watched the breweries in Port Moody grow and took note of the communal vibe that built around them. Eventually, they decided to get involved themselves. 
"I don't want to say [A-FRAME] just fell into our lap," Jeff said. "It was a lot of work. But it was a meandering conversation where we just kept gradually making progress. Then, at one point, Caylin looked at me over dinner and was like, 'So, we're really doing this?' And I was like, '…I guess so.' That was the jumping-off point to commit." 
They had their sights set on Squamish, in pursuit of a "more holistic," small-town lifestyle where their three daughters could grow up closer to nature.
Jeff started meeting with fellow brewery owners to talk shop, hear their horror stories, and soak up words of wisdom. He was blown away with everyone's welcoming nature.
He recruited Andrew Sawyer as Brewmaster. With a decade of home brewing and years of large capacity brewing at Stanley Park Brewing under his belt, he was the "perfect mix of talent and passion for the craft."  
In December 2015, Jeff, Caylin, and their daughters moved to Squamish. The same day they left, Twin Sails opened in Port Moody and Jeff stopped in to get a good luck growler on the way out.
A year later, A-FRAME officially opened in Squamish. 
The Cabin Mentality
A-FRAME prides themselves in channelling "Cabin Vibes." The brewery was inspired by the time Jeff and Caylin spent at their family's A-frame cabin on Lake Okanagan. 
"It's that feeling when you would go to your own, or your friend's, cabin, crack a beer, and everything just melts away," Jeff said. "We want to get the same thing across here. Right when people walk through the door, ultimately our goal is that they have that same release."
It makes sense that each of their beers is named after a BC lake, from the core trio (Okanagan Lake Cream Ale, Sproat Lake Pale Ale, and Shuswap Lake IPA), to seasonal brews like the Cheakamus Lake Czech Pilsner, Emerald Lake Lime Sour, or Skull Lake Imperial Stout.
Welcoming the Community 
If there's anything to love more about the BC Craft Beer scene than the beer itself, it's the community. Ask anyone in the industry and they'll gush about the collaboration that goes on.
Other brewery workers in Squamish (and beyond) played a big role in helping Jeff shape his vision for A-FRAME.  His goal was to create a place that seamlessly fit into the Squamish and Whistler communities — something that would be a gathering place for locals as well as a great place for visitors to stop at.
"It's cool that beer is the medium, but, even more, it's the connection and community involvement," said Jeff. "It's the whole piece of what a craft brewery is, particularly the hyper-local aspect. It's all about blending that good beer — the beer our locals want to drink — and giving Andrew the freedom to express himself through those beers, while at the same time giving people this cool space to come hang out."
The Squamish Lifestyle
Squamish is world-renowned for its outdoor recreation scene. Whether you're into extreme sports like mountain biking, rock climbing, and kite surfing, or just enjoy a good walk along the river, there's a ton to explore.
The small-town feeling and outdoor sport potential was a big draw for Jeff and his family. When he's not working the bar or collaborating with Andrew on a new release, he's usually on the bike trails with his friends or daughters, skiing in Whistler, hanging out at the beaches, hiking one of the area's many world-class trails, or just enjoying a good backyard hang around the fire.
"Full disclosure, Cailyn does a lot more hiking than I do," he laughed. 
Besides enjoying the outdoors, Jeff and his family also love to do the rounds and visit their favourite small businesses. Since A-FRAME opened, the number of other small businesses and sole proprietorships in Squamish has exploded. In addition to the new breweries, there are also now three cideries, a distillery, and countless new eateries and coffee shops. There's also a booming tech scene, something most long-time locals never thought they'd see in Squamish.
There are bound to be some growing pains when any small town adjusts to changes like that but, luckily, the vast majority of Squamish's new small businesses are focussed on doing things responsibly and nurturing the community. 
"It's a balance of spending more money in the town and managing the impact on the environment," Jeff said. "It's happening, so now it's a question of how we do it responsibly."
The New Normal
As with most small businesses across the province, adjusting to COVID-19's new normal has been a struggle for A-FRAME. Changing regulations and new rules can lead to stressful days for staff, but the tight-knit team keeps each other motivated, Jeff said.
The team has prioritized sanitization and social distancing by limiting capacity and asking guests to wear masks when they aren't at their table. They also had to pull their beer out of restaurants at the beginning of the province's shut-down in March and only started to see the possibility of getting back into some a few weeks ago.
That said, their canning program is a beacon of light that came out of the pandemic. When the shut-down started, the team decided to empty the tanks, can what was left, and get the beer on shelves. The first cans hit the market on May 14th with a huge success.
Now, they're working hard to continue canning. They're also offering growler fills again, which they didn't start back up until the team felt 100% comfortable doing so. 
As for looking ahead, Jeff says they're remaining optimistic but realistic. They want to maintain their wonderful community, eventually do some small expansions, and get to a place where they can give back even more. They currently have a merch program where a portion of the sales from certain hats goes towards local charities, so they would like to expand that.
"We just want to figure out how to manage these waters and build something that, 12 years from now, is still kicking. Just a nice level for our own satisfaction and the community's," Jeff said. "It's been a great go in Squamish so far." 
The Squamish Ale Trail
Nestled between Vancouver and Whistler, the Squamish Ale Trail includes A-FRAME Brewing, Howe Sounds Brewing, and Backcountry Brewing. 
Before visiting, we recommend that you check directly with the businesses you are hoping to visit to get the latest on-the-ground information. Some businesses are seasonal, and some may have experienced closures due to COVID-19.