brewery
Twin Sails Brewing
EST. 2015 | Port Moody
Contact & Directions
Twin Sails sets itself apart from the crowd on Brewers Row with a focus on progressive American IPAs, Sours and Stouts.
Twin Sails joined Port Moody's Brewers Row late in 2015, opening right next door to Yellow Dog. The name of the brewery refers to its founders, who are twin brothers, as well as the common sight of sailboats on the waters of the Burrard Inlet out front of the brewery. Originally, a focus on German beers such as hefeweizen, gose and pilsner helped Twin Sails stand out from the crowd, but more recently, the brewery expanded its beer list considerably. Now, it is seen as one of the province's leading producers of innovative, cutting-edge IPAs, barrel-aged sours and stouts.
Fun Fact
What's in a name? With more than 100 breweries in BC, brewery names are beginning to get more and more similar. For example, Twin Sails opened the same year that Nanaimo's White Sails did, and Twin City Brewing opened in Port Alberni in 2017. Colours seem to be the most often used words: Yellow Dog, Green Leaf, Black Kettle, Red Truck, Red Collar and Red Arrow.
Recommended Beers
Fancy a flight? Here are some sampler suggestions for Twin Sails Brewing
View All Beers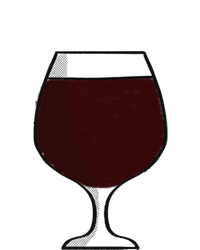 Snifter Dark
Would Crush Raspberry Wheat Ale
Stange
Hefeweizen
Pint Glass
Dat Juice