Southern
Gulf Islands

Cycling in Search of Beer, Cider and Sunshine on the Southern Gulf Islands of Salt Spring, Pender and Mayne with Joe Wiebe
Start the trip
This tour of the Southern Gulf Islands has long been at the top of my bike-packing bucket list, and my cycling pal Tom was more than happy to join me. But a four-day excursion through the notoriously hilly Gulf Islands in late October with a severe weather forecast in the mix would test any friendship to its limits, wouldn't it? Let's find out!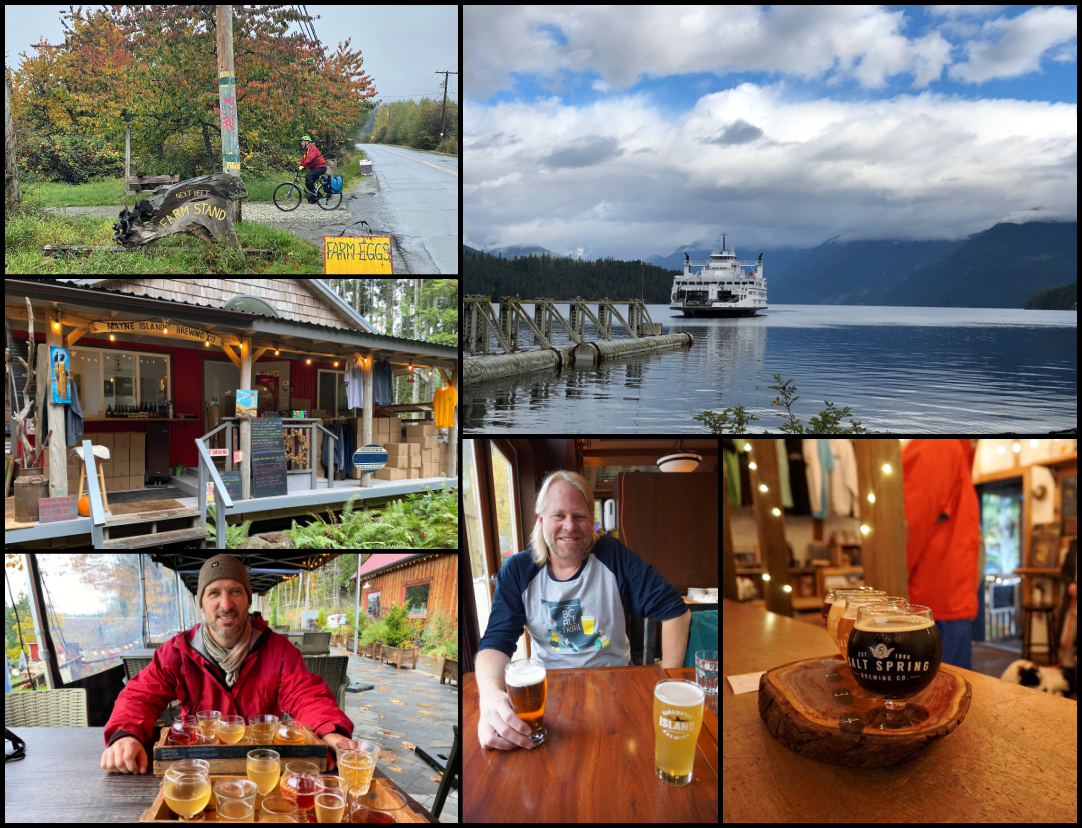 Day 1
Victoria to Salt Spring Island
There I was standing in Mountain Equipment Co-op in downtown Victoria one day before the start of a four-day cycling trip through the Southern Gulf Islands with a major storm in the weather forecast.
I was holding a pair of waterproof cycling pants, which I had just decided to buy despite the steep price tag. On my way to the cash registers I spotted a rack of "Cloudburst Shoe Covers" and paused.
"Might be a good idea…" I thought, but then I remembered how expensive the rain pants were. "Nah, I'll be fine," I scoffed as I walked towards the cash registers.
I've been an avid cyclist for as long as I can remember. Growing up among the orchards and vineyards of the Niagara Peninsula in Ontario, it was a necessity if I wanted to visit friends or get to part-time jobs as a teenager. After I moved out west to British Columbia in my early 20s I kept cycling for pleasure and exercise. And in recent years, it has become a major part of my life. A few years ago, I started tracking my rides using an app called Strava, which has incentivized me to ride more often and push myself to go farther. Victoria is blessed with some excellent cycling infrastructure including the Galloping Goose and Lochside Trails, and I regularly take advantage of that. 
This tour of the Southern Gulf Islands has long been at the top of my bike-packing bucket list, and my cycling pal Tom was more than happy to join me. Since we met in the schoolyard where our kids attended kindergarten together, Tom and I have bonded over board games, beer and biking (often all mixed together). We regularly go on rides around the Saanich Peninsula, stopping at breweries like Howl Brewing or Category 12 Brewing. But a four-day excursion through the notoriously hilly Gulf Islands in late October with a severe weather forecast in the mix would test any friendship to its limits, wouldn't it?
Friday morning started off rainy, windy and chilly. We met at Tom's place and then headed north through downtown Victoria and then up the Lochside Trail that parallels the Pat Bay Highway up the Saanich Peninsula. A bit of a late start left us worried we wouldn't catch our ferry so we actually decided to ride on the highway itself from the airport interchange up through Sidney to Swartz Bay. Although the highway was very busy with traffic whizzing by us, the shoulder was actually quite wide so it wasn't too bad. In the end we got to the ferry terminal with 12 minutes to spare, but I'm not sure if we would have made it had we gone through Sidney.
Once on the ferry we took stock of our soggy condition. Tom's old head-to-toe rain gear from his days attending UBC in rain-soaked Vancouver had served him well. My new bike pants worked great… but (flashback to my shopping decision at MEC) my feet were absolutely soaked. Every step squelched and I'm sure I left a trail of puddles behind me as I walked around the ferry.
The ferry ride over to Salt Spring Island is only about 45 minutes so I didn't have much time to dry off. As we glided into Fulford Harbour, I admired the beautiful mixture of autumn colours among the verdant green foliage on the shoreline. Some of the clouds were so low they swept through the trees themselves. I've always enjoyed riding ferries through the Gulf Islands — the scenery is so gorgeous that it turns a utilitarian crossing into a sightseeing cruise.
As soon as the boat docked we rolled our bikes up the ramp and locked them up outside the Rock Salt Café & Restaurant. It was lunchtime. Tom and his family camp at Ruckle Park on Salt Spring Island every summer, and they had previously discovered this little restaurant at Fulford Harbour. Now, it was his turn to introduce me. I was not disappointed. The ambience was welcoming and the food was delicious and filling. I went with a BLT and fries, perfect comfort food to make up for my soggy feet, while Tom picked the Ruckle Stew, a hearty bowl that included some quintessential Salt Spring lamb. 
I highly recommend Rock Salt for a bite or a snack while you are waiting for a ferry. Fulford Harbour has a few other shops including a small grocery store so folks who are staying at or near Ruckle Park don't necessarily have to make the drive all the way to Ganges (although when I camped there last summer I found out the hard way that they don't sell propane camp stove cylinders in Fulford).
After fueling up with lunch and coffee, we got back on our bikes and began the inevitable climb out of Fulford Harbour — I write "inevitable" because, as the rest of our trip certainly proved, every Gulf Island features a steep climb immediately upon arrival as the road rises up from sea level. Some are worse than others, and in fact the hill climbing out of Fulford Harbour wasn't that bad. It was steep but short. Compared to some of the other islands we visited later on this trip, it was a minor climb. 
It was drizzling as we climbed towards Salt Spring Island Brewing. The route took us along Fulford-Ganges Road, which is basically the highway that crosses Salt Spring Island and includes sections that are marked at 80 km/h. Signs warn cyclists to be careful and to ride single file. Indeed, the road is narrow with little if any paved shoulder to ride on so I would not recommend it for novice cyclists or smaller children. That said, drivers were usually quite careful and gave us a wide berth as they passed us, but I have heard that in the busier days of summer, cycling on Salt Spring can be a bit more challenging.
Despite the dampness, it was still a beautiful ride. Numerous signs marked farm stands along the way, and autumn leaves provided warm splashes of colour to brighten the gray skies. After a little more than 5 km we reached the turn-off for the brewery at Furness Rd. A short but steep climb led us to the brewery itself, an eclectic mix of buildings of various types standing among mist-shrouded trees at the base of Mount Bruce. 
I have been to Salt Spring Island Brewing a few times, although not in the past few years, and much of it was recognizable although I noticed a few changes. The brewery dates back to 1998, when it was started by a couple of locals who ran a brew-on-premise (home brew) operation before that. Originally called Gulf Islands Brewery, it has gone through a few ownership transitions over years, and is now owned by the Forbes Group, but largely managed by the team at the brewery, which includes Head Brewer Louis Hage, an assistant brewer, a sales manager, and the tasting room staff. 
The brewery is based in a converted barn with several outdoor seating areas nestled among the surrounding trees. The tasting room is upstairs in what was likely a hay loft. After parking our bikes down below we climbed the stairs to say hello. The Tasting Room Manager, a transplanted Aussie named Rebecca, greeted us warmly and lined up a couple of sample flights for us. Tom and I raised our little glasses to say cheers for the first time on this trip. I was already fairly familiar with the beers since Victoria is a prime market for the brewery's packaged product distribution, but it is always best to taste beer right at the brewery where it is freshest, and we weren't disappointed. 
Soon, we were joined by the brewer, Louis, who told us his story while he showed us around the brewery itself. Born and raised in Brussels, Belgium, a country with its own deeply rooted beer culture, Louis explained that he liked beer and enjoyed brewing it himself at home there, but never saw it as a career path because the beer industry there was mainly dominated by large corporations or small, locally focused breweries that didn't experiment much with new beer styles. It wasn't until he visited Montréal and discovered the craft beer scene here in Canada that he got interested in brewing as a career. 
After working at some breweries in Québec, Louis decided to ride his motorcycle across the country to see what British Columbia was like. He put out word that he was looking for a job in BC and ended up working with a fellow Belgian brewer, Cédric Dauchot, at Townsite Brewing in Powell River. After a couple of years there he moved over to a brand new brewery in Courtenay called Ace Brewing, and then made the move to Salt Spring in the early days of the pandemic in 2020. 
Hage says he couldn't be happier than where he is now. He loves the lifestyle on Salt Spring Island and he really enjoys the opportunity he has to help revitalize Salt Spring Island Brewing. Shortly after his arrival, the brewery added a new canning line to help with distribution. It currently sits under a big tent, but plans are underway to build a new structure to house it. All of the brewery's fermentation tanks are actually located outside the main building, which houses the brewhouse itself — much of that equipment is original so Hage said he is also hoping to install a new 20-hectolitre brew kettle and some larger fermentation tanks, which would give the brewery a bigger capacity.
Water usage is a major concern on the Southern Gulf Islands. Salt Spring Island Brewing has a unique and exceptional setup — it actually uses water from a spring located on the mountainside above the brewery. Louis said the water is excellent for brewing. The brewery also uses some hops grown at a nearby farm (we rode past it on the way from Fulford Harbour) and holds an annual hop harvest there at the end of each summer. 
The brewery has also been working on plans to build a separate tasting room below the original barn, but apparently has run into some snags with the Islands Trust planners so that is on hold. Alternatively, Louis said he has floated the idea of building a Belgian-style brewery with a "coolship" there instead. This unique fermentation method employs a broad, flat, open-top vessel where the unfermented beer collects yeast and bacteria from the air while it cools. The resulting beer would show off unique flavour characteristics from the local microflora and ambient yeasts. 
"This would definitely live up to the brewery's motto: 'Drink beer with nature,'" Louis pointed out. I couldn't agree more. 
By the end of our visit several small groups of tourists had arrived at the brewery, and despite the poor weather, they were enjoying beer flights on the outdoor patios. It's one of those things you do when you're on the Island — visit the brewery, visit the cideries, go to the goat farm for cheese and gelato. And we were no exception since our next destination was a cidery.
Located at the top of a ridge, this cidery's tasting room and patio offers a gorgeous view looking northeast towards the entrance to Ganges Harbour. We ordered a full flight of the six different ciders they had on tap and a spare glass so we could split them between ourselves. While we sat on the covered and heated patio, the sun actually came out for a while, sharpening the beautiful view into almost Technicolor clarity. 
The Salt Spring Apple Co. is an organic operation that produces cider using 100% apples grown on its own property. It was started in 2011 by Peri Lavender and Brian Webster. Over a five-year period they and their staff and volunteers planted and grafted the farm's entire orchard by hand. The orchard includes a world-class collection of more than 425 different apple varieties that originated in more than 20 different countries around the world. They began producing cider under the Ciderworks brand in 2018 using only their own apples along with some apples grown on other organic farms on Salt Spring Island. 
We really enjoyed our experience at Ciderworks. The tasting room manager was very knowledgeable about the ciders and we learned a lot. I usually find the range of flavours in cider to be fairly limited (coming from the beer world), but we definitely found some of the flavours to be startlingly original. I especially liked a variety named Hooped, which was aged in wine barrels for four months, and another called Bill Blaxton, so named for the early New England settler who planted North America's first apple orchard in 1625. 
Tom suggested that the Bill Blaxton would go really well with blue cheese so he purchased a bottle of it on our way out. I also picked up a bottle of Oast House, a scrumpy-style cider dry hopped with organic hops grown at Salt Spring's Grandview Farm. I really wanted to try it, but it wasn't on the tasting menu.
From Ciderworks into Ganges, it was all downhill. The steep descent was exhilarating! With wet roads and messy gravel shoulders we had to keep our hands close to the brakes, but still, it was over too quickly, and we soon found ourselves cycling into Salt Spring's busy little central town. Before heading to our hotel we stopped so Tom could buy some blue cheese to test his cider-pairing idea. Appropriately, he picked the Blue Juliette goat cheese made locally by the Salt Spring Island Cheese Company. (We didn't visit it on this trip because it was out of the way for us, but we went there with our kids during a camping trip at Ruckle Park earlier this year, and the mango gelato made from goat milk was memorably delicious.) We also popped into Auntie Pesto's restaurant to make a dinner reservation for later that evening. A couple different people we'd spoken to at the brewery and cidery had each recommended it so we thought we'd give it a try. 
From Ganges it was a short ride to the Harbour House Hotel, conveniently located just north of the town. There, I finally had the chance to pull off my wet shoes and socks. A hot shower warmed me up and it felt great to put on dry, non-cycling clothing. However, I realized then that my only footwear option was the pair of trail runners I'd been wearing on my bike. I simply didn't have enough room in my panniers to pack a second pair of shoes, especially not my usual Blundstone boots. Our dinner reservation wasn't for another couple of hours, but there was no way my shoes would dry out that quickly, and I couldn't face the prospect of putting them back on while they were soaked through. 
First, I considered putting them in a clothes dryer, but the room didn't come with laundry facilities. Then came a brainwave: what about the blow dryer I'd just used on my hair? I gave it a try. Somewhat surprisingly, it actually worked like a charm, and 15 minutes later my shoes were actually dry. The only downside was the enhanced aroma of well-used shoes that the heating generated. 
Prior to our late dinner reservation, Tom and I tested out his cheese-and-cider pairing idea while playing one of the board games we'd packed for the trip. It was just as delicious as we'd suspected, and the game was fun.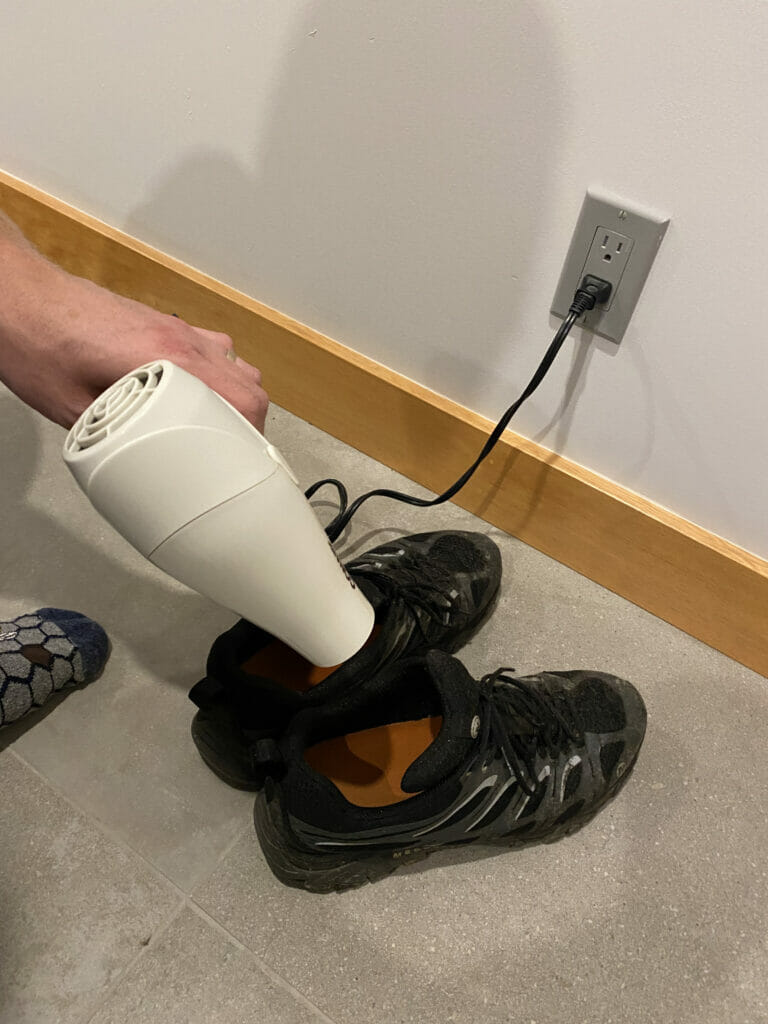 Ahead of our 8pm reservation we walked into Ganges. The evening was clear and crisp and by the time we arrived at Auntie Pesto's we were feeling hungry. The popular little restaurant was full of people with excited conversations bubbling over the light background music. Our table was out on the covered patio with a propane heater right next to us. We both ordered salads and I added on a Hoyne Pilsner to go with mine. For dinner, we each considered the steak, which had been highly recommended by Rebecca, the tasting room manager at the brewery earlier, but in the end we both felt the siren call of pasta. I chose the carbonara while Tom went for the seafood dill alfredo. I happened to notice they had a Pinot Noir from the Garry Oaks Vineyard on the menu, and since we had cycled past the winery earlier in the day, we decided to try it. It was quite good, and went well with the rich, creamy pastas.
The walk back to the hotel after dinner was more of a waddle — we were both stuffed. And although we considered playing some more board games we were each yawning so much we agreed to call it an early night.
Day 3
Mayne Island to Pender Island
On Sunday morning we awoke to ominous weather forecasts.
So far, apart from our wet Friday morning ride to the ferry, the weather had not affected us too much. But now, it seemed, the "weather bomb" forecasters had been talking about was finally going to sweep over the Southern Gulf Islands.
Over coffee, Tom and I discussed our options. The same ferry we were supposed to take to Pender Island at lunchtime could also deliver us back to Swartz Bay, but then again, if the ferries were still running then that would mean the storm wasn't that bad, right? We decided to continue moving forward with our Pender Island plans until the weather suggested otherwise.
We left the warmth of our cabin at the Blue Vista resort with a plan to ride around Mayne Island following a different route back to the ferry terminal that would take us past the Japanese Garden.
But first we needed breakfast so we rode back towards the centre of the island and waited for the Farm Gate Store to open at 10am. The wind was up and rain was falling lightly, but we sheltered on the covered patio while we waited. Soon we were rewarded with freshly grilled ham and cheese sandwiches. The Farm Gate Store carries a wide range of products, including an array of locally grown fruits and vegetables, plus perfect-looking loaves of Chef Jan's sourdough bread, which I eyed hungrily. Unfortunately, there wasn't enough room in my saddlebags for the large loaf.
Back on our bikes the route took us up and down some significant hills, much of the time in gusty winds and rain, but by the time we arrived at the Japanese Garden, the weather had settled down a bit. I am so glad we stopped there — it is a beautiful place that I expect I will return to again and again on future visits to Mayne Island. 
Conceived as a means of commemorating the Japanese people who had settled and worked on the island between 1900 and 1942, Mayne Island's Japanese Garden was built over the course of decades by local volunteers. The results are absolutely stunning. Visiting in October meant we got to enjoy it swathed in gorgeous autumnal colours, but I know from online images that it is just as beautiful in the spring and summer months when other blossoms are showing themselves off. 
We had this idyllic, relaxing garden completely to ourselves. I could have stayed there for hours, but alas, we only had about 20 minutes before we had to get back on our bikes and head for the ferry.
The crossing over to Pender Island was short and fast, and as we climbed up the long hill rising out of the Otter Bay ferry terminal it seemed like the weather was on our side. I mean, it wasn't pouring rain at least! Our plan for the afternoon was to ride to Twin Island Cider for a tasting and then continue on to Poet's Cove where we were booked for the night. The first part of the ride took us through a stretch of farmland where a roadside path had been decorated for Halloween with a series of skeletal displays including skeletons riding tractors, a skeletal version of the Ice King from Game of Thrones and lots of other spooky scenes. Lots of fun! 
Shortly after riding past this display we arrived at the Driftwood Centre, a plaza that is effectively the "downtown" hub for Pender Island. We took Razor Point road straight east from there, which turned out to be one of the prettiest routes on our entire trip. It was just something about the way that road wound through farms and trees. 
Twin Island Cider is located on a steep-sided property just off of Razor Point Road. It is a small operation that opened in 2017 and has made a name for itself by producing cider with apples grown mainly on Pender Island along with some from orchards on Mayne Island. Its own orchard includes some century-old trees planted by early settlers on the island, and these are supplemented by apples and pears harvested from other orchards all over Pender Island. 
When we parked our bikes we were a little surprised that there wasn't really much of a tasting area — just a tiny storefront area with a small tasting bar. Luckily, we were the only customers so we didn't have to wait outside because that was when the clouds opened up again and a heavy rain began to fall. We enjoyed a very informative and entertaining tasting tour of a few of the ciders and then purchased a couple of bottles to take with us. By then, a line-up had formed (a ferry from the mainland had probably arrived while we were there) so we had to clear the tasting room and get back on our bikes.
It wasn't great bike-riding weather but we had no option but to proceed at this point. Back at the Driftwood Centre we turned southwards. Tom, who had been there on bike once before, warned me that there was a pretty big hill to climb, but "South Pender is pretty flat," he assured me. Well, he was right about the first part—the road we climbed as we headed for the bridge to the southern island was indeed very steep—but he was wrong about it being flat on the other side.
North and South Pender Islands are actually one single island that was separated by a canal more than a hundred years ago. Prior to that, Gulf Island settlers used to drag their rowboats across this isthmus to save time on trips to Sidney. A one-lane bridge was built in 1955 so that cars—and cyclists!—could travel between the two islands. 
As we cycled over the bridge and continued on undulating roads that rose and fell steeply and repeatedly I began to openly question Tom's description of how flat South Pender was. Finally, at one point after we had just climbed one giant section only to zoom down and then climb up an even steeper hill, I think I might have used a curse word or two. Actually, I know I did. It wasn't my finest moment on the weekend, but I was wet, cold and tired. I was also beginning to worry that by the time we got to Poet's Cove we might find the power out because the wind gusts were definitely getting stronger and stronger.
To ride to Poet's Cove, you first head southeast almost all the way across South Pender Island and then you cut back and ride to the western shore. When we made that turn west we found ourselves riding in a relatively flat valley that was mostly farmland—mainly pastures for sheep and goats. This was the flat part Tom remembered! 
Finally, we arrived at Poet's Cove Resort. We coasted down the steep hill to the entrance and marvelled at the sight laid out before us: a number of larger buildings and a series of cabins tucked into the edge of the forest overlooking a gorgeous bay with a marina. At the check-in we learned that the power was indeed still on, which meant we could enjoy something we'd been looking forward to for the whole ride. Indeed I'd occasionally chanted it as motivation on some of the harder hills that day: "Hot tub! Hot tub!" As the reward on the final night of this bike trip we had booked a two-bedroom cabin with a private hot tub. (I should mention that "cabin" isn't exactly an accurate description of our accommodation—as these pictures show it was basically a small two-bedroom house with a full kitchen and two separate bathrooms!)
Happy Hour was on at Syren's Bistro, one of the resort's two restaurants (the other one was actually closed due to the pandemic), so we had a beer and a snack before enjoying our first hot tub session at our cabin. Later that evening we returned to the restaurant for a proper dinner. We were just finishing our second hot tub session around 10:30pm when the power did finally go out. Luckily, the cabin's gas fireplace still worked even with the hydro out, so we were able to stay warm while we dried off inside and played some board games lit by bicycle lights.
Day 4
Pender Island to Victoria (Riders on the Storm)
When we woke up the next morning the power was still out, which meant we couldn't make coffee.
At the main lodge we learned they were running a generator, but had to wait for the chef and server to show up—apparently they'd slept in because their alarms hadn't gone off. Eventually, we did get some breakfast, but, sadly, there never was any coffee.
Our plans for Monday were to ride back to the north island and play disc golf on Pender's famous 27-hole course before we headed home on the 3:15pm ferry to Swartz Bay. Tom had played this course on Pender on his previous trip (you know, the one where he remembered the South Island being so flat!). The course is apparently amazing, but faced with gale-force winds and torrential rainfall we decided it was not a good option. Besides, Tom remembered that it would require a detour with a very steep climb to get there. So we decided to head for the ferry terminal and catch the 11:50am ferry instead. Of course, this was assuming the ferries were still running, which was not a sure thing given the storm conditions we were riding through. At least for the final northwest ride up to Otter Bay we had the 60-km winds to our backs, but I knew that once we got to Swartz Bay we were facing a 35-km ride home running directly into those gale-force winds.
At Otter Bay, we were thrilled to learn that the ferries were still running, and, equally as exciting, that the Stand beside the terminal was serving fresh, hot coffee! I swear that was one of the best cups of coffee I've ever enjoyed. It really hit the spot and warmed me up.
On the ferry trip over to Swartz Bay we sat upstairs at the front windows and enjoyed quite a show as giant waves splashed up over the railings of the car deck and washed our bikes and several of the cars near the front. It was the bumpiest ferry ride I've experienced, but I'm happy to report neither of us got seasick. After docking, we once again sat astride our bicycles and began riding into the storm. It was a tough slog and by the time we cycled into Sidney I was happy for a break. 
During the weekend I had noticed social media posts announcing that Beacon Brewing had opened its doors in Sidney. I'd spoken to the owners, Alexa and Tristan Fetherston, earlier in the summer so it was exciting to see their plan come to fruition. The brewery is on the ground floor of a brand new condo building just off Beacon Drive with a big, welcoming tasting room. It was relatively quiet while we were there, but that was understandable given the weather and the fact that it was Monday afternoon. Chatting with Alexa and her brother Steven, the third business partner, as we enjoyed a flight of beers, we learned that the brewery had been quite busy on the weekend. 
After fuelling up with a couple of slices of pizza freshly delivered to the brewery from a local pizzeria, Tom and I reluctantly donned our rain gear again and returned outside to our bikes. At this point it was raining sideways, and as I began riding into the gale the raindrops felt like icy pellets against the exposed skin of my face. It was so absurd it actually made me laugh out loud. Once we got moving, however, I began warming up from the exercise, and in the end the ride home wasn't as bad as I expected it to be. I certainly felt proud of my achievement and haven't stopped bragging about it ever since!
All in all, this was a really fun biking excursion, but afterwards, I definitely think visiting three Gulf Islands in just four days was quite challenging. I would recommend stretching it out so that you stay on each island for at least two nights. You just won't have much time to explore each island otherwise, and in some cases, the limited ferry schedule will create additional challenges like we faced arriving at Mayne Island Brewing just before it was scheduled to close.
Salt Spring Island, the largest of the Southern Gulf Islands, could easily justify a longer stay than that, too. We did not explore the entire island, and there is a third ferry option at Vesuvius Bay that connects with Crofton in the Cowichan Valley on Vancouver Island, which offers more great cycling opportunities and lots of excellent breweries.
Weather-wise, we were pushing things by going in late October. With the wet winters we typically experience here on the west coast, spring, summer and early fall are definitely the best choices for a Gulf Islands cycling tour. 
Cyclists who enjoy camping should note the Gulf Islands National Park Reserve has campgrounds on Pender Island and Saturna Island, and there are also provincial campgrounds on Salt Spring Island and Galiano Island.
PHOTO CREDITS: Tom Berkout and Joe Wiebe
Produced In Collaboration With
Southern Gulf Islands Tourism
Rising from the cool, clear water of the North Pacific, just off the mainland of British Columbia, you'll find a collection of rolling hills, dense forests, sandstone cliffs and pebble beaches. These are the Southern Gulf Islands. Defined by quiet leisure in a cool Mediterranean microclimate, we're a place of refuge, restoration, adventure, and creativity. Laid back Mayne. Rustic Saturna. Feisty Galiano. Uptempo Pender. The hopping Salt Spring "metropolis". Though each island has its own character, we're connected by a shared rhythm. A flow that's characterized by integrity and freedom — life in harmony. Come in search of yourself, find your artistic inspiration, connect with our relaxed nature, or indulge in hibernation. Be in the moment, in the flow.
Salt Spring Island
Pender Island
Mayne Island