Stepping foot inside Land & Sea Brewing is like stepping into a west coast-inspired oasis where, instead of water, the reward is exceptional craft beer.
"What you see is what you get."
Located in Comox on the Vancouver Island Part II Ale Trail, the bright, open tasting room (with a capacity of 72, plus staff) brings so many elements of the outside in. A rich green pops out from accent walls and painted wood slats under the bar — the same shade of green as the forest-covered mountains around the Comox Valley or a stormy day on the deep blue-green sea.
Live plants against a white backdrop bring another element of freshness and life inside. The views of the open kitchen and brewing system, with gleaming tanks against another bright wall, echo that feeling of airiness and transparency. Two large garage doors let in natural light, adding to the comfortable ambiance. A cozy couch, tucked away corner bar, and wooden bench area make for some intimate spots within the larger space. Even after just a few steps inside, it's easy to see why this brewery won the BC Ale Trail's 2019 Best Brewery Experience Award. 
Named for the surrounding farmland, mountains, and sea that make up the Comox Valley, Land & Sea opened in December of 2018. Drawn to the area because of familial ties, Jason and Hanna Walker are co-owners, with Hanna doubling as the brewery's creative director. Much of the atmosphere was created by her, along with the kitchen's ever-changing menu.
"What you see is what you get," Hanna says, as she succinctly expresses the vision behind the space. It's evident this is a mantra the team embodies thoroughly throughout the entire operation, which Jason says has a female-run engine between Hanna and head brewer, Tessa Gabiniewicz.
"We are honoured to have the BC Ale Trail community acknowledge Land & Sea with their 2nd annual Brewery Experience award," says Jason Walker. "We are still in our first year of operation and this acknowledgement is a testament to the hard work of our entire team puts in every day. Thanks for the support; hope to see you soon!"
Land & Sea's head brewer knows her beer
Tessa Gabiniewicz has been head brewer since Land & Sea opened last year. With an educational background in robotics and automation, Tessa began her brewing career at Nelson Brewing Company about a decade ago. She's lived and brewed in communities around the province, including Northern BC's Terrace and Dease Lake. Since 2016, she has been busy coming up with recipes for creative beers, inspired by her new home in the Comox Valley.
A passionate forager, she's used things like sumac, fenugreek, kelp, grape skins, elderflower, and other unexpected ingredients in her brews. She's even incorporated ingredients donated by the Valley's gardeners and farmers, like the 50kg of Carmine Jewel cherries that were dropped off by a local and made their way into one of Tessa's kettle sours.
That clean, minimalist aesthetic that is felt in the space can be tasted in Land & Sea's beers as well. The first sip, and every sip after, is full of flavour. Not overpowering, but not underwhelming either, each of the beers on offer can be enjoyed by beer geeks and newbies alike. And that's the point, Tessa says. She aims to make crushable beers that are approachable and highly drinkable (so that a few can be enjoyed in one session, without needing to worry about a headache the next morning).
She definitely succeeds in achieving that goal. With unique samplings like the Blacktail Kölsch (a German-inspired black lager and the first black Kölsch I've ever had), a rustic country lager called the Landesbier (a Kellerbier), and a hazy pale ale made with Kveik yeast known as the CoMexico (named after a local favourite white sandy beach), there are plenty of exciting styles to choose from — and all of them are hard to get enough of.
Appealing to the audience
The audience here is outdoorsy, works hard, and plays equally as hard, according to Tessa. Finding a balance that appeals to a wide range of tastes is key. From a younger generation of enthusiastic craft beer drinkers to an older generation that still craves a traditional British-style ale, and anyone that hasn't dabbled beyond the mass-produced lagers that used to flood the market until the rise of craft, she knows it's difficult to please everyone all the time.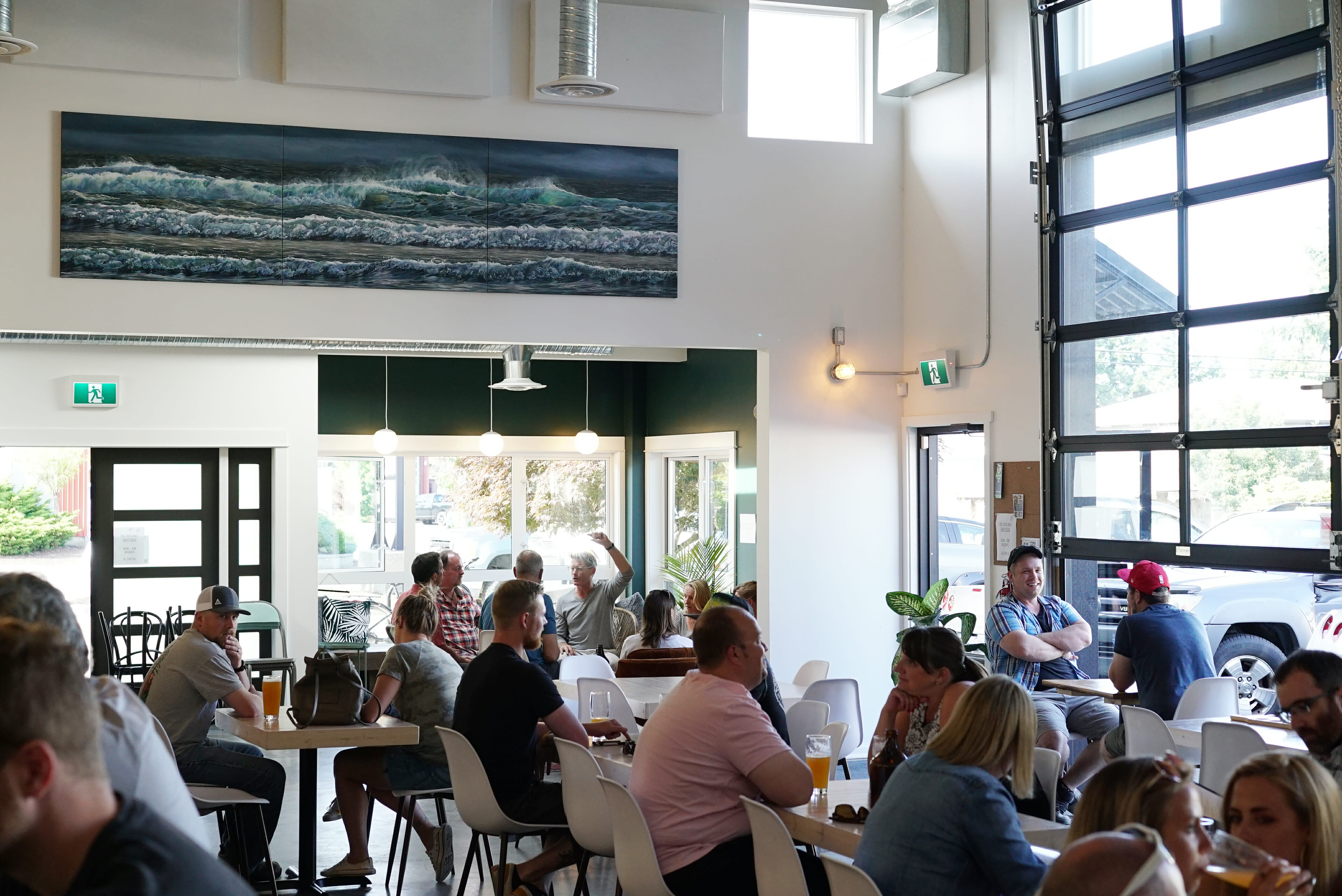 Part of the brewer's challenge is found in trying to educate the local consumer-base about different styles, while also providing training to staff so that they can help pass on the beer knowledge to customers. Low staff turnaround makes this goal achievable at Land & Sea, with much of the team remaining the same since the brewery opened its doors.
Tessa says she regularly sees the Comox Valley's other handful of brewers too. (There are seven other breweries within an hour's drive of Land & Sea.) The brewers are close and even share ingredients and resources in a pinch, a commonality that can be found in many craft beer communities around BC.
At the forefront of Tessa's mind when selecting a style for her next batch is satiating the palates of the small(ish) market of just over 66,000 in the entire Comox Valley. It's not an easy task, especially for a budding brewery that relies on in-house sales. Lucky for each visitor of the tasting room, though, the quality of the beer she makes is consistent, regardless of style. The brewery produces a number of core styles that are rotated through so that, even if a favourite isn't on tap currently, something similar will be.  One of her favourite things to see as she brews is a regular coming in to try the newest release, especially if that regular started out as a craft beer skeptic.
The open concept of the space adds another element for patrons, particularly on a brew day. The sights, sounds, and smells that are part of the brewing process can be experienced fully as bags of grain tumble into the mash tun and the distinct odour of wort fills the room.
That's part of the reason the team at Land & Sea say they don't plan on distributing beyond the Comox Valley. They want people to come here to experience their beer at its freshest and finest. They want to engage with the people that drink their beer so that the passion behind it can be understood. And, if so inclined, visitors can take home a crowler, howler, or growler of their favourite after enjoying the latest offerings available in the tasting room.
Land & Sea's beer is currently available on tap in a few restaurants in Comox and Courtenay too. Eventually, they may package and distribute for retail in local liquor stores, but the long-term plan is to stay small and community-focused, meaning that enjoying this beer can only be done by visiting the brewery in person.
Food for every taste
A small, but mighty food menu of classic dishes with local and exotic twists are on offer at Land & Sea as well, complementing their delicious beer selection. Small snacks, wings, nachos, sandwiches, salads, and bowls are all available, made fresh in the kitchen against another wall of the spacious room.
Gluten friendly, vegetarian, and dairy-free options mean that everyone can enjoy something to eat. Desserts of homemade cookies, served as a homemade Oreo during my visit, and ice cream made by local company, Blue Spruce, are served too.
Kombucha, white and red wine, and cider can be enjoyed here too. Craft soda and other non-alcoholic offerings make the brewery a great place to spend a Saturday with the kids, as Jason and Hanna explain many people do. (The Foosball table tends to keep them busy while parents enjoy a flight or pint.)
Focused on community
Jason, Hanna, and Tessa all agree — Land & Sea is a community-focused brewery and that's part of the reason they aren't looking to package and distribute beyond the Comox Valley. The idea is to be a gathering space for locals, hosting live music and events regularly. They've even been the hosts of some impromptu wedding celebrations!
Partnerships with local businesses help boost each one. The brewery is also an art gallery with pieces hanging from local artists, adding even more nuance and character to the space.
Their "Anything But Vehicle" club, a clever initiative to encourage patrons to walk, cycle, or use public transit — anything but their car — to the brewery, is another sign that the team behind Land & Sea really care about the community they serve. And, speaking from experience, using transit from Courtenay to the brewery was simple enough. The 20-minute bus ride provides a tour of Courtenay and Comox for the low, low price of a toonie.
It's obvious the community has responded in kind as friendly greetings were exchanged between Land & Sea's owners, brewer, staff, and patrons all afternoon while I was there. The range of patrons in this modern version of the public house is impressive too. Folks in their steel-toed boots and Carhartts come in to meet friends after work. Couples share a quieter corner for date night. Family and friends of all ages gather to have a beer and unwind in this serene space, maintaining a sense of serenity even as the crowd and decibels increase.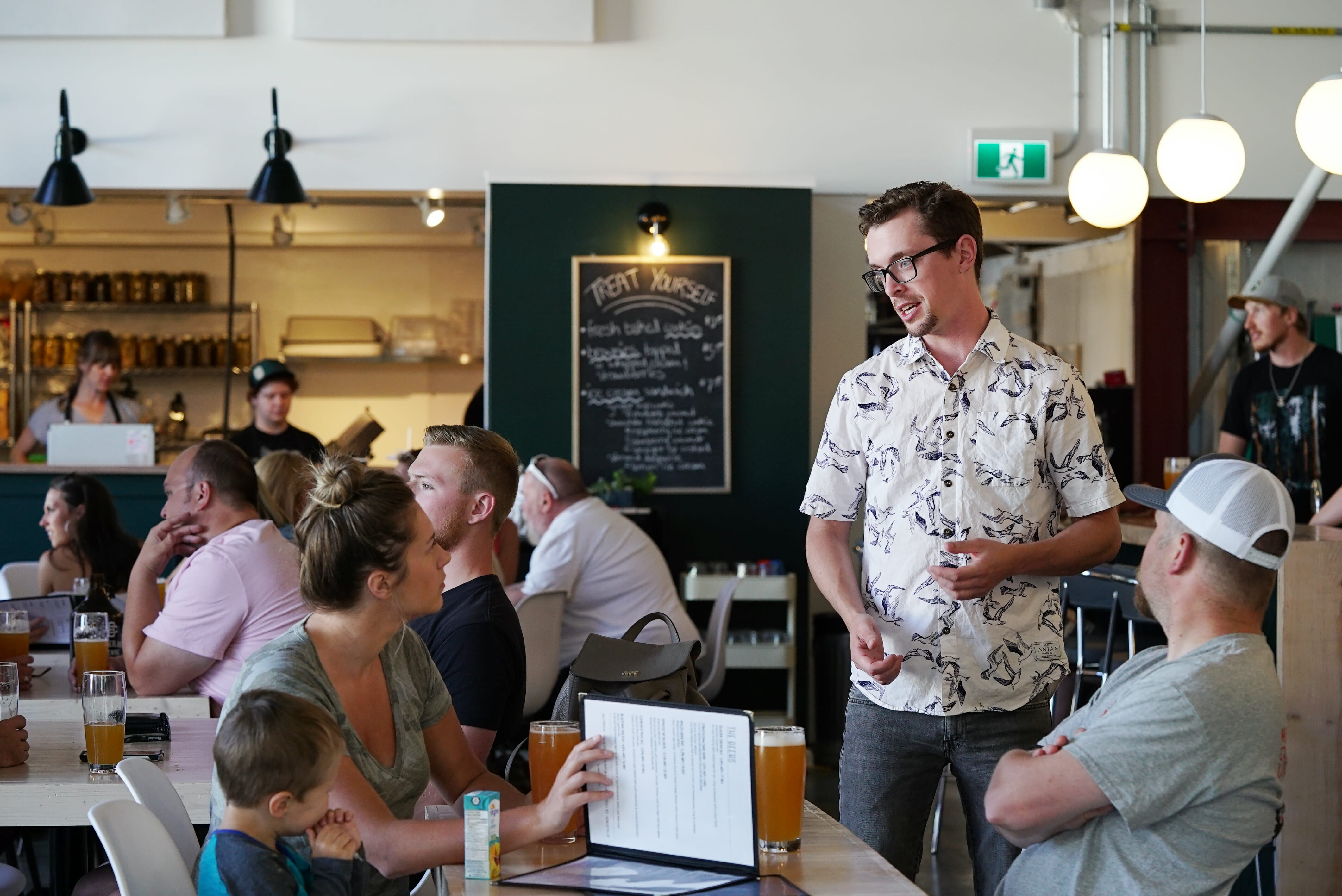 Winners of the 2019 "Best Brewery Experience" Award
I think that's the secret behind Land & Sea, and is understandably why their community agreed that they should win the 2019 Best Brewery Experience award. The space gives off a tranquil ambiance and the beer is equally as approachable.
Jason, Hanna, and Tessa all say winning the "Best Brewery Experience" award feels like reassurance and validation from their community. What they've been working hard at over the past few years is clearly being noticed and appreciated by the people of the Comox Valley – their neighbours and friends.
The region, full of outdoor activities that showcase both the land and the sea, also provides plenty of reasons to come for a visit. The ocean, beaches, parks, and estuary offer lots of opportunities to enjoy nature and Mt. Washington Alpine Resort is an ideal winter destination. Nearby Cumberland's exceptional mountain biking trails are a huge attraction as well.
Comox is easy to get to, and usually in the most scenic of ways, even on a rainy autumn's day. It has its own airport: YQQ) as well as a BC Ferries route from Powell River on the Sunshine Coast. Travellers from the Lower Mainland can visit via Nanaimo (a 1.5-hour drive) and it's about three hours by car from Victoria.
Visit Land & Sea for the experience
With a patio area planned for the coming summer, adding around 60 more seats to the space and making the most of the outdoor area around the lot, Land & Sea is definitely a brewery you must experience for yourself. 
No matter which way you get there, go and enjoy this welcoming space in all of its glory. And if you're in the area in December, keep an eye out for their one-year anniversary party!