brewery
Vice & Virtue Brewing
EST. 2018 | Kelowna
Contact & Directions
For an exceptional food and beer experience, this popular Kelowna North End haunt can't be beat.
One of the greatest and most underappreciated qualities of craft beer is its superior ability to pair with food. At Kelowna's Vice & Virtue Brewing, the concept from the very beginning has been to create an exceptional (and thoroughly hip) food and beer experience. Here, everything is house-made from the contemporary and creative craft beers—many of which are wine-inspired—to the cured and smoked meats, all locally-sourced. Not only does the brewery collaborate with local wineries and farms in creating its beers, but with its food menu as well. The result is a food program that's equally as impressive as Vice & Virtue's beer.
The brewery is smack dab in the middle of the exploding North End craft beer district, with a sleek, open-concept tasting room, offering unobstructed views into the brewery itself, as well as the kitchen. With its whitewashed walls and minimalist aesthetic, it wouldn't look out of place in East Vancouver, so don't be surprised if you find a lineup snaking out the front door.
Recommended Beers
Fancy a flight? Here are some sampler suggestions for Vice & Virtue Brewing
View All Beers
Tulip
Homewrecker Hazy IPA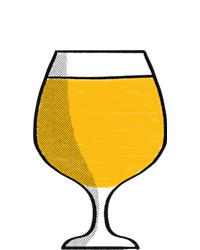 Snifter
Veritas Sauvignon Blanc Ale
Pint Glass
Alter Ego Kveik Pale Ale