It's nearly impossible today to find a brewery that doesn't have a live music schedule, or regular trivia or bingo nights. It's a fun way to enhance the overall tasting room vibe, as well as draw in new customers. But with more and more breweries opening their doors, the push is on to find new and creative ways to stand out in the crowd.
Beyond the competition for consumers' hard-earned dollars, breweries are also looking for ways to differentiate themselves, and to make their values and culture evident. This is easily done through the regular activities and special events that they put on.  There is also a drive to create a sense of community within a tasting room's walls – to bring people together over shared interests, friendly competition, and of course a love of good beer.
All of this adds up to more and more opportunities for unique experiences at local breweries – a win for beer lovers everywhere.
Live Music
Live music is a tasting room classic for a reason – it draws in customers who might be a fan of the music, but haven't been to the brewery yet. It sets the mood for the evening: from a relaxed solo artist to a lively duo, or even a full band concert. Tasting rooms are increasingly becoming in-demand venues for local bands and groups on tour. As an added bonus for music lovers, seeing their favourite local acts up close and personal can be a much more enjoyable and intimate experience than being crammed into a larger, impersonal venue.
When Wheelhouse Brewing Company started its live music journey, it was almost by accident according to brewer and co-founder Craig Outhet. Since then, they have found themselves filling a niche that simply wasn't on hand in the city before that. They often book full concerts in the tasting room, with multiple artists providing a night of entertainment not available elsewhere. The success of the music program is evident: frequent shows are being announced in a diverse range of genres, and in between live shows audiophiles can unite over the turntable with regular vinyl nights in the tasting room.
Niche and Unique
To me, one of the best things about the BC craft beer scene is the uniqueness of our breweries. They all have a story to tell with their brand: from the types of beer that they brew to the style and design of their labels, and even the look and feel of their tasting rooms. That's why Small Gods Brewing's weekly It's Lit! Literary Night events just make sense. The literary-themed brewery fosters a supportive and creative space for authors and aspiring writers to work on their passion projects. Highly niche, yes, but also perfectly suited to Small Gods values and philosophy, and a great fit for a brewery in a town with the largest number of bookstores per capita in Canada!
"We're really doing everything we can to deliver on the vision of making Small Gods the community living room of Sidney. Although that is partially achieved by having a wide variety of offerings outside of our beer — we feel that to really achieve our goal we need to put on events that bring our community together in a fun and unexpected way." Chris Bjerrisgaard, Small Gods Brewing.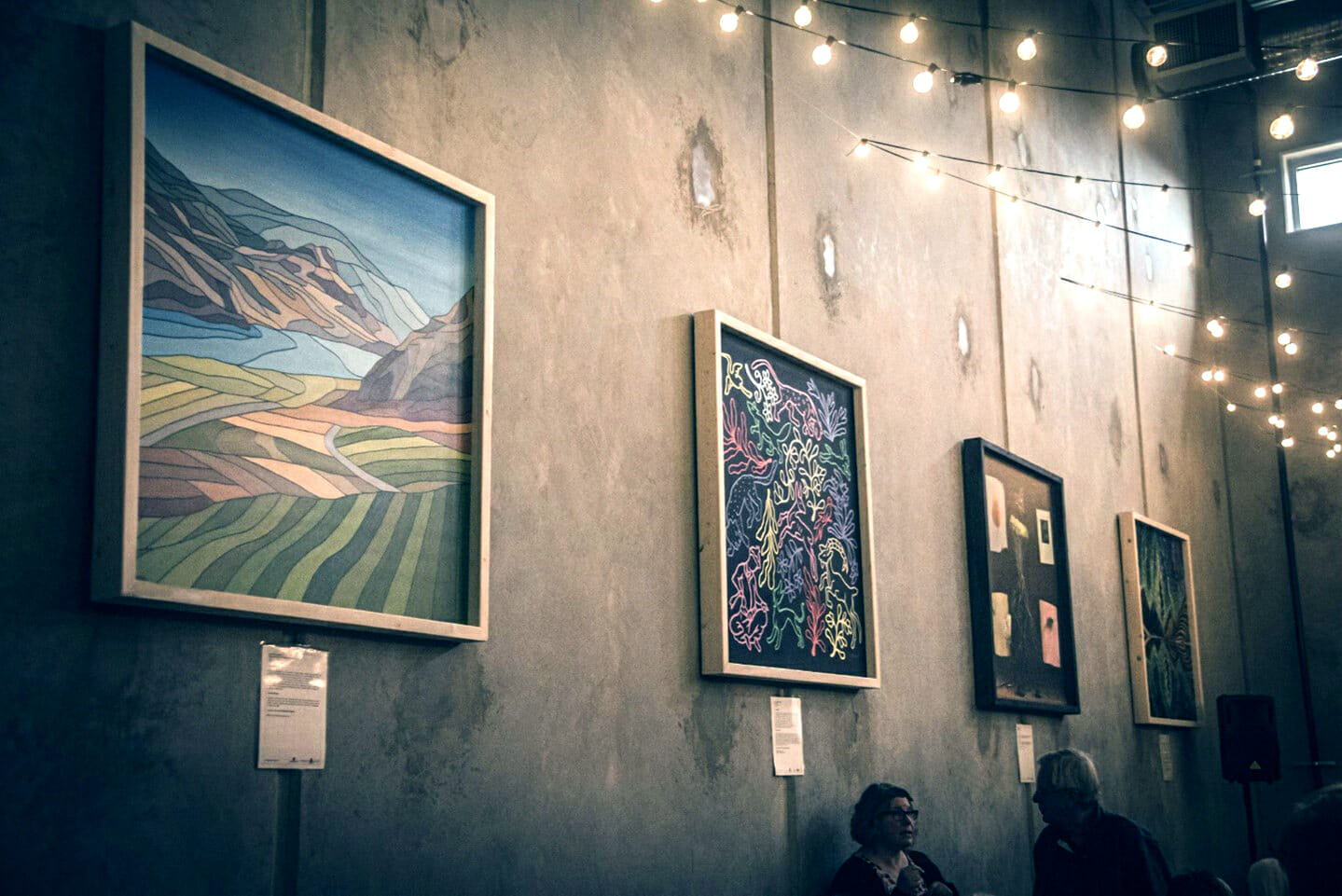 Beer and Art
Many people see well-brewed craft beer as an art form in and of itself, so it makes sense that beer and art would go hand in hand. Case in point, Cannery Brewing is partnering with the Penticton Art Gallery for the third annual Square Mural Project. 10 local artists are invited to complete a four-foot by four-foot mini mural. The artworks are officially unveiled at a gala event on March 24th as part of the Ignite the Arts Festival and remain on display until October.
Each mural is then auctioned off, with proceeds split between the artist and the Penticton Art Gallery, to help fund their programming. "This project not only supports the arts, but it also brings beauty and creativity to our walls," says Cannery owner Ian Dyck.
Other breweries like Sidekick Brewing in Chilliwack are starting from the beginning: hosting courses to learn to paint. They've gone a step beyond the popular 'paint nite' formula events, and have partnered with local artist David Vegt to teach aspiring painters the basics of working with oils to create their own inspired landscape canvases.
Open Mic Nights
Another enduring favourite, open mic nights are becoming more specialized.  While Vice & Virtue Brewing has opted for comedy nights, BNA Brewing hosts the Inspired Word Café for poetry reading and slams. The best part is that participation is voluntary. You don't have to be the next great comedian, or be able to rhyme Farmhouse Saison with…well, anything, to enjoy an open mic night.
Drag Shows
Drag shows and drag queen hosted games nights are increasing in popularity and in frequency throughout the BC beer scene. 'Whale Wednesdays' at BNA Brewing are popular weekly games nights hosted by the well-known Freida Whales. Bingo, trivia, and more are on the schedule.  And Farm Country Brewing's monthly drag show always draws a crowd. The shows typically sell out in minutes, bringing together a packed house ready for a night of fun and entertainment.
"Breweries are a space to bring people together and drag shows are a prime example of this." – Claire Demers, Farm Country Brewing.
 The average craft beer consumer is no longer average – the diverse range of customers you'll find in any given tasting room is ever evolving, so creating welcoming and inclusive spaces has become a priority for breweries. Drag shows and queen-hosted events actively demonstrate to local 2SLGBTQ+ communities that those breweries are safe spaces for them to enjoy, during and beyond shows and events.
For a more in depth look at the drag scene in craft breweries, check out our featured blog "Dragging Diversity Into Tasting Rooms".
Games and Activities
It's not just about crib boards and cards anymore, although finding a handcrafted and brewery branded crib board in the merch section might just make your day.
Many tasting rooms have stacks of new and retro games available to borrow, making it that much easier to put the phones away and enjoy quality time with friends and family. Container Brewing is taking it to the next level with their board game nights. On the first and third Tuesdays and Thursdays of February and March, you can book your seats and join in the fun. Bring your favourite game or enjoy something new from their shelves. All reservations are by donation, with proceeds going to the BC Children's Hospital.
At Lakesider Brewing, Tuesdays are for ping pong. Lakesider invites customers to challenge each other in their weekly tournaments, and even have trophies on hand for the winners.
Another brewery thinking outside of the (board game) box for their customers is Abandoned Rail Brewing Co. This winter they built a curling rink on their outdoor patio. I don't think it gets more Canadian than curling and craft beer.
Another classic combo, bowling and beer, can be found at BNA Brewing – who are truly going above and beyond for their customers. They have lanes ready to roll, along with classic arcade games and of course a selection of board games.
---
There is absolutely nothing wrong with enjoying a quiet pint and a bite to eat, accompanied by nothing more than good company and engaging conversation. But after two years of uncertainty and fluctuating levels of isolation, community engagement has become more important than ever. Seeing all of the ways that breweries have and continue to adapt, think outside of the box, and find innovative ways to engage with their customer base has been inspiring. No matter how specific your interests are, there is sure to be something that will pique your interest.
For more details on what's happening in your area, be sure to check out the BC Ale Trail Upcoming Events Calendar!