brewery
Erie Creek Brewing
EST. 2020 | Salmo
Contact & Directions
Enjoy Kootenay crafted beer in this small town brewery.
An old adage says that every town should have its own brewery, and that was certainly one of the incentives behind opening Erie Creek Brewing. When Colin and Lynn Hango moved their family from Nelson to an acreage in Salmo, they saw the need for a community hangout, a place for people to get together and enjoy a craft beer. 
Colin had been home brewing for several years, so they decided to take the plunge and open their own brewery. For their location they picked an old bank. The brewery is downstairs, which leaves lots of room upstairs — the lounge features a stage where musicians play three times a week. Even the vault was converted into a cozy space with a couch, reminiscent of a living room.
Many locals who never tried craft beer before have become regulars, enjoying Erie Creek's Cream Ale instead of the macro lager they used to drink. The local water is clean and pure, which gives Hango a solid base for brewing traditional beer styles well. It's a small operation so there is always something new and interesting to try. Drop by for a flight, order in some food from a nearby restaurant, and fill a growler to take away with you. 
Fun Fact
Salmo is conveniently located just a half hour from Nelson, Trail, Rossland and Castlegar, which makes it an ideal destination for people looking to try out a new brewery. Add in mountain biking or skiing opportunities at the Salmo Ski Hill or the nearby Whitewater Ski Resort and you might just want to join the crowd of people choosing to move to Salmo.
Recommended Beers
Fancy a flight? Here are some sampler suggestions for Erie Creek Brewing
Pilsner
Out Cold Cream Ale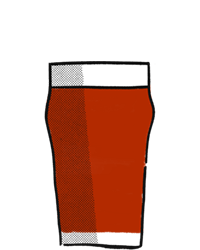 Pint Glass Red
Lucky Boy Irish Red Ale
Pint Glass
Erie Mist IPA