Tin Whistle
Brewing

EST. 1995 | Penticton
The Okanagan's original brewery is still going strong 25 years later.
Tin Whistle kicked off the craft beer movement in the Okanagan Valley when it opened in 1995. This family-owned-and-operated business was named after a locomotive on the Kettle Valley Railway, which operated throughout the Thompson-Okanagan region for years before being converted into a hiking/biking trail. Tin Whistle focuses on using local ingredients such as fruits and berries in many of its beers, including the award-winning Stag Apple Scotch Ale and two different beers made with local peaches. In 2015, the brewery moved into a bigger space at the Cannery Trade Centre, allowing for more growth and an expanded "tasting den."
Recommended Beers
Fancy a flight? Here are some sampler suggestions for Tin Whistle Brewing
Pint Glass Dark
Killer Bee Dark Honey Ale
Pint Glass
Coyote Blonde Ale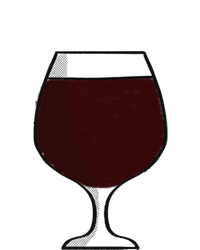 Snifter Dark
Midnight Peach Ale
Fun Fact:
Tin Whistle has a miniature locomotive on display in the brewhouse. Ask to see it — it's the perfect spot for a selfie.