Powell
Brewery

EST. 2012 | Vancouver
The little brewery that could, then did.
When husband and wife David Bowkett and Nicole Stefanopoulos opened their nanobrewery in late 2012, they planned for slow, steady growth. Within six months, that plan was shredded when Powell Street Craft Brewery's Old Jalopy Pale Ale won beer of the year at the Canadian Brewing Awards. As demand spiked, Bowkett simply could not brew enough beer. The only option was to move — and, thankfully for the brand, a larger space opened up a few blocks west on Powell Street. Almost in direct contrast to its origins, Powell Brewery (the name was tweaked in 2016) now has a luxurious amount of space, with ample room for Bowkett's burgeoning barrel-aging program and a walk-in cooler the size of the original brewery. Bowkett and his brewing team focus on classic styles and more experimental creations featuring new hop varietals and souring.
Watch for special pop-up barbecue events held throughout the year at Powell Brewery.
Recommended Beers
Fancy a flight? Here are some sampler suggestions for Powell Brewery
View All Beers
Pint Glass
Ode to Citra Pale Ale
Pint Glass Dark
Dive Bomb Dark Ale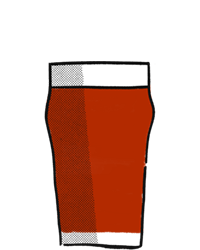 Pint Glass Red
Old Jalopy Pale Ale