brewery
Green Leaf Brewing Co.
EST. 2013 | North Vancouver
Contact & Directions
The North Shore's waterfront brewery located in the Lonsdale Quay market.
Green Leaf's location in the bustling Lonsdale Quay market gives it the ideal opportunity to introduce craft beer to people who may not have tried it before, while also acting as a gathering place for beer lovers who walk past twice a day to commute to and from downtown Vancouver. The comfortable tasting room and waterfront patio offer great views of the Burrard Inlet and Vancouver beyond, making it the perfect spot to watch the active harbour where something always seems to be moving: floatplanes, helicopters, tugboats, freighters, and of course, the Seabus that docks next door. The brewery works with other market vendors to source special ingredients for its beers, and also makes its own kombuchas and ginger ale. Snacks are available, or you are also welcome to bring in food from other market vendors to enjoy with a flight of beers. 
Recommended Beers
Fancy a flight? Here are some sampler suggestions for Green Leaf Brewing Co.
View All Beers
Pilsner
Lloyd's Lager
Pint Glass
Bitter Leaf IPA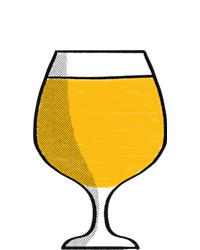 Snifter
Raspberry Sour