Boundary
Brewing Company

EST. 2016 | Kelowna
Visit this brewery near the Kelowna airport for a little taste of Germany. Prost!
When former farmer Oliver Gläser decided to turn his passion for homebrewing into a business, he asked some of his teammates on the Kelowna Crows Rugby team to invest. It probably didn't take much persuasion since it involved beer! Boundary is a small "nanobrewery" with equipment that Gläser mostly built himself, including an unconventional wooden brew kettle. His German background is reflected in the lineup of beers, which features lagers and other styles like Altbier, Kölsch, Gose and Hefeweizen prominently — but the occasional IPA, porter or saison makes an appearance there, too. Oli is an energetic, charismatic entrepreneur so be prepared to stay a while when you drop by for a taste of his beers.
Recommended Beers
Fancy a flight? Here are some sampler suggestions for Boundary Brewing Company
View All Beers
Stange
Kelowna Crows Kölsch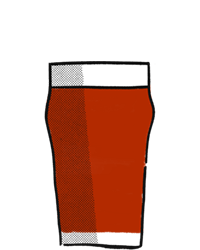 Pint Glass Red
Oak Kettle Altbier
Weizen
Sunshine Hefeweizen
Fun Fact:
Gläser fashioned his wooden brewing system using two 600L oak "puncheons" (giant barrels) originally used for wine-making. The wort is boiled using an electric coil immersion heater. Flavours can transfer from one batch to the next so Gläser has to carefully manage his brewing schedule to ensure he doesn't brew a Pilsner right after a big heavy, dark beer like a Baltic Porter.