Vancouver's North Shore Ale Trail expands with six new breweries
Vancouver's North Shore craft beer scene is growing and the BC Ale Trail is keeping pace. We've added six more breweries to the Vancouver's North Shore  Ale Trail, which now invites beer lovers to visit 10 craft breweries among the many other culinary experiences and outdoor activities available in the area.  
It was here that craft beer first found a foothold in Canada, when the Horseshoe Bay Brewery began brewing Bay Ale for the Troller Bay Pub in 1982. The country's first microbrewery is long gone, but its legacy lives on in the distinctive North Shore breweries that now provide fresh, flavourful beer for their communities and visitors.   
Other North Shore pioneer breweries blazed trails for the current success story. Sailor Hagar's Brewpub was where Central City's brewmaster Gary Lohin first made a name for himself and brewed one of BC's earliest IPAs (Sailor Hagar's still exists as a pub, but no longer brews its own beers on site). Taylor's Crossing, part of the Mark James Group chain of brewpubs, was where Red Truck beer was first brewed. Its legacy lives on through the Hearthstone Brewery, which is situated in the same location.
The contemporary wave of breweries began with Bridge Brewing, which opened in a tiny space back in 2012, followed quickly by Green Leaf Brewing and Black Kettle Brewing. Bridge later relocated to its current, larger space, and has recently announced it is opening a taproom on Lonsdale Ave.
In April 2019, the city's zoning bylaw was changed to make it easier for a host of new breweries to open lounges in the Lower Lonsdale industrial area.  Several new breweries have opened since then, creating a buzzing brewery district similar to Port Moody's Brewers Row or Yeast Van in East Vancouver.
With a name like Beere, it was only a matter of time before this father and son opened their own brewery. With its stylish logo and highly marketable image, Beere Brewing would probably succeed making average beer, but the fact is this place has truly made a name for itself by brewing excellent beers: brewer Matt Beere's focus is on fruity, citrusy hazy IPAs, but he also likes to double dry hop everything from Pale Ales to Pilsners, and releases the occasional farmhouse saison or sour ale for good measure.
Don't let Black Kettle's location – tucked away in an industrial zone between a freight rail line, a marina and Squamish First Nation land – fool you into thinking it's shy and retiring. This is one of BC's most welcoming breweries, a window onto the community of surrounding businesses and residents, where your server or fellow customer genuinely wants to know what kind of day you're having.
Bridge triggered the mini-boom in North Shore breweries when it opened as a nanobrewery near the Ironworkers Memorial Bridge in 2012. Soon outgrowing the space, the brewery moved into bigger digs in 2015. Incorporated into the new facility was a taco kitchen and a cute, compact, wood-panelled tasting room that has become a favourite of cyclists, running clubs and other fit specimens.
Deep Cove Brewers & Distillers
Craft beer, craft cocktails, a finely crafted menu and community events await at Deep Cove. DCBD's spacious, barrel-lined lounge and patio is a great place to kick back. A well stocked bar serves up the range of the brewery's beer, which leans toward hoppier styles, as well as a creative cocktail list featuring the distillery's gin and award-winning vodka.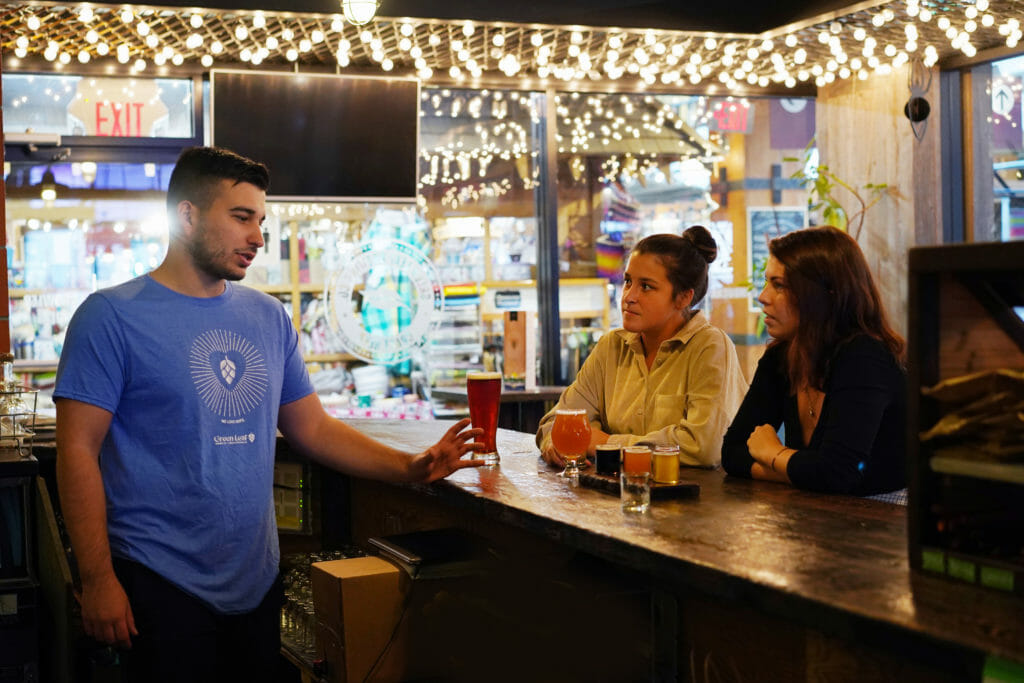 Green Leaf's location in the bustling Lonsdale Quay market gives it the ideal opportunity to introduce craft beer to people who may not have tried it before, while also acting as a gathering place for beer lovers who walk past twice a day to commute to and from downtown Vancouver.
Inventive beer and an intriguing food menu make Hearthstone a dinner stop with a delicious difference. Hearthstone took charge of the beautiful showpiece brewhouse at the former Taylor's Crossing Restaurant and Brewery in 2014 and added Tap and Forno restaurant in late 2016, offering a menu that takes pub fare to another level.
If you like a little funk in your beer, you've come to the right place. House of Funk Brewing was created to challenge the status quo of beer, cultivating an environment of experimentation through its ever-changing beer lineup. Every brew spends time fermenting or conditioning in wood, or is subjected to an onslaught of wild yeast, souring bacteria and other funky micro-organisms.
Founded by three best friends who loved hanging out at a cabin together every summer, North Point Brewing is aiming to evoke that sort of vibe with its cozy, warm tasting room. Get comfortable next to the fireplace and enjoy a sample flight of beers along with a tasty snack, or take in some sunshine on the patio.
Tucked away on Lolo Lane about a hundred steps from Lonsdale Avenue where the BC Electric Railway's Number Three streetcar used to run, Streetcar Brewing celebrates local history one beer at a time. Enjoy the cozy tasting room where you can sample the beers and perhaps consider how craft breweries are now playing a role in connecting people to their communities — just as streetcars once did.
Wildeye's big, welcoming tasting room has lots of tables for socializing and catching up with friends. It's a family friendly space with a bistro kitchen serving west coast inspired food. Beer-wise, Wildeye offers a solid set of core beers augmented by rotating seasonal offerings — in other words: something for everyone from a novice beer discoverer to a road-weary beer geek looking for the newest and trendiest styles.
Having recently announced a tourism rebrand, Vancouver's North Shore offers visitors a choice to embed themselves in nature by hiking, skiing and biking just minutes from one of Canada's most dynamic urban centres. Some of the best après from all this activity can be found via the Vancouver's North Shore Ale Trail, which helps visitors explore while sampling some of the region's most iconic craft ales.