Hello traveller!
So you've found yourself in Squamish, have you? Nice. If I may be so bold as to ask, what brought you to our fair town? The BC Ale Trail? Did you watch the video as well? Wasn't it lovely? Fantastic! So let's see what we can see, shall we? You're here to take in the Triple Crown of thoroughbred brewing, that goes without saying. What if I told you that, while bearing witness to these stallions in their stables is stunning, there are further wonders to be discovered out on the range!
Let me be your guide to a land whose spirit lies in its terrific tether to nature. Squamish dances gayly amongst the noble fathers of the forest, climbs from crag to rocky crag knowing no limit save the sky, then dives from the highest eyrie like the boldest bird of prey straight down towards Howe Sound. Nowhere is Nature's spectacular spectrum better on display than here: in Sea to Sky Country.
You must start your journey here and you must start with a beer.
Order a flagon of Pothole Filler or a pint of Precipice, it matters not, as all your palate's particulars will be covered by Howe Sound's vast array. What matters is that you sip that light or dark liquid under the noble gaze of the Stawamus Chief.
The massive massif features prominently in this article, as it features prominently on the earth. Toast to its vastness as the sun goes down and ready yourself for what tomorrow may bring.
We get up early around here; there's simply too much to do. But let us start softly, with a walk along the Squamish Estuary.
Where the mouth of the river meets the sea, biodiversity abounds. The trails are accessible to all and their only requirement is an appreciation for beauty. There is a peace to be found here, which is only matched by its opposite: the turbulent agitation of wind and water.
After the quiet bliss of the Estuary comes the cabin vibes of A-Frame Brewing.
Whether you arrive by pedal or by throttle; for growler, glass or bottle, you'll find A-frame to be the perfect place to commune. Sit on the patio with friends old and new over excellent beer.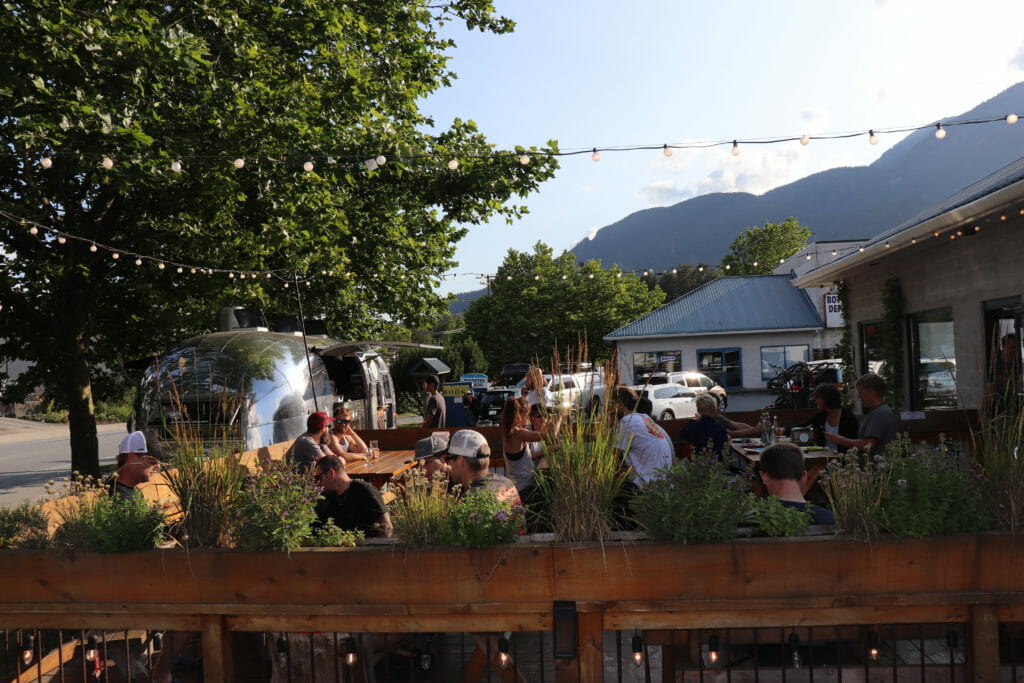 You could talk of your own morning's walk or listen to locals as they regale you with tales of trails and secrets, too numerous to be believed but for their camera phone shots: proof of said spots.
Have you had your fill? I hope not: you're only half done, traveller. It's time to get back on that back road, the same one that took you to the estuary. This time you'll drive to its conclusion: where the road runs thin and the sea runs wild.  Where the wind gods howl at humans bent on playing Ahab and Icarus all at once.
The Squamish Spit is renowned for its wind sports and I'm at a loss to find a better reconciliation of sea and sky. When you get your fill of the rainbow sails soaring then it's time to go to Backcountry.
Backcountry Brewing is your final stop on this vision quest and well worth the wait, I assure you. Order your food and drink from up front then find space at the grand table.
Oh sure, there are wonderful satellites that ring 'round the room, or you could "step up to the bar." But what better way to find kinship and common bond than at a table purpose-built for exactly that? Drink Backcountry's bounty of great beer, sup on their heaven-sent pizza, and revel in the ruckus knowing that this is what it sounds like when like-minded hearts beat in hectic harmony.
That's it. That's all you can stand in one sitting. Squamish is simply too great to relate in one blog. But don't worry, traveller, the thoroughbreds will be here when you return. And perhaps, when next we saddle up, there'll be new glades to gallop, new (to you) horizons to explore. So plan your next visit and don't spare the horses.