Spring is here and the sky is blue (most of the time!). Rediscover beautiful BC with some spring activities on the BC Ale Trail.
The weather is warmer, the days a little longer, and pops of colour are showing up everywhere you look. Welcome to spring in beautiful British Columbia. Here are some suggestions for spring activities and ale-ventures to enjoy wherever you are in BC.
Enjoy a scenic picnic
Whether at a local park, beach, or the outdoor area of a brewery, take advantage of a sunny day with a picnic. A picnic is one of the great joys of  warmer weather — especially with a craft beer (or two) in the picnic basket. Be sure to bundle up though — there's still some chill in the air, but that's never stopped craft beer lovers, has it? Check out some excellent picnic spots here.
Explore the outdoors
Take advantage of the warmer weather and get outside for some hiking, running, shoulder-season snow activities, or whatever your heart desires to get your heart rate up and earn your beer. It's also the perfect time of year for some camping!
Find a heated brewery patio
There is nothing quite like sitting outside on a brewery patio on a crisp sunny day with a pint or flight of fresh craft beer. Many brewery patios are also dog-friendly so, remember to bring your portable water bowl and a little blanket for your pup! (Visit our Breweries page to find a patio near you.)
Visit a farmers' market for some tasty treats and brews
Did you know you can often find craft breweries selling their brews at local farmers' markets? Discover fresh produce, tasty treats, and of course local craft beer and spirits at a farmers' market wherever you're exploring in Vancouver.
Bask in seasonal blooms
March and April (and sometimes May) give the gift of cherry blossom and magnolia season across BC. Ale trails to take in the blooms include Victoria, Port Moody and Vancouver's Brewery Creek and Yeast Vancouver neighbourhood.
Take a scenic bike ride
Earn your beer at Category 12 Brewing or Beacon Brewing with an epic bike ride on the Saanich Peninsula or on a cycling brewery tour. Need some inspiration for a new route? Check out these itineraries:
If you need a little more of an adrenaline rush, check out the trails of the West Kootenays and Northern BC later this spring.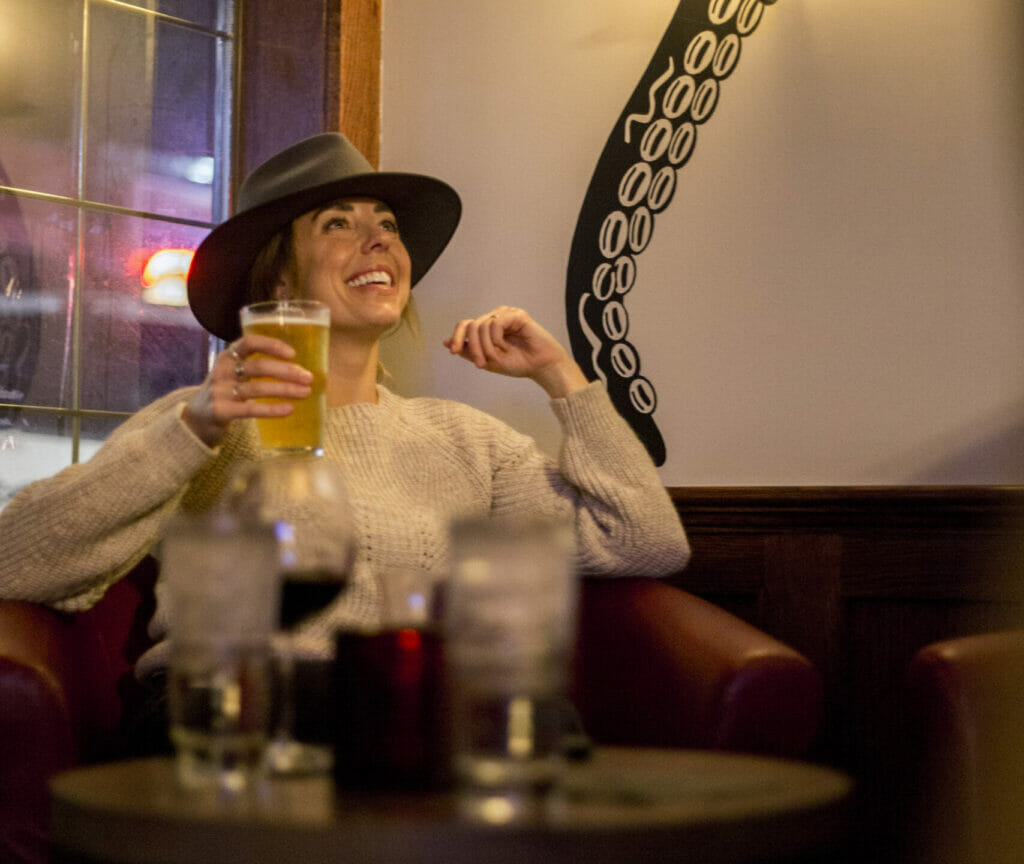 Treat yourself to a sip and stay weekend
Take some time to really explore an ale trail community with a sip and stay weekend. Until April 25, book a 2-night sip and stay in the Comox Valley on Vancouver Island and receive a limited edition, custom-designed Comox Valley growler. Your booking also includes $50 in gift certificates to local craft breweries. Find additional sip and stay ale-ventures here.
What spring activities will you enjoy this year? Be sure to tag us @bcaletrail on all your ale-ventures!
---
More spring activities await on the BC Ale Trail app or on our Ale Trails page.
---