Vancouver's
North Shore

Exploring Vancouver's North Shore Ale Trail with Jake & Marie
Start the trip
Vancouver's North Shore is the place to be if you're looking for outdoor adventures close to the city. Home to the beautiful mountain range that is often visible from Vancouver, some of the best natural parks in the city, and the popular Shipyards district. The two of us have just recently moved from Ontario to Vancouver's North Shore and we're being given the ultimate chance to explore our new city. 
We're taking you through our three-day adventure exploring Vancouver's North Shore with the BC Ale Trail. Our perfect weekend itinerary brought us to some of the best outdoor activities on the North Shore, with incredible views of the Shipyards, Lonsdale Quay, Deep Cove, and all of North Vancouver, and to enjoy the most fantastic restaurants and best craft breweries that North Vancouver has to offer. Come join us on our North Shore Ale Trail tour!
Day 1
North Shore Tourist Attractions & Breweries
Our trip in Vancouver's North Shore starts on Lonsdale Ave, one of the most beautiful high streets in Canada located in the heart of North Vancouver.
We're stopping for breakfast at a new location of the OEB Breakfast Co on Lonsdale that opened in January. We notice a group of people waiting outside of the doors before OEB opens, so we know we've come to the right spot. 
I'm immediately drawn to the breakfast item named after a dessert, and I order myself the Banana Cream Pie French Toast with my coffee, and Jake gets himself the Traditional Benny with old-fashioned rosemary ham. To balance out our meal and make sure we're fuelled for the day I add a couple of smoothies. The Banana Berry Burst and Green Machine are calling our names, and our server brings them out almost immediately to start.
With a huge day full of adventures on our North Shore Ale Trail itinerary, we're off to see the best that the North Shore has to offer. We're going to be first in line to Capilano Suspension Bridge Park — we actually end up waiting for 10 minutes for the park to open. Worth it, though, because we get to enjoy one of the most popular tourist attractions in Vancouver all to ourselves. 
The bridge itself is massive: a suspension bridge that is 460 feet long and 230 feet above Capilano River. It sways back and forth very slightly as we walk across and we're thrilled to see the views overlooking the river and the old-growth forest. 
We follow signs for the Treetops Adventure where we're met with a series of suspension bridges in the middle of the massive, 1300-year old trees. The coastal rainforest is lush and green from the recent Vancouver rain and we're feeling lucky to be here breathing in the fresh air. 
We make our way to the Cliffwalk, the final attraction of the park, and it's not for the faint of heart! We're following narrow bridges that are hanging onto the side of the cliff and leading us in a half-circle over the canyon. We're climbing up stairs and leaning over open-grated walkways for an incredible birds-eye view and experience. Check out the glass walls separating us from the canyon!
Buses of tourists begin to arrive at Capilano Suspension Bridge Park as we're leaving, headed to our next destination feeling great about our first walk in the park. We're driving to a part of North Vancouver that we haven't explored before, and we soon arrive at Grouse Mountain. We're taking the Skyride all the way to the top!
The clouds are in our way, but we still have a fantastic view looking back towards Vancouver. We're so grateful to be here, and we head back towards Altitudes Bistro for lunch. Our table has fantastic views because we're right beside a window in front of a fireplace. I've ordered soup and salad for lunch and the salmon chowder warms me up. We take in the view once more as we ride the gondola back down the mountain.
After our busy morning exploring the best outdoor activities on the North Shore, it's time for us to check in to our hotel. We're staying at the Seaside Hotel located directly in the Shipyards/Lonsdale Quay area. I knew it was going to be convenient, but I didn't realize until we were there how close we were staying to the Shipyards!
We're welcomed by the hotel concierge and check in to our room with great views of the water looking towards downtown Vancouver. It's the first night of our BC Ale Trail tour and we're getting ready to check out three breweries and one restaurant for dinner. When we're ready to leave our hotel we get into the elevator and realize it will bring us directly to the streets of the Shipyards — so we're already right where we want to be.
It's Friday night and the Night Market is in full swing at the Shipyards. There are multiple food trucks lined up beside the water, live music is playing nearby, and plenty of people are out enjoying their evening. We're walking over to Esplanade Street for our first couple of breweries, and we pass by multiple car/motorcycle repair shops. Every shop has their garage door open and we quickly realize that the breweries on Esplanade have their garage doors open, too. 
Our first stop of the night is at House of Funk Brewing. The good vibes here are immediately recognized and the ladies working behind the bar tell us we can sit anywhere we'd like. The patio is gorgeous, but we want to sit at the bar tables beside the decorative kegs and mural painted on the wall. They tell us to take the "comfy stools" and we know it's going to be a great night. 
We're dedicated to trying as many beers as possible on our trip so we're ordering flights. The two of us are big fans of sour beers and cloudy IPAs and our flights are always colourful. Our favourite here at House of Funk turns out to be their "Funk Juice: Smoothie Sour" that tastes like mango and guava. We're enjoying our beers and sitting by the water so much that we almost forget we still have more places to check out on our BC Ale Trail!
A couple of minutes down the road we find ourselves at La Cerveceria Astilleros. Their Mexican-inspired brewery is now another one of our favourites on Esplanade and the flavours they offer are incredible. With another garage-style door looking out towards their patio and the water we feel super comfortable sitting down at the bar that's half indoors-half outdoors. 
Did I mention the flavours yet? We enjoyed another flight and a full pint of the Salted Lime Lager, which is our favourite. Our flight of beers sounded so exciting as it read "orange, lemon, lime, rosé." They sell tacos here and we promise to be back to try them next happy hour.
We're saving room for dinner and we're feeling great walking back to the Shiyards from Esplanade Street. Tonight, we're headed to Tap & Barrel Shipyards where we manage to score a perfect patio table despite the drizzle outside. The hostess grabs us an umbrella and we're excited about the view of the Shipyards from our table. 
Jake loves a classic caesar, and I'm ordering a Tropical Fruit sour from a Vancouver brewery called Brewhall (gotta keep it local). The patio lights are turning on for the night and we're feeling like burgers. We order the Southern Fried Chicken burger and their new Truffle Onion Ring burger with fries on the side and we know we made a couple of good choices. The food is fantastic, and we enjoy our conversations while people-watching at the Shipyards.
We're completely full, but we have one more brewery on the list for our first night. The sun is going down as we walk back to Esplanade Street to check out Shaketown Brewing, the newest brewery on our list. They have an awesome open window looking out towards the sunset and we sit down to order our final flight of the night. 
It was a busy night, so we ask the bartender to pour us four of their most popular beers. We're enjoying our last couple of lagers and IPAs and the brewery is packed with happy people like us. The hazy, bright orange Kveik IPA is a winner between the both of us and the perfect way to end today's BC Ale Trail tour. We're less than five minutes from our room at the Seaside Hotel, and we're walking home totally excited about the busy day we just had.
Day 2
Deep Cove Adventures & Exploring the Shipyards
We wake up in our hotel room and the sun is out for us today! It's Saturday, and we're headed to Deep Cove for most of the day.
Deep Cove is a beautiful seaside village located on the far eastern end of Vancouver's North Shore. We're only driving for 20 minutes before we arrive at a small café called Café Orso for breakfast. 
We're the first ones here for our morning coffee and we order two cappuccinos in their largest cup size available. The restaurant feels very local and homey. We find a small table by the window and read the menu. The avocado toast is a signature dish so I ask for that, and Jake orders their "famous waffle special." 
Soon, a server brings over two beautiful, large pieces of avocado toast with a side of curried apple-coconut preserve and a plate filled with three Liège waffles, strawberries, and fresh whip cream. "I think we've ordered the perfect breakfast," I say to Jake as our food arrives. As we eat, we rave about how we would never have known of this place if it wasn't for our BC Ale Trail trip.
After breakfast, we walk down the road to Honey Doughnuts & Goodies for a bit of dessert and more coffee. We've only lived in North Vancouver for six months, but we know that Honey's has the best doughnuts around. It's already busy at 9 am, but luckily the line isn't too long. We order our coffees and score two cinnamon sugar doughnuts to bring outside on their patio. 
The sugar and coffee combo has us excited with extra energy, so we walk down to the pier. The streets are lined with pretty houses and the pier is busy with people enjoying the nice day. Deep Cove is a beautiful place to visit and we will definitely be back! Our first activity of the day is about to begin so we drive over to Cates Park.
We're going paddleboarding for the first time today, and I can't think of a better spot to learn. Cates Park is home to Takaya Tours and the Cates Park Paddling Centre, where you can rent kayaks or paddleboards by the hour. It's a beautiful location and they make rentals extremely easy for you. We meet our instructor down on the beach and he sends us out on the water for the next two hours! 
This area was once a small village so it has a lot of history to the people of Tsleil-Waututh Nation. They are a small community of 500 located on the Burrard Inlet between North Vancouver and Deep Cove. Today the Tsleil-Waututh people use the park for cultural events, ceremonies, and to run part of the Takaya Tours operations. This is a wonderful place to kayak and paddleboard — I couldn't recommend it more; the water and scenery are beautiful!
Our two hours on the water flies by, and we've been enjoying being outside in the sun. Now it's time for lunch and we're headed to our first brewery of the day. We're going to Deep Cove Brewers and Distillers and the first thing we notice is the beautiful patio outside! We find the perfect picnic table in the sunshine. I'm so excited to see personal-sized nachos on the menu. 
https://bcaletrail.ca/breweries/deep-cove-brewers-and-distillers/We notice options for three different tasting flights on their menu. Jake's excited because we've never seen a Caesar flight before. Our waitress tells us it's new. Jake orders the dill, jalapeño and basil Caesars while I order three different craft beer sours. These flavours are so refreshing on the patio in the sun, and the P.O.G. sour along with the mango-pineapple really make it feel like summertime! Did I mention the personal nachos? They are the best I've had in a LONG time.
Just after leaving Deep Cove, we stop at another brewery called Wildeye Brewing. They have an awesome location with a large room inside and a patio full of picnic tables so you don't want to miss this one! We score a table outside, and we learn from another customer that "You have to try the Sour Candy beer!" 
We order our flight and choose beers that will go well with our pint of the Blue Raspberry Candy Sour. It's delicious — we can't decide if the Candy Sour or the Neon Nectar Hazy IPA is our favourite. The patio is already busy and it's only the early afternoon. As an extra bonus, we notice that it's dog-friendly because we sit beside a sweet pooch. The vibes here are awesome.
It's time to head back to our hotel room at Seaside Hotel in the Shipyards to get ready for the evening. The sun is shining outside and the weather is perfect on Vancouver's North Shore. We're staying in the Heart of North Vancouver and we're ready to spend some time exploring the Shipyards. 
We leave our hotel and start our walk down the boardwalk on to the pier overlooking Downtown Vancouver. It's buzzing with people out here and everybody is having a good time. We even spot a seaplane taking off from the water!
This waterfront neighbourhood is rich with shipbuilding history, flourishing with seaside restaurants, and full of wide-open public-gathering spaces. All of the ships, boats, and even the SeaBus are a cool sight to see. We are so impressed with the area. We walk over to Waterfront Park and hang out on the grass watching the water while we wait for our dinner reservation.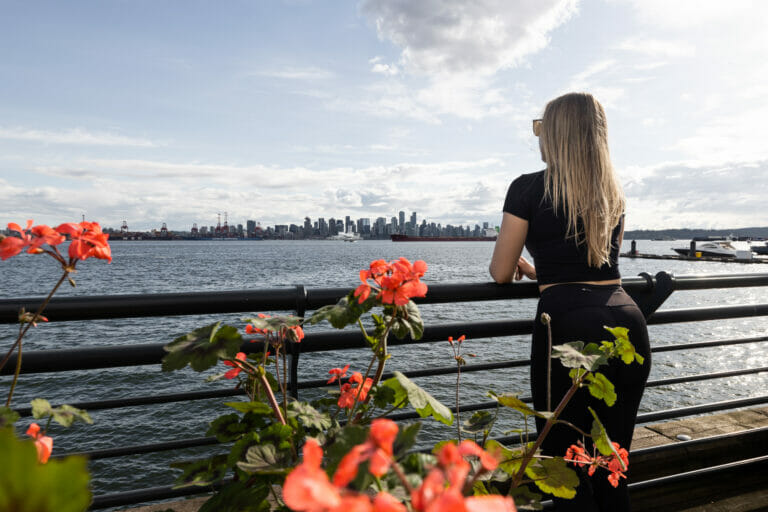 We get a text that our table is ready, and head over to the beautiful JOEY Shipyards for dinner tonight. JOEY's is a restaurant chain that we're familiar with, but the flagship Shipyards location proves to be the most amazing we've been to yet. Situated in the middle of the Shipyards with incredible views of the water and downtown Vancouver, this spot is a must. 
Our server brings us to the perfect patio table with unobstructed views out towards the Shipyards and we're immediately impressed. This restaurant is truly beautiful. We start our night with margaritas, feeling excited after spending all day in the sun and scoring one of the best patio views in the city. Jake orders the Chicken Parmesan and I order the Steak Frites, medium rare. 
Our food comes and it looks fantastic. Not only is the presentation perfect, but the food is delicious as well. My steak is cooked perfectly with crispy but soft fries, and Jake's pasta is one of the best he's ever tried. Our margaritas are the perfect refreshment after our big meals and we both agree that this is one of our favourite dining experiences, ever. Before we leave we make sure to check out the view from their top-floor patio as well and promise that we'll be back soon.
We're full from dinner and have one more brewery on our itinerary for Saturday night. I'm excited because we walked by this brewery on Esplanade the night before, and I'm happy we get to go check it out. We walk over to Beere Brewing Co where the patio is already full of people who can't stop smiling!
Jake orders us a flight, and I pick out a table with great views of the patio and water close to the neon fluorescent "Here's a Beere" sign. The interior here is really cool, and I'm so happy because Jake orders me the "Pinky Tuscadero," which is their raspberry lemonade sour. They have a ton of juicy flavours and we feel like the fruity and citrus beers are a perfect end to our night. 
The sun is starting to go down as we walk back to the Shipyards district, and we decide to stay out a little bit longer to enjoy the sunset. The food trucks are out again, there's live music for the second night in a row, and so many people are out enjoying themselves. We sneak up a set of stairs just beside JOEY's rooftop patio and find some conveniently placed tables and chairs overlooking the Shipyards pier, looking out to the water. The sun goes down and the sky lights up bright colours, and we both agree that Saturday was the perfect night.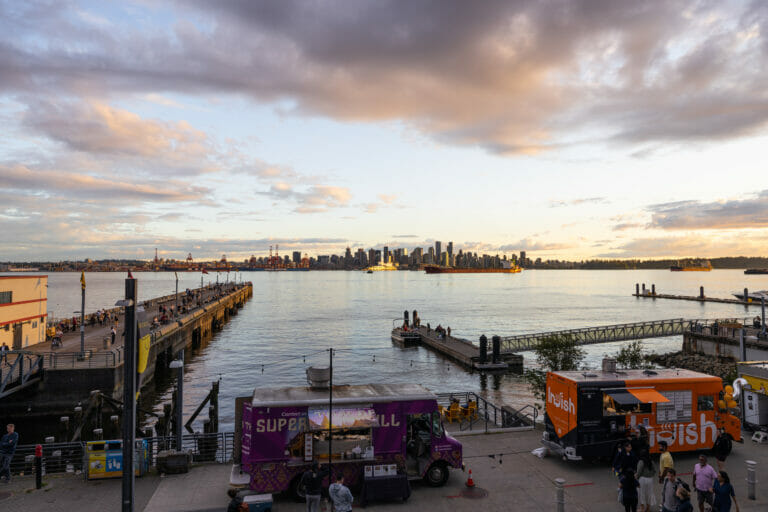 Day 3
North Shore History & Sundays at the Lonsdale Quay Market
It's our final day of our BC Ale Trail tour of Vancouver's North Shore, and we've slept in a little bit to enjoy the last few hours of our hotel room.
We say goodbye to our Shipyards view from our window, and we make our way up Lonsdale Avenue for breakfast. We've never heard of this spot before, but it sounds extremely promising. We're headed to a restaurant called Lift Breakfast Bakery.
Lift Breakfast Bakery is here to offer us all-day from-scratch breakfast and we couldn't be more excited. We've been looking for a local breakfast spot to enjoy on Sundays, and this is it for us. We're welcomed inside and Jake promises me that next time we'll sit outside on their beautiful patio. Seriously, this is one of the cutest patios I've seen in a long time. The lights, wooden accents, and all of the pretty plants surrounding the tables are so charming. 
We both order some coffees, the "Breakfast 101," which is your standard eggs, bacon/sausage and toast, but so much better. Their fantastic country sourdough bread is the best toast I've ever had, and we share the house-made sausage and maple bacon. I even order us a Pecan Sticky bun for dessert and the server warms it up for me. This is a super pleasant start to our day and I can't wait to come back!
We get some coffee to-go for a short walk to our activity of the day, and finish it before we arrive at MONOVA. The Museum of North Vancouver, or MONOVA, is located just off Lonsdale. It's a hidden gem that I didn't know about before our trip. This stop is a fantastic way to learn more about our city and its history. We're greeted by some friendly people at the door and a fantastic refurbished streetcar that used to run up and down Lonsdale Avenue all the way to Lynn Canyon and to Capilano Canyon. You can step inside and imagine yourself on the streetcar in the years 1913-1946.
We learn a lot about the history of North Vancouver and how it became the bustling city that it is today. We learn about the way the roads were designed and the businesses that operated here (think logging, ship-building, etc.). There is history about the way that trails were developed throughout North Vancouver, Mount Seymour, and more. We learn about the Indigenous communities that live here and their vibrant culture. There is so much history behind the city of North Vancouver and visiting MONOVA is a great way to learn more in depth about how it came to be.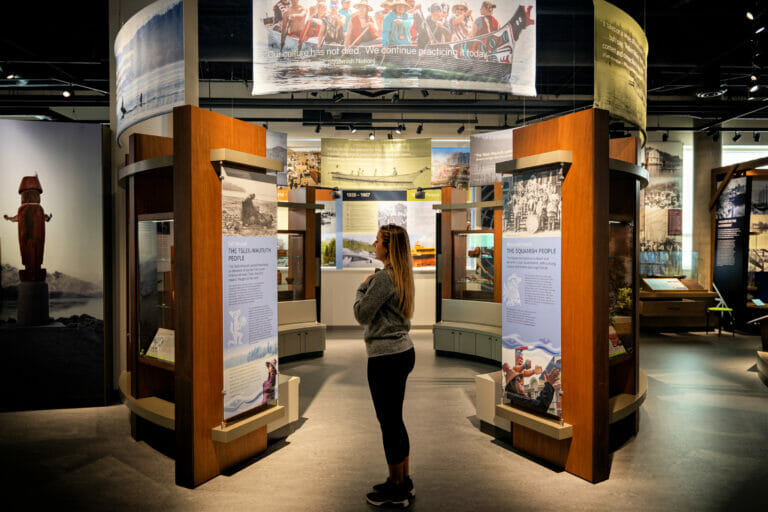 After leaving the museum, we take a quick walk to explore the Lonsdale Quay Market. This is an iconic part of Lonsdale Quay that is situated right beside the water, featuring 60 or more locally-owned businesses. We find lots of fresh fruit and produce, local artisan shops, and plenty of places to eat. We enjoy checking out the candy shops, the fish market shops, and take home some empanadas.
We order a pizza from Pronto. This is such a perfect spot, the final restaurant of our itinerary. I pick up our pizza 20 minutes later and sat back down to join Jake at our patio spot. The pizza I ordered is a classic pepperoni, but this one is so delicious and full of cheese and tasty pepperonis that it was anything but classic. Between the pizza and our patio view, I can't decide which is the best. The combination of the three is the ultimate ending to our North Shore Ale Trail tour.
As we head home from our adventure on the North Shore Ale trail, we feel like we've been given the best warm welcome to our new home in the city of North Vancouver. With outdoor adventures right outside of your door, the exciting waterfront city excitement of the Shipyards, and some of the most fantastic restaurants and breweries in BC, we feel like we fit into the North Vancouver lifestyle just fine.
Produced In Collaboration With
Vancouver's North Shore Tourism Association
Vancouver's North Shore, located just 15 minutes by car or seabus from downtown Vancouver, is more than just a spectacular backdrop for one of the world's most scenic cities. It's teeming with life, wild and urban, and the possibilities of what to do with your time here are endless.
With ocean activities such as kayaking and stand up paddle-boarding, golf courses, world-class skiing and snowboarding, and endless hiking and biking trails for all levels, the outdoor enthusiast will find the only thing lacking is enough time to do it all. After exploring the great outdoors try visiting one of the many community shopping and gallery districts or check out the local culinary scene with restaurants ranging from night-market food trucks, waterfront patio's with views of the ocean and city skyline, to local tap houses and craft breweries.
Speaking of craft breweries, Vancouver's North Shore is currently home to 10 craft breweries and is expected to see several more soon. Our distinctive craft brewers offer unique and creative beers that are sure to impress!
Come stay and explore Vancouver's North Shore!