Sea To Sky

Explore BC's epic Sea to Sky with Fuel for the Sole
Start the trip
Day 1
Exploring The Heights of Squamish
We're Meagan and Andy of Fuel for the Sole — join us on an ale-venture!
We begin our journey travelling from Horseshoe Bay to Squamish. This stretch of road provides picturesque views of Howe Sound and the coastal mountains that leave us inspired for our journey ahead. As we drive into Squamish, we marvel at the towering granite walls that overlook the town below.
We are welcomed into the town as we visit our first stop for a delicious breakfast at the Zephyr Café. This local cafe is covered in eclectic decor and we are immediately put into a lively mood as we hear Motown music playing. The whole space has a relaxed and laid-back vibe and it feels like a place where the locals gather. We are impressed by their specialty coffees and their wide variety of vegan and gluten-free options. We start the day by sipping our coffees while looking out onto the mountains we can't wait to explore.
Now that we are fuelled up with coffee and full bellies, we make our way to our first Squamish adventure — the Smoke Bluffs hike. This park is extremely popular with mountain climbers, and the main trail is peppered with narrower trails veering off toward the rock faces. This hike is full of really unique features. About halfway through, we come up to the Octopus Garden, which is a towering flat rock face with multiple crevices the climbers use to ascend. As we walk further along the loop, we get glimpses of the town below with the Stawamus Chief standing guard.
After our hike up Smoke Bluffs, we have the urge to go up even higher! So we hop on the Sea to Sky Gondola. This gondola takes you up the summit where you are blessed with panoramic views of Howe Sound and the coastal mountains. There are plenty of self-guided hikes up at the top. We chose to hike the Panorama Trail, which is an easy 1.3 km loop trail. It leads us to the Chief Overlook Viewing Platform deck that juts out over a sheer drop with impressive views of the ocean and mountains. Being up on this platform gives us a true sense of the majestic beauty and potential for adventure in Squamish. We then walk over the 100 m suspension bridge, which gives us a dramatic 360° view of the area.
We grab a quick lunch at the top as well. Backyard Bites is the perfect place for a snack. We order up a freshly made cheese pizza and some local craft beers and take them out to have lunch with a view.
After a day of adventure, we check into our hotel before heading out for the evening. Our accommodation at Executive Suites is the perfect place to relax. We decide to soak our sore bones in the outdoor hot tub and then freshen up in the condo-style suite.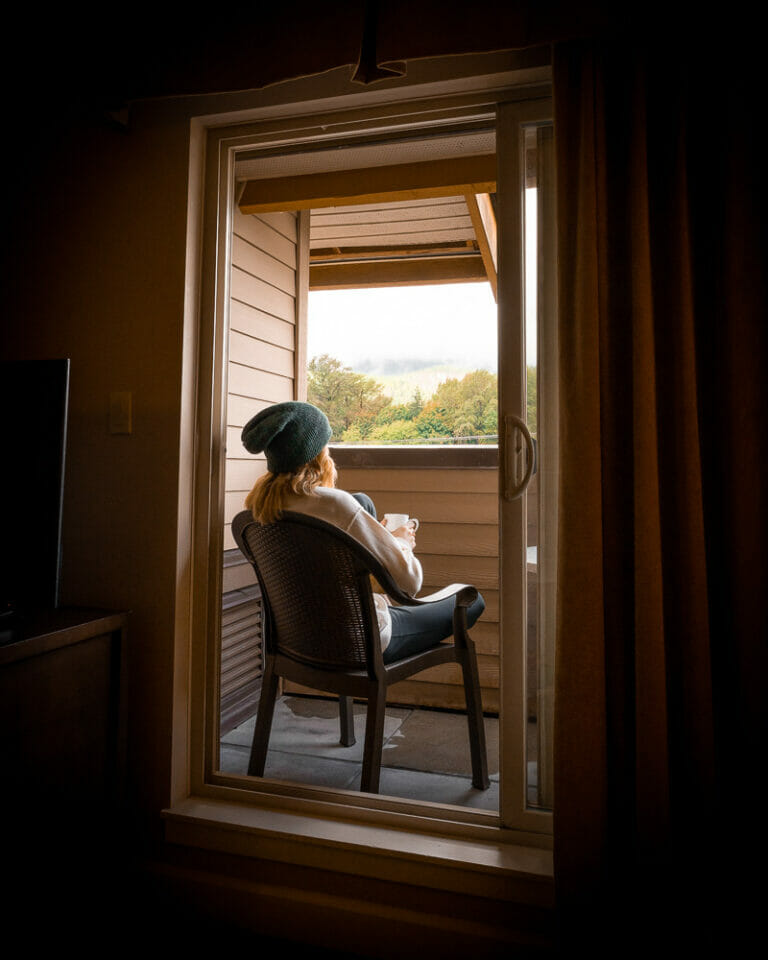 As we aren't quite hungry enough yet, we stop in at Cliffside Cider for a pre-dinner drink. This small batch craft blend cidery has so many fun flavours and cider-based cocktails that we can't choose only one and opt for the flight. We get to sample the OG, Peach, Ginger, Blueberry and Cherry ciders, and each flavour is as bold and fun as the next. We get the feeling that this place is a bit of a hidden gem being tucked away in an alley and brimming with intimacy and a super lively patio.
Now that we have built up a sufficient appetite, we walk over to the Howe Sound Brew Pub (only a block away). This brewpub is very established and a bit of an icon in Squamish. The restaurant is huge, and we realize how great this venue would be for a large group or even an event. We quickly become mesmerized by the menu and its unique flavour combinations. After some indecisive moments, we settle on the Smoked BBQ Chicken Wings, Nashville Hot Chicken Sandwich, and the Lime Chicken Pizza. No easier is the choice of craft beer as this brewery has heaps of core beers and seasonal beers on tap. We chose the popular Hazy Daze IPA and the Devil's Elbow IPA, and we loved their smooth finish and slight fruitiness.
​​Since this day in Squamish has been such a blast, we aren't quite ready to call it a night, so we head to the super popular Backcountry Brewing. The locals have been raving about the Widowmaker IPA, so we order that up, and it does not disappoint! We also love the Take a Chance on Me Rice Lager, which was incredibly crushable. This brewery is definitely the heart of the town and has a fun and energetic vibe. This place absolutely knows how to make you feel at home.
Day 3
Whistler
We wake up early and well rested for another action-packed day in Whistler.
A stop in at a local favourite is a must for breakfast. The Gone Eatery is tucked away behind a bookstore and serves up delicious comfort food. We opt for a traditional British-style breakfast packed with the protein we need to fuel our day.
The Sea to Sky region is on Squamish and Lil'wat land and their peoples' history and culture is rooted deeply in the mountains and forests. The Squamish Lil'wat Cultural Centre (SLCC) offers hourly guided tours that take you through the rich history of their people. It is a must stop in order to truly understand and appreciate the land you are visiting. As we walk through this tour, we marvel at the traditional clothing and craftsmanship of the Squamish and Lil'wat people and we are elated to know that their traditions live on.
We stop in at the Thunderbird Cafe located in the SLCC for a quick lunch. They serve delicious traditional Indigenous foods like bannock, salmon and venison.
If you have been to Whistler and only explored its village, you are missing out on nearby Function Junction. We take a quick 10-minute drive south to get to this area that is most often used by locals. It's a unique area brimming with breweries, bakeries, and lots of activities. There is plenty to do here to fill up an entire day. 
First, we head to Coast Mountain Brewing and hang out in its welcoming taphouse. We become instant friends with the approachable bartender, and the experience is so enjoyable that we stay for an hour. Coast Mountain opened its doors in 2016 and brews up a wide range of complex and flavourful beers. We enjoy the fruity and smooth east coast style Hope You're Happy IPA and the citrusy Cloudraker Wheat Ale made with Canadian wheat. Coast Mountain has a modern take on craft beers and makes some of our favourite local IPAs.
The weather is starting to turn, so we begin looking for a unique indoor activity. Luckily, Forged Axe Throwing is located right beside Coast Mountain Brewing, so we drop in for a one-hour session. This is our first time ever trying axe throwing and we are complete novices, but the staff are so helpful and give us pro tips along the way. Their feedback is so constructive that we end up hitting several bullseyes! Forged Axe Throwing is definitely a fun activity for everyone, and it's also a pretty intense cardio workout too.
Since it's still a bit drizzly outside, we are happy to head over to another brewery within Function Junction. The Whistler Brewing Company was established in 1989, which means it is one of the pioneers of the British Columbia craft brewing movement. We walk into a lively and huge taphouse with lots of room to socialize. It is definitely the place for locals to gather and have fun. We see that there is a wide selection of craft beers on tap, and we just can't choose between their nine choices. So we opt for the flights and get to sample eight of their beers. Whistler Brewing Co.'s craft beers are not heavy in hops, and it is refreshing to try some malt-forward flavours. Our favourites were the Bear Paw Honey Lager, Hazy Trail Pale Ale, and the seasonal Grapefruit Ale.
After a full day of activity we head back to our hotel to take a dip in the outdoor hot tub and lounge in our robes before heading out for a night in the village. 
We meander through the charming streets looking for an aperitif. What better place to start than Whistler's coziest pub? The Fitzsimmons Pub is Whistler's original BC craft beer pub, offering eight taps of constantly rotating local craft beer. It's an incredibly cozy and warm place to start a conversation and meet someone new. The inviting couches, board games and funky decor make us want to linger. But alas, our bellies are calling for a meal.
The breathtakingly beautiful Four Seasons Resort is just around the corner and has amazing amenities, including the Braidwood Tavern. This mountainside tavern is vibrant and welcoming with a huge selection of local craft beers. But don't let the word "tavern" mislead you — this place has an absolutely delectable menu as well. Neither of us can resist Steak Frites so we both put in our orders (medium rare, of course). Much to our surprise, we are presented with homemade tavern snacks: spiced popcorn and kettle-cooked chips! Every bite we have is exquisite and we will definitely be back.
Day 5
Pemberton to Home (With a Quick Stop in Whistler)
We wake up to our last day in Sea to Sky paradise and start to plan our day with a few extra adventures left in store.
We fuel up on breakfast at Grimm's Gourmet & Deli, the local diner that really romanticizes small town life. The entire staff and all of the patrons know each other. People are chatting all across the cafe and it is another reason we think Pemberton feels like home.
With a full week of travel, adventure and exploration behind us, we decide to stop in at the Scandinave Spa Whistler on our way back home. The Scandinavian Baths offer a way to truly disconnect and are a pure source of relaxation. We spend hours here taking in the hot baths, cold baths, steam rooms, and relaxation areas. This is all experienced in pure silence while being surrounded by the ancient forests of Whistler. It is the perfect way for us to reflect on our journey.
Now that we are at peak relaxation, we stop in at our final BC Craft Brewery. The Whistler Brewhouse (High Mountain Brewing Company) is located right in the heart of Whistler Village. It is a beautiful autumn day and we are lucky enough to be able to sit out on the large patio and enjoy watching the crowds walk by. The menu is full of inspired pub foods and we fill our table with Garlic Fries, BBQ Chicken Wings, Crispy Brussel Sprouts, and Mountain Peak Margherita Pizza. This brewhouse also produces their craft beers on site using BC grown grain. All four of their flagship beers are fresh and vibrant in flavour. We especially loved the 5 Rings IPA, which is a west coast style IPA with a sweet malt backbone. 
Even though the Sea to Sky area stretches on for over 90 kilometers, there is a profound cohesiveness to it all. The people's faithful respect for the land, the deep rooted history and culture, and the spectacular natural beauty is something that only this area of the world holds. We share a true love affair with Sea to Sky Country and it will forever hold a place in our hearts.
Produced In Collaboration With
Tourism Squamish
This authentic West Coast mountain town has people talking. It's not just the spectacular setting that's captured the world's attention, its also the ease of access to the great outdoors for everything from wind and water sports to hiking and biking.
Unquestionably, the geography here will amaze you. The Pacific Ocean narrows into Howe Sound, where the spectacular Coastal Mountains surround the Stawamus Chief, a granite monolith unlike any other. From the ocean to the snowy mountain peaks; from the rocky cliffs and waterfalls to the forests, lakes, rivers and estuary, Squamish is truly extraordinary.  The area's unique mix of mountains and water has created a world-class playground for adventurers of all levels.
Less than an hour from either Vancouver or Whistler, Squamish is a unique fusion of rugged landscapes, stunning vistas and West Coast culture. Discover what the buzz is about. Start planning your Squamish adventure today!
Tourism Whistler
Located in the rugged Coast Mountains just two hours north of Vancouver, Whistler is Canada's favourite year-round destination. Surrounded by mountains, lakes and rainforest, the resort offers epic skiing and snowboarding, four championship golf courses, exceptional mountain biking and hiking plus a vibrant base village with shopping, dining and a rich arts and culture scene. Three breweries call Whistler home, offering beers to quench thirst arising from adventures of all sizes. With pubs where craft beer flows freely and a host of events celebrating food and drink, Whistler is a place where life is lived to the fullest and you don't just après-ski – you après-everything.
Tourism Pemberton
Located just north of Whistler and a short 2.5 hour drive from Vancouver, Pemberton & District is your gateway to adventure. Pemberton is a year-round outdoor recreation destination. Sports enthusiasts head to the town from late spring to early fall to indulge in everything from hiking, biking, camping, golfing and horseback riding to rafting, jet boating, swimming and fishing. From late fall to early spring, the area is a hot spot for backcountry skiing and riding, cross country skiing, snowshoeing, and snowmobiling.