This is the latest instalment in the Hops Among Friends series, which is designed to showcase the people that make up the craft beer scene on the BC Ale Trail.
My most recent Hops Among Friends interview was with David and Annamarie Beardsell from Red Collar Brewing in Kamloops. At the end of the interview, they got to pick who I would interview next, and they suggested Chloe Smith and Cédric Dauchot from Townsite Brewing.
Townsite Brewing opened up in 2012 in Powell River on the Sunshine Coast Ale Trail.
It was great to speak with this craft brewing powerhouse couple about their background, their love of all things craft beer-related, and their passion for living in Powell River on the Sunshine Coast. I was fortunate to have had the opportunity to visit Powell River back in 2015. I met Chloe and Cédric at that time, and I enjoyed a brewery tour with Cédric. Now, I'm looking forward to a future trip to Powell River to revisit their brewery and to discover some more hidden gems in the area.
Cédric and Chloe are the owners of Townsite Brewing. Chloe is the General Manager and Cédric is the Brewmaster. They have two young children, Beatrix (age 9) and Hugo (age 7).
Kim: How did you both get your start in craft beer?
Cédric: I went to the Institute Meurice in Brussels. At the time, it was one of three universities in Belgium where you could learn to become a brewer. I always knew I wanted to work in a brewery. After school, I worked around Europe. I worked with Les 3 Brasseurs in France, and then the company moved me to Montreal where I managed a chain of brewpubs. I looked after the expansion as the company opened up a number of locations in downtown Montreal, one in the suburbs, and then one in Toronto. I supervised the expansion of the brewpubs, managing the construction, the hiring and management of staff, running the labs, and more. I met Chloe after living in Montreal for one year.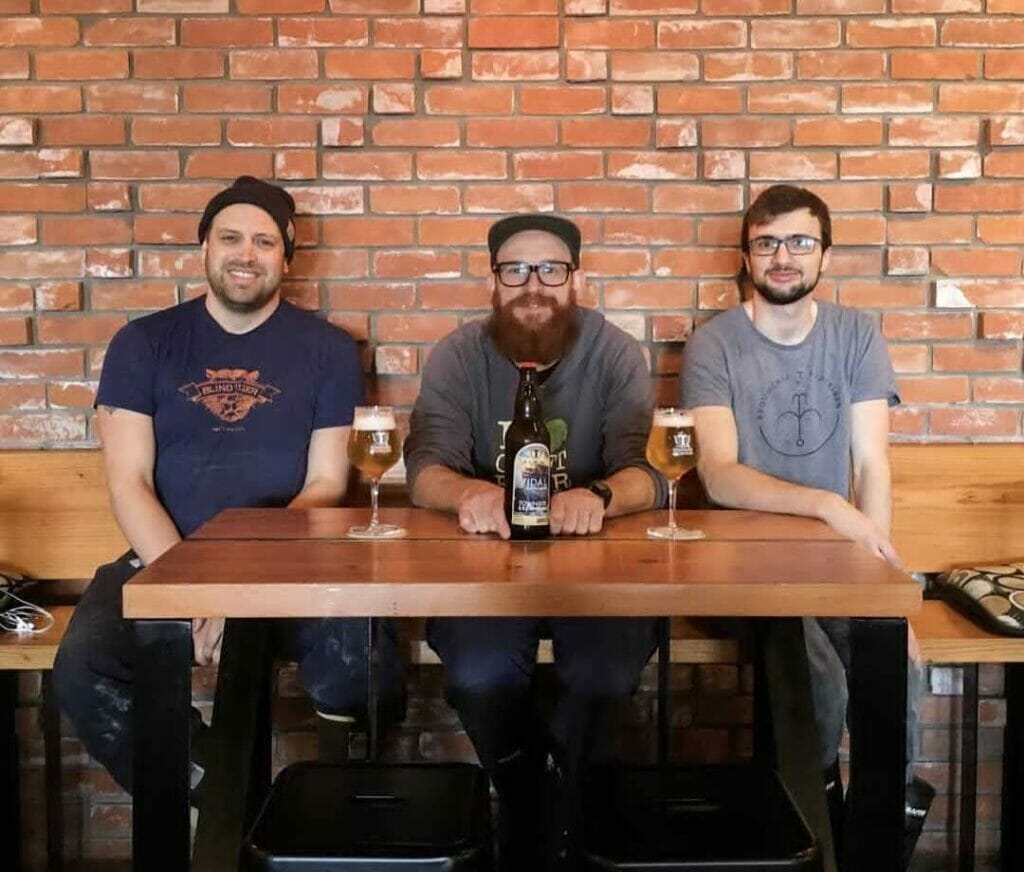 Chloe: I studied chemistry at the University of Saskatchewan. I knew early on that I didn't want to become a lab rat. I spent some time travelling around Europe in the early 2000s and enjoyed drinking some amazingly great beers. It was during this time that I started looking into beer and researching how it was made. I learned that, with my science background, I could get into this industry. So, I went back and got my diploma online from the American Brewers Guild. I moved to Montreal in 2003 and I took a job with one of the original craft breweries in Montreal, McAuslan Brewing. Several years later, Cédric hired me as head brewer at one of the brewpub locations.
KL: Tell me about the start of Townsite Brewing?
Cédric: Around 2008, we started seeing the second wave of microbreweries opening up in Montreal. As more and more breweries were opening up, we thought, if they can do it, we can do it too.
Chloe: So, in the winter of 2010, we moved to Saskatoon with a business plan to open up our own brewery. We had the plans and the knowledge, but we didn't have a location. At the same time, Steve Brooks and Karen Skadsheim were in Powell River and they were having discussions with Michelle Zutz about starting a brewery in the building where we are located. They had the location, but they didn't know how to make the beer, so they posted a brewmaster job on Pro Brewer. Cédric applied for the job in January 2011. We ended up putting our two business plans together and we moved to Powell River in October, 2011. Ulrich Herl joined the team at that point and we opened up Townsite in April, 2012.
Cédric: The building was sitting empty before we moved here. I came on as head brewer and partner right from the start. There were some plans for the space, but we were able to change the plans and equipment, and I was able to set up the brewery as I wanted.
I like to have a simple brewery. I don't like a lot of fancy equipment. I wanted nice flow-through in the brewery for efficiency.
Chloe: We were so pleased to be able to come on as partners. Today Steve is our landlord and main investor, but he is not involved in the day-to-day running of the brewery. Karen, Michelle and Uli have all moved on over the years to pursue other endeavours and start new chapters.
KL: How do you enjoy running a brewery as a couple?
Cédric: We are pretty good at doing it. We met and worked together in 2006 and so we already had five years working together as a couple before starting the brewery. Chloe is the general manager and I'm managing the brewhouse. There are days when we don't even see each other at the brewery.
Chloe: Because we started our relationship as a working relationship, it allowed us to set the tone in our relationship. Besides, we are both beer geeks. We love beer culture and we have bonded over that together through the years.
There is nothing else that we would like to be doing other than running Townsite Brewing together.
KL: How do you balance your brewery lives and your personal lives?
Cédric: That was a big challenge for us, especially at the beginning. Our daughter Beatrix was 3-4 months old when we moved to Powell River. We were always running. One of us was being a parent and one of us was working at the brewery. It was the same when we had our second child, Hugo in 2013. We spent lots of time running around between taking care of our kids and the brewery.
Chloe: Having said all of that, we also have no commute. We don't have the stress of living in a big city. We own a home with a yard. The balance for our family comes with being able to spend a lot of time outdoors. We do as much as we can outdoors. I think most small business owners would say the first five years are such a struggle.
Thankfully, we have the kids, or we would have become very one-dimensional people. We probably would have moved into the brewery and never left.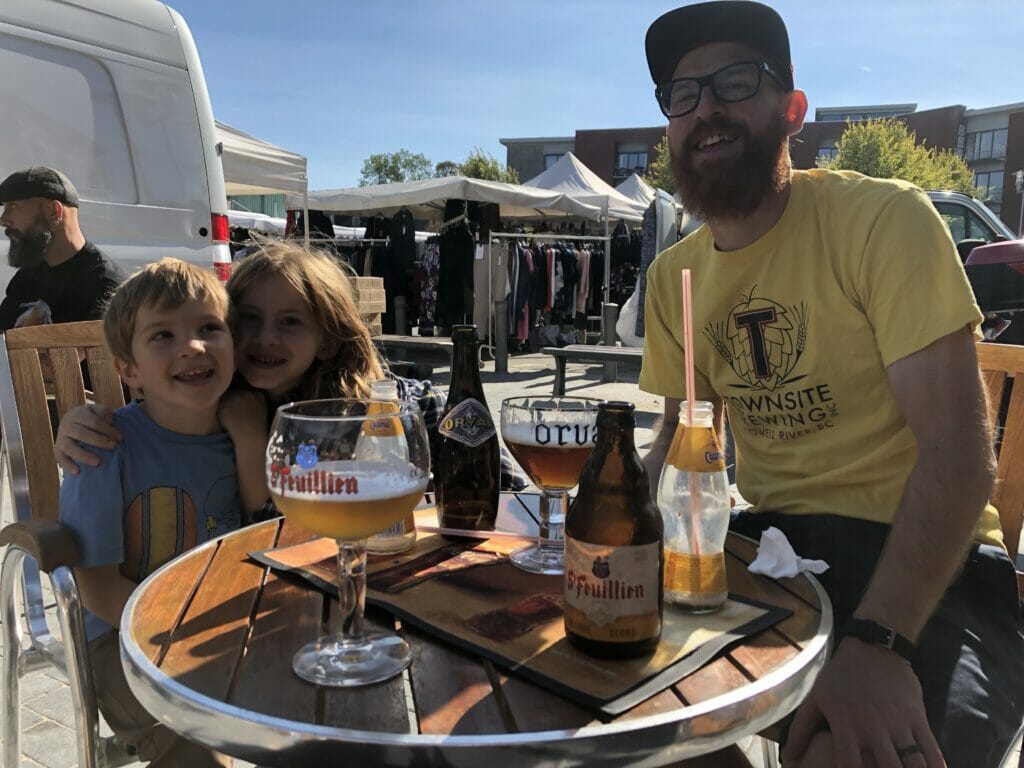 KL: What do you love most about the craft brewing industry?
Chloe: Everything. There is no one thing I can pinpoint. I love the community aspect. As brewers, we are all so tight-knit and close. We love that our brewery is a pillar of the community in Powell River. The beer is good and fun to make. The marketing is fun. I like that it's based in science. It's artisanal. I can't pinpoint any one aspect more than any other.
Cédric: Coming from Belgium, there was a big difference when I moved here. When you work at a brewery in Belgium, one brewery will focus on one or two or three brands that they do over and over. They keep trying to improve those, but other than that, they don't do anything new. There wasn't a lot of R&D in the job. Here you can do whatever you want. We started by doing all Belgian beers. Last year, we made a lager for the first time. I never thought I would be able to make a lager because all good lagers come from Germany.
But I find it fun to be in this environment where I can do something new. I appreciate this because these opportunities don't happen in every job.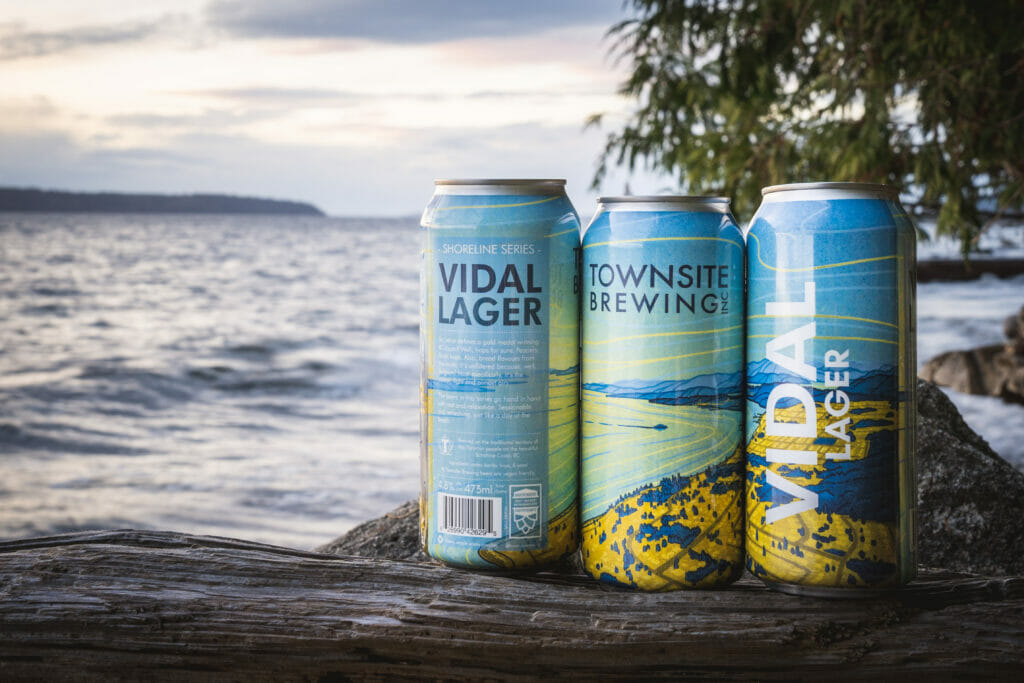 KL: How has your brewery been impacted by COVID-19?
Chloe: It's been tough. We are lucky that we opened before the lounge endorsement license came into effect, so from the beginning we had a strong presence of packaged product. Since 2015, we shifted our focus and tried to be 50% onsite sales in the taproom and 50% packaged product. So COVID impacted our onsite sales quite negatively. For us, it felt more like a return to day one. We were homeschooling our kids, running our business, and working in the tasting room. It's been a real slog and a challenge managing through COVID.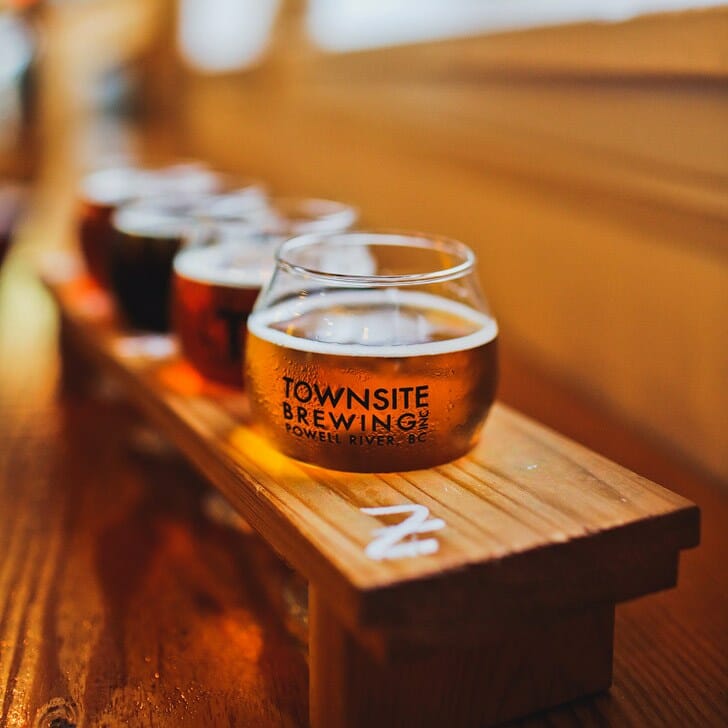 Cédric: In March and April, it felt like we were doing twice the work for half the return. The tasting room is very important for the sense of community. When you take it out of the business, there is a void. There is an empty feeling of not having the tasting room. We are really missing that part of the brewery. One of the good things for our brewery is that packaging was always a part of our plan, so during COVID, we moved from being a keg-heavy brewery to a bottle-heavy brewery. We had a lot of draught beer prior to COVID that we don't have anymore. We had planned to move to cans in 2020 and we had already booked Mile 37 for our mobile canning. In the end, we decided to buy our own canning line, as we were worried about the impact of COVID on the mobile canning company being able to travel on the ferries to get to our brewery.
Chloe: I am going to cry my eyes out the day the tasting room is full again. I want to sit at the bar and hear the sounds of a full taproom again.
KL: What do you think COVID-19 means for the future of BC's craft brewing industry?
Chloe: I am hoping that BC residents will continue to explore BC and get out and visit the breweries around the province. Packaged beer is going to remain the main form of beer sales for a while. I think the hospitality industry is going to have a hard time coming back from this. But then again…. if you look at the 1920s, people were ready to party, so it might bounce back quickly if people want to return to restaurants once we are able.
KL: What are you most proud of at Townsite?
Cédric: Our team. The people that we work with. It was so hard to lay off 11 staff in March. That was super hard to do. But after the shutdown, everyone came back. It showed us that our team members believe this is more than a job for them. This is where they belong.
Chloe: One of our company values is community. Both our team inside the brewery, and our community here in Powell River. This is such a huge priority for us, and it brings us a lot of joy. We are so proud of the place we have created here in Powell River. We know that Townsite is an important part of the community. A local City Councillor tells the story of attending conferences prior to Townsite being open and hearing others comment "Powell River, what's there? A stinky paper mill?"
A couple of years ago, the comments became "Powell River? Don't you have that great little brewery, Townsite, there?" That was such a huge compliment to us.
KL: What do you have planned this spring for Townsite?
Chloe: We have a number of new and exciting beer projects we are working on.
Cédric: We are currently working on a recipe for a new pastry/dessert beer. It will be a Black Forest Stout made with boysenberries and cocoa nibs. It will be in 473ml cans out mid-March. We are also working on a recipe for a Pink IPA with hibiscus. This will be launching in late February in 473ml cans. Also, we are working on having our Lager in a semi-permanent rotation. Plus, moving our popular Passionfruit Gose into more of a permanent rotation.
Chloe: Some good things have come out of COVID. Some things have gotten easier, such as getting a patio license. Our landlord and investor Steve has purchased the back lot behind the brewery. We were planning a beer garden for this space, and we are now quite hopeful that we'll have a beer garden open for this summer. We are now just waiting on licensing and some quotes from landscapers. The beer garden will be a picnic location. People will be able to purchase packaged product in the brewery and bring it out to the beer garden. We'll be collaborating on some food options. We're planning on picnic pods with a kid's play area. And dogs will be allowed. Essentially it will be a licensed park area for the community where families can come and hang out.
KL: What is it like living in Powell River?
Chloe: It's the best. We are just so happy to be here. Powell River is sandwiched between the mountains and the oceans. We have lakes and rivers here. Whatever your outdoor preference is, you can do it here. It's just incredible.
Growing up in the prairies, I'm so happy that my children get to grow up here.
Plus, it's a great community. Partially because we're more isolated, people really support local. It's my opinion that if you do what you do well, people will support you here.
KL: Tell me about some hidden gems in Powell River?
Cédric: The bike trails of Powell River. There are lots of great trails for mountain biking. Especially since COVID, there has been a lot more trail discovery on our end. Biking here is very different from biking in Whistler or Squamish. When you bike here, you're in the forest. You have to ride both up and down. I like to take the kids and go into the forest for bike rides. Plus, we enjoy going back and forth between swimming in the lakes and ocean, going to the beach, and going to the waterfalls.
Chloe: The restaurants in Powell River are very good. I wasn't expecting them to be as good as they are. Also, the mushroom hunting has been incredible this year.
KL: For those that have Powell River on their bucket list for when we can travel again, what do you recommend?
Chloe: Scroll through our Instagram account and then come in and ask us how to get to the favourite things that you see.
Cédric: We are like a visitor info centre here at the brewery. We have a large, detailed map on the wall and can give people information on whatever they are looking for. We can provide info on the seven lakes portage route that the Tourism Board has well marked and is becoming very popular. There are beautiful camping spots in the area. We also recommend the Sunshine Coast hiking trail. It's a free hut-to-hut 180km hiking trail.
KL: Do you have any final words?
Chloe: Life is really good right now. Our kids are killing it. They are in Grades 4 and 2. We are settled into a good routine and we have a good work-life balance. We live in an incredible place that lets us play in the outdoors a lot. We own a business that lets us experiment. Life is really good right now.
Oh, and it's our birthday coming up! Townsite is turning nine on March 22nd. That means our 10th anniversary is not far off, so start planning your trip to Powell River now for March 2022 for the Townsite 10th anniversary party.
KL: Who else in the craft beer industry do you find interesting and why?
Chloe: I'd like you to interview Roxanne from The Bakery Brewing in Port Moody. She was literally putting out a fire the last time I saw her, and I want to hear how that story ended.
With that cliffhanger in mind, stay tuned for the next instalment of the Hops Among Friends blog series, where I speak with Roxanne from The Bakery Brewing. Until then, cheers!