This is the latest instalment in the Hops Among Friends series, which is designed to showcase the people who make up the craft beer scene on the BC Ale Trail.
My most recent Hops Among Friends interview was with Iain Hill from Strange Fellows Brewing. Iain recommended I speak with Aaron MacInnis from Iron Road Brewing. Opened in 2017, Iron Road is located in Kamloops, which is part of the newly formed Kamloops, Shuswap and Vernon Ale Trail.
Aaron and I had never connected before this interview, so I was excited to hear about his move from Vancouver to the Interior. We really clicked early on in our interview, and I'm super stoked to meet him when he comes in to Penticton for Okanagan Fest of Ale in a few weeks. We had a great discussion about craft beer, life in the Interior, and outdoor adventures.
KL: Tell me about how you got started in craft beer?
AM: When I was in university studying music, one of my buddies, Stefan Thordarson, started home brewing. Then a couple more buddies joined us, and all four of us were home brewing together. It's quite interesting, because we're all professional brewers now, and Stefan works with me at Iron Road Brewing. I started my professional brewing career at Main Street Brewing. I got to work under Jack Bensley, which was super sweet. He is one of my all-time favourite human beings. I was at Main Street Brewing for three years, which is where I learned everything I know about professional brewing.
I moved to Kamloops in May of 2017. My mom actually heard about the opening at Iron Road Brewing. My mom lives in Scotch Creek, just on the Shuswap, and she wanted me to come and live closer to her. Kamloops is about 45 minutes away from where she lives. She pestered me for like three months to apply. I finally applied. The owners at Iron Road are really glad to have me, and my mom is really happy to have me close by. It's been great.
KL: What do you love most about craft beer?
AM: I was really attracted to the camaraderie in the industry and the lack of competitiveness. I love seeing breweries open and help each other out. I love that sort of community. I love the problem solving that we have to do, especially when we are stumped. I know that I can call a neighbouring brewery or a brewery from far away that has come across the problem I am facing, and they will help me. I love all that it takes to get through things as a community, and all of the hurdles we have to jump through.
KL: Why do you think the craft brewing industry became so collaborative?
AM: I think it's attractive to everybody in the industry to have these collaborative relationships. The consumer is excited by them as well. The consumer sees the friendships between breweries. We've all seen it. Business has been cutthroat for so long. It's refreshing to have an industry that works in a collaborative way, rather than undermining each other. I think it might inspire other industries.
KL: Tell me about your thoughts on collab beers? You did one today before our interview.
AM: It's always a great time when we get to brew collabs. It's a work day and you get to work with good friends. We can come up with some harebrained ideas or some great ideas. But however you look at it, when you put a bunch of heads together, you'll come up with something cool to brew together.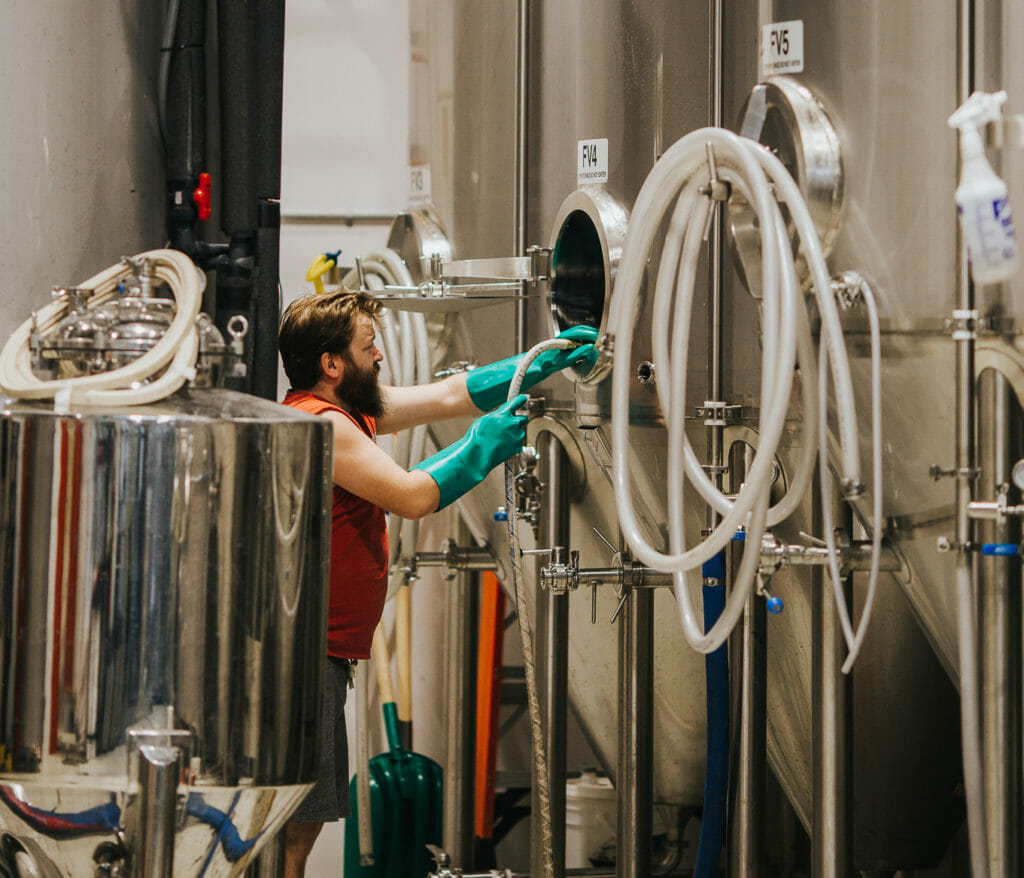 KL: What is your favourite collab so far?
AM: We did a collab with Main Street Brewing. We went to their place and brewed a peppered lime farmhouse ale that we called "That's the Way." Then we brewed a salted slightly lime Gose that we called "She Gose." One was salty, one was peppery. One was slightly bitter, one was slightly sour. You can have either beer by themselves. Or you can have them blended. When you put them together, you've got "That's the Way She Gose." All the brewers unanimously thought the blended version was the best. All of us went into that one thinking it was a crazy idea, and everyone had trepidations that no one voiced. It was cool because although everyone had their doubts, it really worked.
KL: How was it working with your old team?
AM: I love Jack and Ted. They are both amazing people. Since then Jack has left and moved to Farm Country Brewing, but I loved working with both of them.
KL: What are your favourite beer festivals?
AM: My all-time favourite is the BC Beer Awards because everyone is there and it's always an exciting time. Farmhouse Fest is also pretty cool. And obviously VCBW.
KL: What is your favourite beer style?
AM: Laughs. That entirely depends on the day and time of year. Wild Farmhouse Ales are very high up there, as are Pilsners and IPAs. I could live for the rest of my life drinking just these three types of beers.
KL What kind of IPAs do you like?
AM: Not oxidized ones. I'm not a huge fan of the hazy IPAs. I like clear IPAs. In particular, I enjoy Firestone Walker IPA and Blind Pig IPA. California makes lots of great IPAs.
KL: Anything you've learned from what California is doing with their IPAs?
AM: Stability. They have amazing shelf life stability. It's nice to have a beer last on the shelf without having to worry about it. I'm not a fan of old beer. What I've learned is that it's about the process after the beer is finished. When we're transferring, packaging, and dry-hopping, we do everything we can to manage the oxidation process.
KL: Tell me about your beer philosophy at Iron Road?
AM: I would say approachable would be a focus. Considering our location and clientele, even when we do a crazier style, we are still focused on the drinkability. We like being able to give a non-beer drinker an option. We like opening people's eyes to other possibilities. When we hear people say they don't like sours, we invite them to try ours. In our area, there are lots of people that really enjoy wine. We like when wine drinkers try and enjoy our beer.
KL: What are your predictions for craft beer in 2019?
AM: Craft beer is getting so popular and there is so much awareness of it. I think we'll start seeing more changes in the restaurants and bars that don't currently carry craft. In almost every group, there is at least one person that says, I'm not going there anymore, they don't have good craft beer. It's going to put more pressure on the non-craft beer establishments to bring in craft beer to meet this changing desire.
KL: What are some of your favourite craft beers right now?
AM: Nick Murphy at the Noble Pig is really turning that place around and making some amazing beers. I'm excited about Farm Country Brewing that is opening in Langley. We have some good friends opening up Camp Brewing in Langley. I'm very excited about Hatchery Brewing opening up in Penticton. I met their brewer Chris Vandenberg in 2015 when he was working at Postmark. We worked a lot with Postmark when I was at Main Street. When I lived in Vancouver, I can't tell you how many times we'd be on Commercial Drive, and Stefan and I would spontaneously run into Chris and grab breakfast with him.
KL: If you aren't drinking craft beer, what are you drinking?
AM: Coffee. I like a really nice light roast with a dash of cream. And natural wines. I like anything wild fermented.
KL: What do you love about the craft beer scene where you live?
AM: It's rich and there is so much to discover. It's an exciting craft beer scene here in the Kamloops area. The options and varietals are plentiful.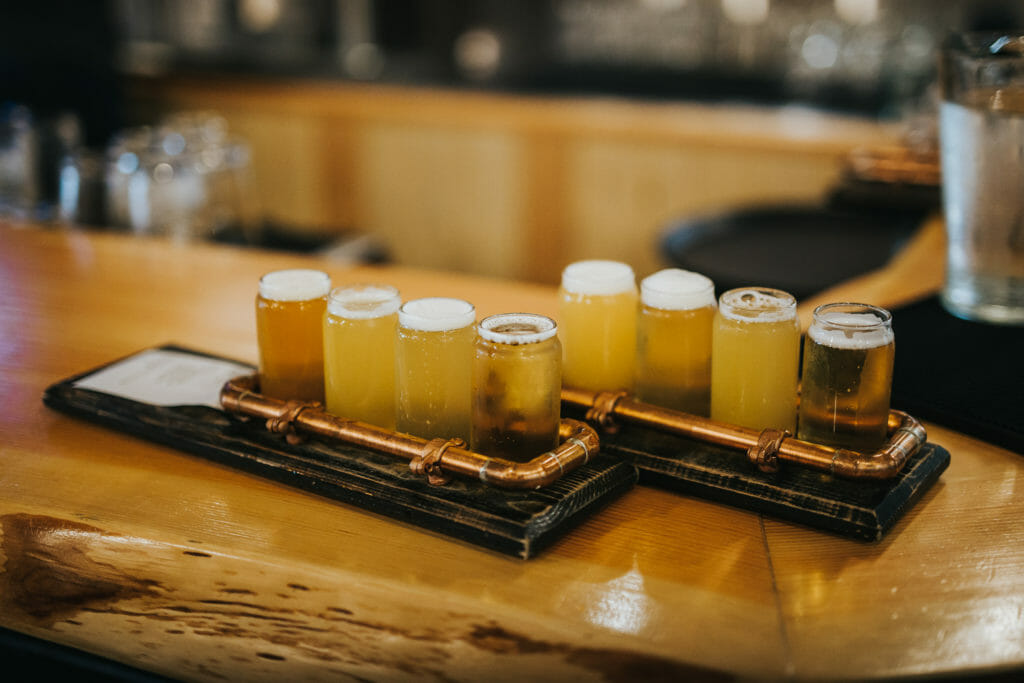 KL: What else do you love about where you live, outside of the craft beer experience?
AM: That's very easy for me. Living in Kamloops is amazing. There is mountain biking. Sun Peaks is close, and it's a fantastic ski hill. Fishing is calling my name. The lakes, the biking, and all of the outdoor activities you can do here are just brilliant.
KL: How do you compare living in the Interior versus Vancouver?
AM: Traffic is the biggest difference. It's so nice being able to afford to have a life here. I mountain biked a little in Vancouver, but it was a bit of a nightmare to get out to a location where I could mountain bike. Here I can bike out my front door and I'm on the trail in 10 minutes.
KL: If you had out-of-town company visiting you for the first time, what hidden gems would you recommend?
AM: I would definitely take them to Forno on 5th for dinner. And to Tiger Ramen. Depending on the season, I'd take them mountain biking or hiking or skiing. The outdoor sports are great here. And the food scene is coming up in Kamloops, which is exciting. I would also hit up Red Collar, Noble Pig, and our new neighbours, Alchemy Brewing.
KL: Iron Road has been around since August 2017. What makes Iron Road special?
AM: Our work environment and our corporate culture. It's a group of friends working together to serve people good beer, good food and good times. There's a lot of camaraderie both at the front of house and the back of house. People feel that when they come in. It's a very comfortable place to come to.
KL: Tell me something new you are brewing right now.
AM: We just brewed a Bière de Mars with our good buddy James from East Van Brewing. Bière de Mars is French for March Beer. The philosophy of this beer is that the brewers save their finest ingredients for this beer, which gets released in the spring. This will be our first tall can release. This beer was released in the middle of February. People can get it at the brewery as well as liquor stores in the Kamloops area. It will also be on tap at East Van.
KL: You're known for your innovation. Tell me more about this.
AM: Well I could share lots of boring micro-innovations that I've done, but they won't make for good reading. But, at Main Street, I did a bunch of wild and sour beers, and pushed for us to do barrel aged beers. I'm really proud of these beers. I believe it's important to talk to and listen to the original generation brewers. I learned a lot from Iain Hill about sour beers, and I think there is much to learn from those original generation brewers.
KL: Who else in the craft beer industry do you find interesting and why?
AM: I'm really excited to find out more about Hatchery Brewing opening up in Penticton, so I'm going to say Chris Vandenberg. We were involved in a collab called The Streets when Chris was at Powell Street and I was at Main Street. I'm excited to have a friend at a young age opening up his own brewery. It's a great location and I can't wait to see what comes out of there.
Stay tuned for the next instalment of the Hops Among Friends blog series, where I chat with Chris from Hatchery Brewing, which will be opening up this summer on the Penticton Ale Trail. Until then, cheers!