Drop a mention of Tofino, British Columbia into a conversation and chances are most people know it solely as a surfing outpost on the western shores of Vancouver Island: where the beaches are legendary and the rainfall is robust.
However, many living on this rock in the Pacific are keenly aware that Tofino has been developing a creative and mature culinary scene, highlighted by west coast seafood and the use of regional ingredients.
Event & wedding planner Kira Rogers was at the forefront of this scene nearly twenty years ago. Seeking to promote west coast cuisine as well as BC's wine offerings, she and a small team of chefs and volunteers launched the first Tofino Food & Wine Festival in 2003.
"Tofino is more than the beach: there is good quality food, wine, cheese, and the lifestyle," Rogers said. "People might not realize that we have some amazing chefs in Tofino."
In that first year, the festival sold less than 100 tickets, and Rogers admitted that she wasn't sure if she wanted to do it again. But she and her team kept at it—"there's a lot of heart behind it"—and the festival has grown into a noteworthy showcase of BC food and beverages and is one of the biggest tourism drivers on the west coast. The food is hyper-local, the beverages are hyper-provincial, and attendees—many from other provinces and overseas—are just plain hyper to get there. However, once you arrive, Tofino's magic is in getting you to relax without you even noticing.
Speaking of relaxing: the festival's signature event—Grazing in the Gardens—is an all-inclusive food and beverage sampling afternoon that takes place throughout 12 acres of the Tofino Botanical Gardens. It's been described as a garden party meets Alice in Wonderland; exploration of the grounds yields surprises and rewards. Chefs prepare canapés amongst vegetable gardens while seaside sommeliers share Shiraz. DJs and jazz bands serenade oyster shuckers and tuna sliders, honey ales and kelp stouts, chocolate and chickens, pastries and cheese. Bask with glass in hand in the sun beside a duck pond or explore networks of paths running under moss-coiffed coniferous trees: it's up to you.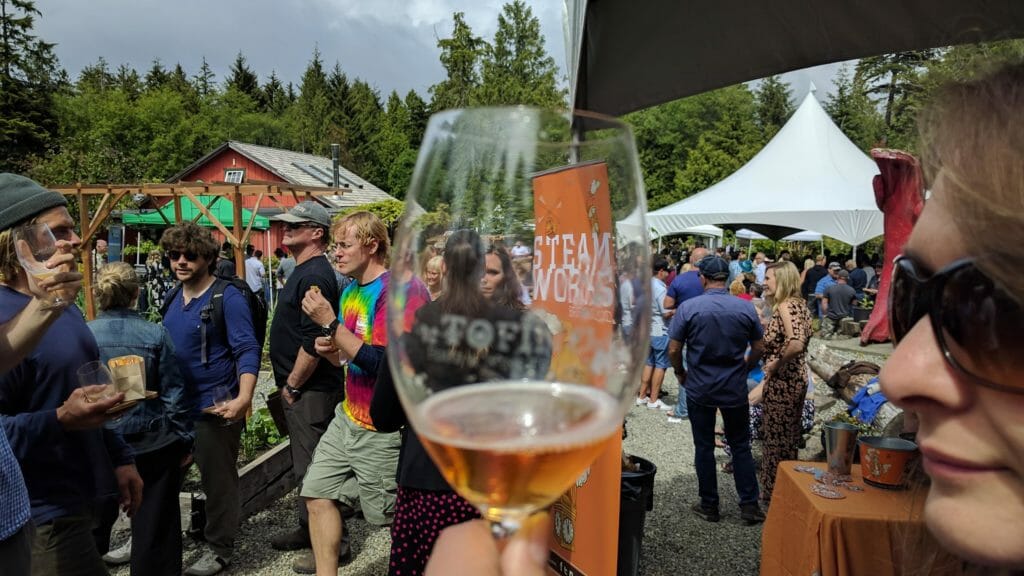 It makes sense that for a town surrounded by so much natural beauty—Clayoquot Sound UNESCO Biosphere Reserve and Pacific Rim National Park are but a spruce cone's throw away—Tofino would be a natural contender for Canada's most picturesque food & wine festival. Rogers is quick to credit location, location, location.
"Everyone says they've been to a bazillion wine festivals and nothing beats this, and it's because of the gardens. I know people who have got married on the beach in the morning and used Grazing for their reception."
She also insists on keeping the food local, local, local.
"We don't bring in any celebrity chefs from out of town; it's chefs from Tofino and Ucluelet along with purveyors, oyster harvesters, bakers, and cheese makers from Vancouver Island."
Seventy-five BC wineries (primarily from the Okanagan Valley and Vancouver Island) took part, but this is the BC Ale Trail Blog, so you are probably wondering when we're going to get to the beer. Nine BC breweries were represented on this year's festival roster, and favourites such as Driftwood Brewery's Cry Me a River Gose, Longwood Brewery's Berried Alive, Tofino Brewing's Blonde Ale, and Steamworks Brewing's Flagship IPA were not only adept at quenching thirsts, but—according to Rogers—they have helped empower couples to attend the event.
"I've heard this a lot: 'Oh, there's going to be beer there? My husband doesn't drink wine, but he drinks beer, so now we can come'," she said. "It takes two to make a booking happen."
The 2018 Tofino Food & Wine Festival took place June 1-3, 2018. Funds raised by Grazing in the Gardens supported the Tofino Botanical Gardens Foundation along with a silent auction benefitting the Wickaninnish Elementary School Garden Project – Stage 7.
Kira Rogers is currently planning a culinary & wine festival for the Comox Valley (Vancouver Island) that is scheduled for Sunday, September 23, 2018. This 'sister' event to Grazing in the Gardens will be in support of the Filberg Heritage Lodge & Park Association and their efforts to fundraise for a new community pavilion. For more information or to sign up for the Tofino Food & Wine Festival newsletter, visit tofinofoodandwinefest.com.