Do you hear that? The sound of werewolves howling, witches cackling, and…kegs being tapped? 
The spookiest time of year brings delicious seasonal brews like inky black stouts (that pair well with rare meat) and spiced blood-red ales (perfect for aiding your Jack-o-lantern carving). Many breweries are also holding safely-distanced Halloween events and offering special deals to ghouls and goblins across the province. Read on to find out how to celebrate Halloween on the BC Ale Trail!
SQUAMISH-WHISTLER
Tonight October 29, head to Garfinkle's for a Halloween Tinny Takeover with Backcountry Brewing. Come dressed as the name of one of Backcountry's beers! May we suggest the Ghostbusters-themed Don't Cross the Streams West Coast IPA or the Simpsons-themed All This Computer Hacking is Making Me Thirsty Oktoberfest Lager?
SUNSHINE COAST
Come to the taproom in a costume on Halloween and get $1 off any 16oz of beer. Also enjoy their Pumpkin Spice Latte Stout on tap, ramen by Oh.Miso, a spooky trivia at 8pm, and a costume contest at 9pm!
VANCOUVER ISLAND
On October 31, head down to VI Brewing's taproom to celebrate the most sinful day of the year with a $5 fright flight from 5pm-8pm. Come dressed in costume and you'll also be treated to a full-sized chocolate bar (while supplies last).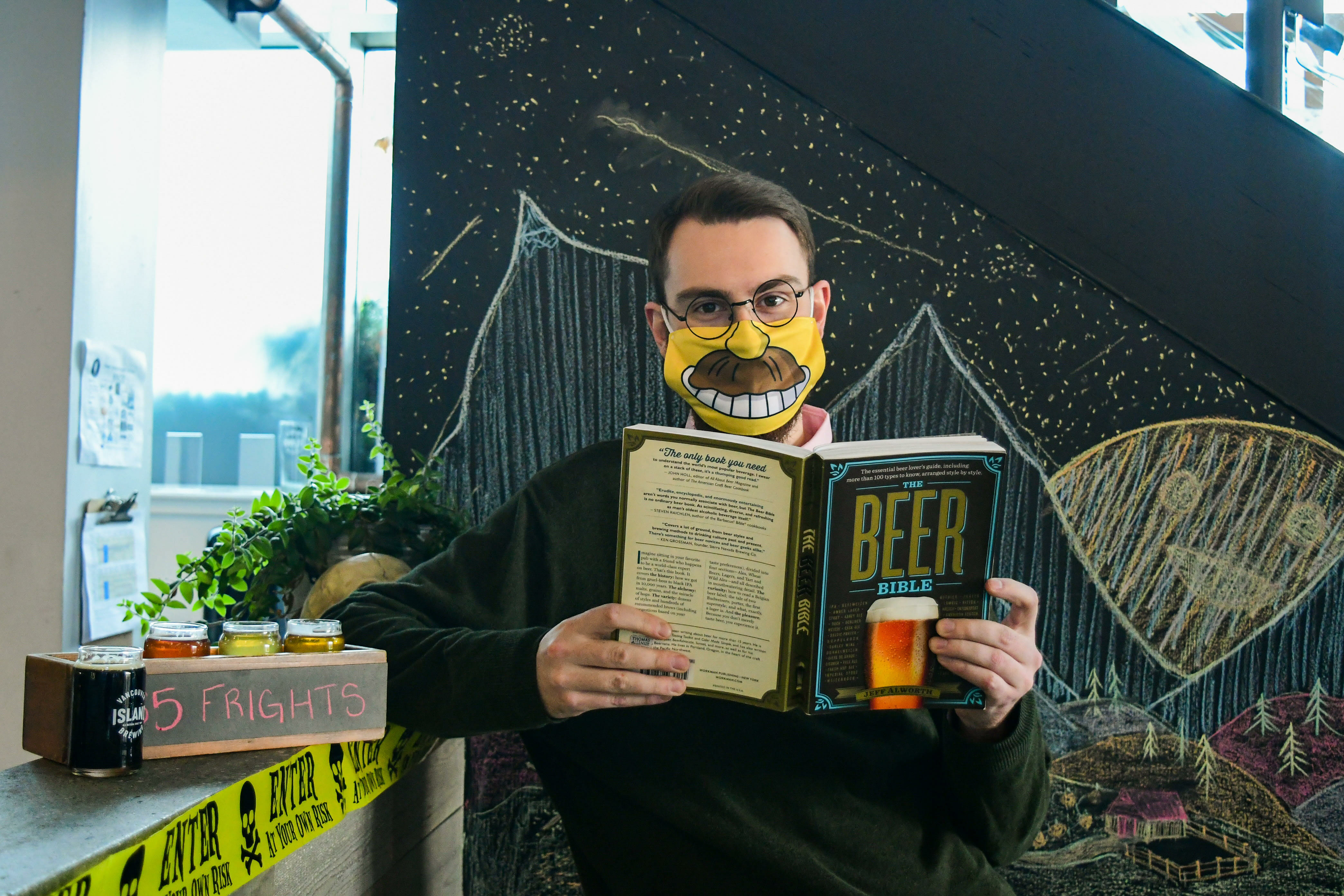 Gladstone is playing Rocky Horror Picture Show all day long so as many people as possible can have a chance to grab a seat. There will be prizes for costumes plus food specials from their new chef, like the Meat Loaf Sandwich, Frankfurter dog, and Fried Sushi Rice.
Beer Release: La Tarte Pumpkin Sour (5.1% ABV)
La Tarte is a fall release sour brown base beer that's been aged on mounds of pumpkins, cinnamon, nutmeg, ginger, and vanilla. Perfect for all your Jack-o-lantern carving shenanigans! It's available at the brewery on tap and in crowlers.  
Beer Release: Dave of the Dead (6.6% ABV) 
Head to LoveShack Libations on Halloween between 1 and 5 pm to grab this spooky special release! Dave of the Dead is a chocolate chilli stout; rich chocolate notes are balanced by a little heat at the back. If anything's going to get you up and out of the grave, this might be it. 
View this post on Instagram
THOMPSON OKANAGAN 
Halloween also happens to be Bright Eye Brewing's anniversary weekend. To celebrate it all, they've got Axe Throwing Thursday and Friday, special menu items all weekend long, and a special Rumkin Imperial Stout cask on Halloween night. 
Beer Release: Rumkin Imperial Stout (10% ABV | IBU 40)
Bright Eye took a very small amount of their upcoming Imperial Milk Stout, Fedor, and conditioned it on classic pumpkin spices like cinnamon, nutmeg, and ginger. With it being their anniversary weekend, they took it up a notch and added some rum-soaked oak staves as well. This is very limited and will only be available on Halloween so enjoy every spooktacular sip while you can.
Beer Release: Hammer of DOOM (5% ABV | IBU 20)
The newly released Hammer of DOOM is a Canadian imperial stout mashed with graham cracker crumbs and layer upon layer of biscuit action. It's conditioned on vanilla beans and liquified cocoa, then doused with a generous hit of maple syrup. Lose yourself in the darkness this season with a glass of DOOM!
Beer Release: Chai Chai My Darling (6% ABV | IBU 10)
They're also offering Chai Chai My Darling, a chocolate oatmeal stout conditioned on three blends of chai and piles of shaved coconut.
KOOTENAYS 
Beer Release: Devilock (5% ABV | IBU 20)
In collaboration with Jackknife brewing, Torchlight Brewing in Nelson is offering Devilock, a crispy Nordic ale with a kick of rye and famously monstrous citrus notes that mash nicely with a spicy malt finish. This brew is available at both breweries' on-site lounges on Halloween for growlers and glasses.  Get a glass before it gets dragged back to hell!

METRO VANCOUVER 
Strange Fellows is hosting a virtual Jack-o-lantern contest on Halloween. Donate to the Vancouver Food Bank at their bar (and grab some beer while you're there) and you'll receive a pumpkin to carve at home. When you share your Jack-o-lantern on social with #strangefellowsbrewing, you'll be entered to win a $25 gift card.
They've also got a couple of seasonal brews on tap to get you in the spooky mood:
Beer feature: Nocturnum (6.5% ABV)
This Dark IPA is a rich chocolate brown with a citrusy, malty aroma.  It pairs perfectly with red meat, sweet desserts, and little old ladies.
Beer feature: Boris (10.3% ABV)
This black Russian Imperial Stout penetrates the inky depths of your soul with a rich, roasty character and elements of oak, bourbon, and dried fruits.  
Beer feature: Devil's Toasted Nuts double Nut Brown Ale (6.66% ABV)
Channel your most devilish self. When the pilot batch for this nut brown ale was first created 10 years ago, a mistake resulted in a 6.66% ABV, thereby making it a double. After being aged on toasted oak, the beer named itself. The Devil's Toasted Nuts has been stealing souls ever since with its malty, nutty taste and long, smooth finish.
Wear a costume to their lounge on October 31 and get $1 off pints of the Halloween brew, Beetlejuice Sour, or their Nitro Little Punkin' Ale. Turn on the juice and see what shakes loose.
Beer Feature: Beetlejuice Sour (5.5% ABV | IBU 18)
This vibrant sour has been pumped up by the addition of beetroot, boysenberry, and blueberry, creating a puckerlingly sour, delicious juicy beer.
Wear a costume and enjoy $5 beers at any of Trading Posts' three locations. At the Tasting Room in Langley, there will be a costume contest, a Pumpkin Beer Cocktail, and a silent movie playing upstairs on the mezzanine! There will also be live music at each location.
Beer feature: Ruper Pupkin Pumpkin Spice Ale (5.30% ABV | IBU 25)
Maple Meadow's Special Edition Ruper Pupkin Pumpkin Spice Ale is back this year! The name was created by customers as an inside joke, but it's delicious for everyone.
Beer Release: Redrum Spiced Red Ale (5.0% ABV | IBU 18)
This brand new Redrum Spiced Red Ale is a small batch Tasting Room exclusive launching on tap and in tall cans on October 31st. It's a  smooth red ale with a crisp hint of spice, light caramel malts, and a rum barrel infused finish with rich flavours of toasted oak. Brewed with orange peel, cardamom, allspice, black pepper, cinnamon, and toasted white oak.
Enjoy the tricks, treats, and lots of good things to drink and eat this Halloween at a brewery near you and take full advantage of this year's harvest. Cheers to all the ghosts, ghouls, monsters, and witches out there!