The COVID-19 pandemic has radically changed the way we all live and work, but British Columbia's breweries are continuing to release new and exciting beers for the spring season. While it isn't appropriate to travel in order to visit these breweries and taste their products right now, hopefully you can find some of these new releases in liquor stores in your own communities — or maybe you live close enough to order directly from the breweries since most are now delivering directly to local customers.

When you see the Time to Buy BC logo, you know that you are supporting local businesses in your own communities, keeping the dollars you spend in the BC economy, and helping us all recover more quickly from the economic downturn caused by the COVID-19 pandemic.
Here are 30+ New Beer Releases for Spring from the BC Ale Trail
From Fernie to Quesnel to Victoria and everywhere in between, BC breweries are releasing new beers for spring!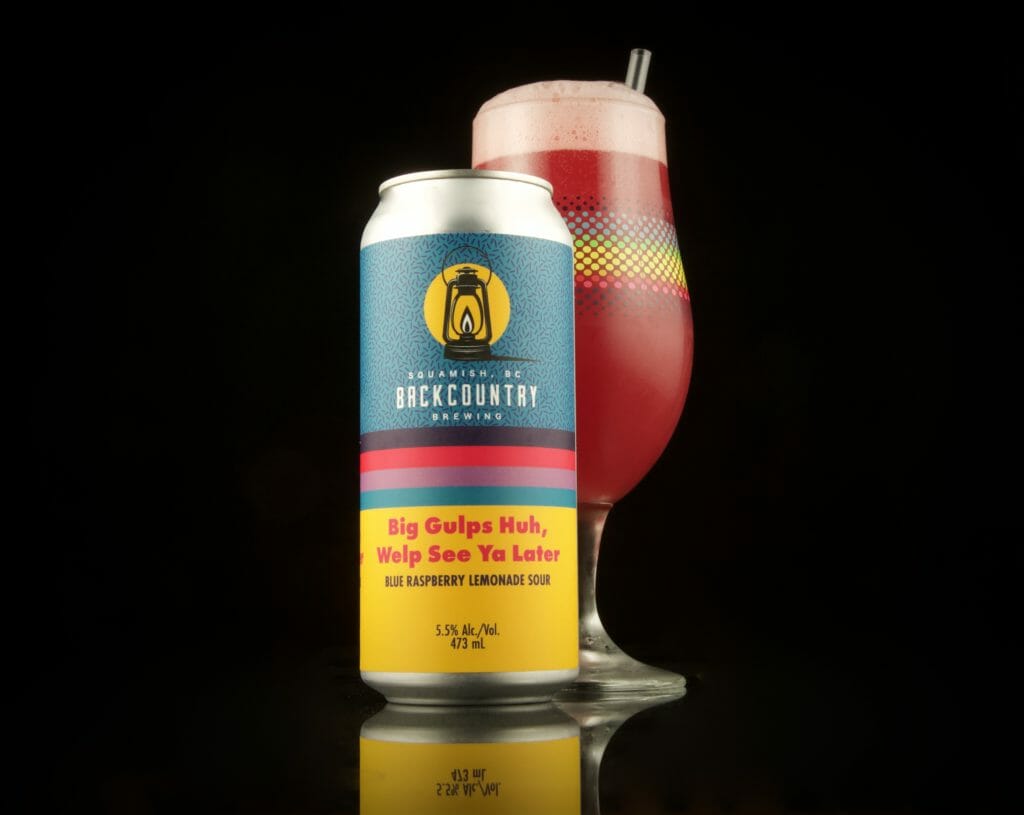 Big Gulps Huh, Welp See You Later Blue Raspberry Lemonade Sour by Backcountry Brewing (5.5% ABV)
Heaps of raspberry with subtle blueberry and lemon notes will take you back to those first sips of freedom during that inaugural unsupervised trip to the mini-mart. ⁠
Backcountry Brewing can be found on the Squamish Ale Trail.
---
Sluice Juice Hazy Pale Ale by Barkerville Brewing (5% ABV | 8 IBU)
From Quesnel comes this tasty fruit bomb featuring a bounty of apricot, peach and tangerine aromas. Check out the 100% compostable can rings too!
Barkerville Brewing can be found on the Northern BC Ale Trail.
---
Three new releases from Bridge Brewing (North Vancouver):
Figgin' Pearfect (6.8% ABV) An IPA brewed with copious amounts of fresh figs and pears to create a rich fruity IPA.
PrimeTime IPA (5% ABV| 110 cal | 1.5g of carbs) A low-calorie, low-carb IPA with big fruit aromas and flavours.
Side Cut North East IPA (7.3% ABV) Big notes of peach, tangerine and tropical fruit, with a fluffy and full mouthfeel.
Bridge Brewing can be found on the Vancouver's North Shore Ale Trail.
---
Okanagan Daze Apricot & Pinot Gris Wheat Ale by Cannery Brewing (5% ABV | 25 IBU)
A refreshing Canadian Wheat Ale with notes of citrus and stone fruit. Apricots and Pinot Gris grape juice was added during fermentation to give this classic spring/summer beer an Okanagan twist.
Cannery Brewing can be found on the Penticton Ale Trail.
---
Finish Line Hazy Pale Ale with Lime by Fernie Brewing (5% ABV | 8 IBU)
This new beer from Fernie is light-bodied and refreshing, packed full of Citra and Vic Secret hops, with the delicious addition of lime.
Fernie Brewing can be found on the Kootenay Rockies East Ale Trail.
---
Pils Pack by Four Winds Brewing (Delta)
Four Winds teamed up with four other BC craft breweries to create this special mixed pack that is absolutely perfect for spring:
Four Winds Brewing can be found on the New West, Delta, Surrey & Richmond Ale Trail.
---
Full Moon & Sunday Drives from Highway 97 Brewing (Penticton)
Two new spring beers:
Full Moon Spiced Earl Grey Dark Ale (4.5% ABV | 25 IBU) A dark ale brewed with spices and conditioned on Earl Grey tea and vanilla beans.
Sunday Drives Session Pale Ale (4.8% ABV | 25 IBU) A full-bodied pale ale brewed with Sabro and Ekuanot hops to create tangerine flavours, notes of coconut, and subtle stone fruit aromas.
Highway 97 Brewing can be found on the Penticton Ale Trail.
---
Three Farms Hazy IPA by Longwood Brewery (6.8% ABV | 32 IBU)
Brewed with Vancouver Island-grown hops from Cedar Valley Hop Yard, Casawood Farms, and Maple Bay Hop Farm, and then triple dry hopped with imported Amarillo, Citra, and Mosaic hops.
Longwood Brewery can be found on the Vancouver Island Ale Trail (Part 1).
---
Two Spring Releases from Maple Meadows Brewing (Maple Ridge):
Maple Meadows has released its first two bottles — and both are helping support causes:
West Coast Ale (5.7% ABV | 30 IBU) 50¢ from the sale of each bottle goes towards supporting front line healthcare workers through the Ridge Meadows Hospital Foundation's COVID-19 Response Fund.
Amber Ale (5.3% ABV | 25 IBU) 50¢ from the sale of each bottle goes towards supporting Friends in Need Food Bank Society's COVID-19 efforts.
Maple Meadows Brewing can be found on the Maple Ridge Ale Trail.
---
Hideaway Double IPA by Marten Brewing (7.8% ABV | 73 IBU)
This big hop bomb was double dry hopped with local BC cascade hops from Eagle Valley Hops Estate and BC Sasquatch from Hops Connect  in Pemberton. Also look for another new spring release from Marten Brewing: Cheer Through Beer Cherry Sour (4.7% ABV | 10 IBU).
Marten Brewing can be found on the Kamloops, Shuswap & Vernon Ale Trail.
---
Two Spring Releases from Nelson Brewing:
Valhalla Hazy Pale Ale (5.2% ABV) Late additions of Citra, Mosaic and Simcoe hops provide lots of tropical, citrus, and stone fruit flavour and aroma.
Night Lights Tropical IPA (6.5% ABV) Brewed with a plethora of mouth-watering, fruit-forward hops and Sacch Trois yeast, this juicy IPA packs a powerful tropical punch.
Nelson Brewing can be found on the Kootenay Rockies West Ale Trail.
---
Three Spring Releases from Parkside Brewery (Port Moody)
All three of these new spring beers are raising money to support good causes in the community. Part proceeds from sales of Pick Me Up and Take Me Home will be going towards the efforts of Say Mercy and Fable Kitchen's Staff Meal program, which is providing lost cost, high quality meals for the industry during this unprecedented time.
Pick Me Up India Session Ale (4.6% ABV | 40 IBU) A lovely and easy drinking Session Ale that is the colour of the sun.
Take Me Home West Coast IPA (7.4% ABV | 60 IBU) A hop-forward West Coast IPA brewed with Chinook, Centennial, Cascade, and Simcoe hops.
Lemon Juniper Sour (5.6% ABV | 8 IBU) This is a Brewers Row Collaboration with Twin Sails Brewing, Yellow Dog Brewing, Moody Ales and The Bakery Brewing with part proceeds directed towards the Canucks Autism Network.
Parkside Brewery can be found on the Port Moody Ale Trail.
---
Three Spring Releases from Persephone Brewing in Gibsons:
Chocolate Hazelnut Oatmeal Stout (6.5% ABV)
Smooth, rich and decadent, this oatmeal stout uses roasted malts to balance flavours of chocolate and hazelnut, and is nitrogenated for a creamy mouthfeel. Pour hard for optimum enjoyment.
Isolation Nation Tart Pale Ale (5% ABV)
Part proceeds go to The Sunshine Coast Community Services to help those most in need during these times, with donations matched by The Sunshine Coast Credit Union. Hops were donated by Yakima Chief Hops and malt was donated by Gambrinus Malting. Design work was donated by 123 West.
Pacific Wild Dry Hopped Lager (5.6% ABV)
A collaboration with Pacific Wild in support of Pacific Herring, this is the first in an upcoming series of Save the Wildlife collaborations.
Persephone Brewing can be found on the Sunshine Coast Ale Trail.
---
Three Beers from Phillips Brewing:
Dinosour Blackberry Sour Ale (4.2% ABV) This classic from the Jurassic is tart and refreshing with aromas of watermelon, blackberries and sour apple.
Solaris White Peach Ale (4.3% ABV) Brewed with wheat and unfiltered, this is bright and crisp with big juicy fruit notes.
Raspberry Wheat Ale (5% ABV) Deep ruby red in colour topped by a frothy bubble-gum pink head, this sweet citrus raspberry ale has a light champagne mouthfeel and a clean dry finish.
Phillips Brewing can be found on the Victoria Ale Trail.
---
Two new spring/summer beers from Red Truck Beer (Vancouver):
Seas the Day Pineapple Hefeweizen (4.75% ABV) A classic German-style Hefeweizen brewed with added pineapple.
Truk Truk Low-Calorie Summer Ale (4% ABV | 3g carbs | 92 calories) A light craft ale which packs a burst of mango and passionfruit.
Red Truck Beer can be found on the Vancouver Ale Trail.
---
New Boots, Who Dis? Session IPA from Slackwater Brewing (4.2% ABV | 53 IBU)
Every year on International Women's Day, the Pink Boots Society encourages members to brew collaboration beers using an official hop blend designed in partnership with Yakima Chief Hops and selected by the members of the Pink Boots Society.  This year's first South Okanagan collaboration beer had women attend from suppliers, including Gambrinus Malting and Ripley Stainless, along with owners, tap room managers, office administrators and Jills of all trades from Cannery Brewing, Highway 97, Lakesider Brewing, Slackwater Brewing, and Tin Whistle Brewing. Mile 37 Mobile canning donated their time and cans. 
Slackwater Brewing can be found on the Penticton Ale Trail.
The Pink Boots Society is an educational non-profit organization with chapters around the world. Support is offered to women in the beer industry in the form of scholarships, a variety of other educational opportunities, and a supportive community to grow within.
---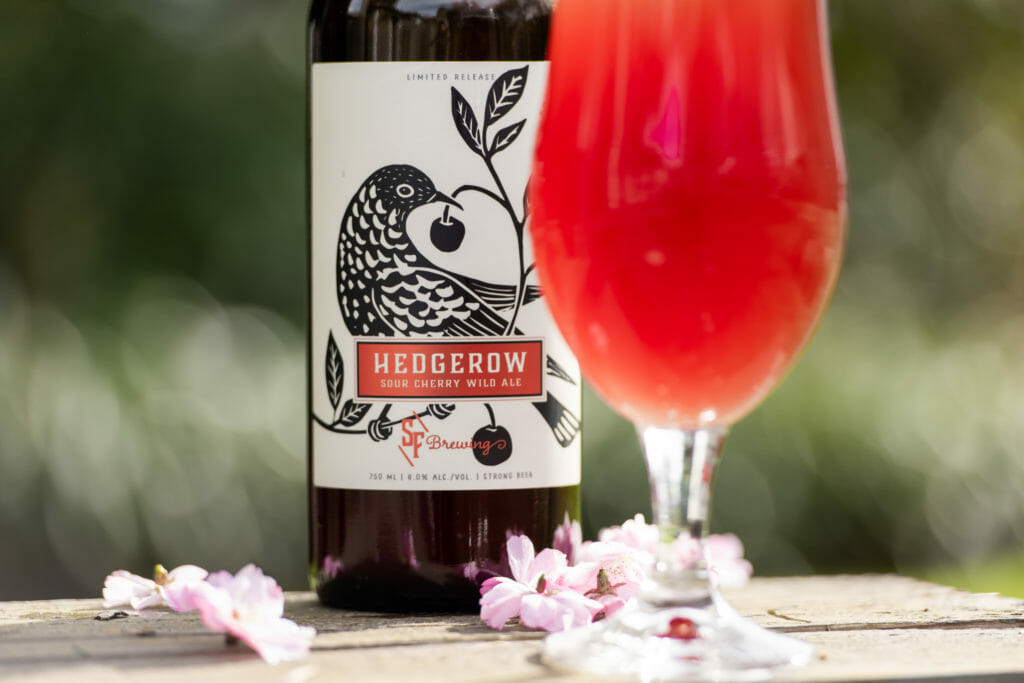 Hedgerow Sour Cherry Wild Ale by Strange Fellows Brewing (8% ABV)
Hedgerow was brewed with Balaton Cherries and spent over a year in a 6000L French oak foudre. The result is a rich, soft and sour beer with strong and concentrated cherry character. Flavours reminiscent of marzipan and cinnamon mingle with rich fruit and soft earth.
Strange Fellows Brewing can be found on the Vancouver Ale Trail.
---
Hibiscus Wit by Sundown Brewing (4.8% ABV | 16 IBU)
A traditional Belgian witbier with coriander seeds and orange peels plus the addition of hibiscus flowers to add some complexity, colour and floral notes.
Sundown Brewing incubated at Callister Brewing for a year and is now contract brewing at Container Brewing in Vancouver.
---
Two New Beers from Vancouver Island Brewing (Victoria)
Piña Colada Blonde (5.5%

ABV | 19 IBU)

This easy-drinking Blonde Ale is amped up with the flavours of coconut, pineapple, and cane sugar. 

 

Victoria Pilsner (

5.5% ABV | 22 IBU) Essentially the Victoria Lager rebranded, this is a c

lean and crisp golden Pilsner.
Vancouver Island Brewing can be found on the Victoria Ale Trail.
---
Sunday Market Strawberry Cardamom Gose by Wildeye Brewing (4.5% ABV | 3 IBU)
This gorgeous beer is big on strawberries with a bit of added spice. Tart and slightly salty, this is a refreshing sipper, perfect for spring!
Wildeye Brewing can be found on the Vancouver's North Shore Ale Trail.
---
Sour Howler by Wolf Brewing (3.6% ABV)
This light wheat ale is fermented with raspberries, finishing with a delicate tart sourness.
Wolf Brewing can be found on the Vancouver Island Ale Trail (Part 1).
---
In addition to all of these fabulous spring beers, keep your eye out for these other upcoming releases:
Jet Fuel West Coast IPA & Passionfruit Guava Fruit Bomb Sour from Ace Brewing (Courtenay)
Hipster Haze Hazy IPA, Typically Obviously Kettle Soured Black Raspberry Dry-Hopped Ale, Hop Goat Double IPA, Chef's Hef HefeWeizen & Lemongrass Ginger Saison from R&B Brewing (Vancouver)
Czech Pils, Island Bock & Pharoah's Reserve Ancient Lager from Swans Brewery (Victoria)
Strawberry Daiquiri Sour (5.3% ABV) from Twa Dogs Beer (Victoria)
---
Remember to stay home and stay healthy!
For more information about COVID-19, please consult government resources here.