Writer Lucas Aykroyd delves into the amazing First Nations cuisine served across Metro Vancouver and the Indigenous art found along the BC Ale Trail.
Life is about choices. Currently, I'm munching on duck prosciutto and musing about what to choose next from the Indigenous game sampler platter in front of me. Elk juniper salami, homemade pickles, cedar jelly, and smoked cheddar are among the mouthwatering options. Dinner has been good to me so far.
"Try the pemmican mousse," suggests Salmon n' Bannock proprietor Inez Cook, a member of Bella Coola's Nuxalk Nation, as she pours me a glass of Red Truck Beer Company's Amber Ale. "It's fantastic."
Served with bannock crackers, the frothy dish features smoked bison meat ground into powder and blended with cream cheese and blueberries. I wish I'd ordered a second helping. Additionally, I'm loving the sockeye ceviche and sweetgrass-infused cherries.
Founded in 2010, Salmon n' Bannock welcomes patrons in my hometown of Vancouver, specializing in wild fish and organic game. This cozy Indigenous-owned and operated restaurant on West Broadway offers one of many good reasons to explore the traditional unceded territories of the Sḵwx̱wú7mesh (Squamish), Stó:lō and Səl̓ílwətaʔ/Selilwitulh (Tsleil-Waututh), and xʷməθkʷəy̓əm (Musqueam) nations.
At a challenging time in Canada's journey toward reconciliation, supporting local First Nations businesses is important and rewarding. While sampling craft beer safely and responsibly on the BC Ale Trail, you can also admire traditional and modern takes on West Coast native art.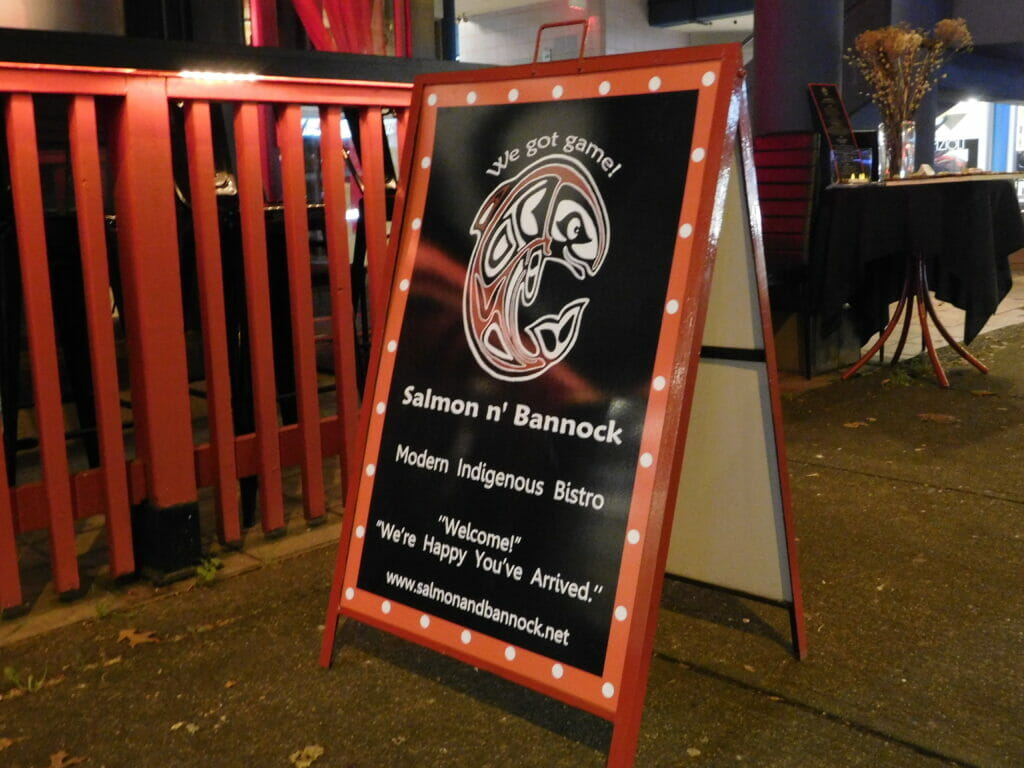 Before digging into my main course, a hearty bison pot roast served with seasonal vegetables and horseradish, I check out the pieces on display in this intimately lit, lively room with black-and-red decor. BC artists like Darcy Joseph and Jon Erickson represent native culture with pride and diversity. Cedar carvings and paintings with titles such as Red Salmon and Spirit Wolf are available for purchase.
As I enjoy my dinner with a glass of Howe Sound Brewing's Rail Ale Nut Brown, I'm already making plans to discover more native cuisine and art in Metro Vancouver.
---
When I head to Vancouver's North Shore for an afternoon of bannock, biking, and breweries, I'm in luck at the downtown Waterfront Station. Boarding the Burrard Chinook, TransLink's newest SeaBus ferry (launched with a traditional First Nations ceremony on July 22), I take in its incredible external artwork depicting the life cycle of a salmon.
Inside the $32-million vessel, the artistic visions of collaborators Kelly Cannell, Siobhan Joseph, and Angela George are detailed on a panel, which I check out during the smooth 12-minute crossing over Burrard Inlet to Lonsdale Quay.
After renting a bike at the nearby Reckless Shipyards store, I pedal toward the Mosquito Creek Marina waterfront on the 6.5-kilometre Spirit Trail. This winding, paved path celebrates Indigenous culture.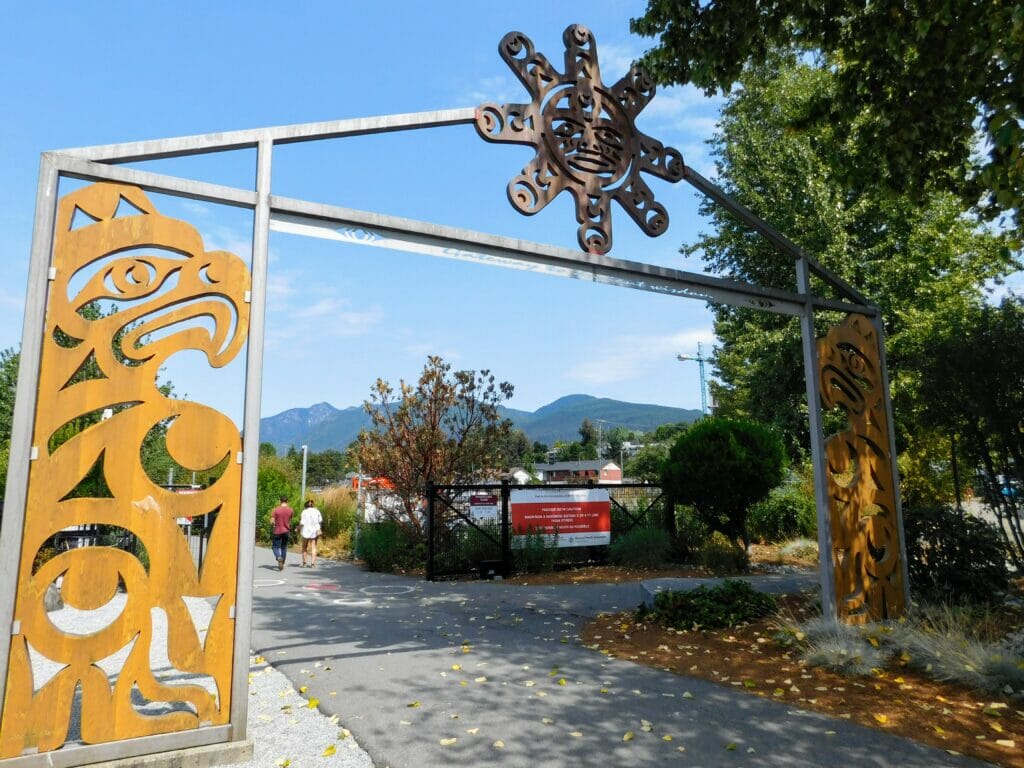 Although I'm eagerly anticipating my lunch at the Mr. Bannock food truck, I keep pulling over to take photos. For instance, Wade Baker's The Gateway to Ancient Wisdom (2008) offers an impossible-to-miss entrance to the marina, constructed with stainless steel and red cedar.
I find Mr. Bannock on a quiet side street. The food truck is nestled in a driveway, and I line up with Australian visitors to order my traditional bannock (or fry bread) and a hearty beef burger. On this sunny afternoon, it's a satisfying way to fuel up for my local BC Ale Trail tour.
Black Kettle Brewing is just a five-minute bike ride away. I grab a seat on the parking lot patio and sip a pint of Blackberry Porter. The 8,000-square-foot brewery, founded eight years ago by Bryan Lockhart, features other innovative creations by brewmaster Sara Pokenhorn, who holds a degree in chemistry.
Stand-out Black Kettle beers include Fanny Bay Oyster Stout and Don't Feed the Bears White IPA. You can also take away beer to drink between 11 am and dusk at nearby Kings Mill Walk Park, thanks to North Van's recently liberalized by-laws.
Cycling back along the Spirit Trail, I pause to check out Xwalacktun's Thunderbird (2018). The five-ton basalt stone sculpture powerfully incorporates petroglyphs that evoke both this land's ancient history and modern life.
I pull up outside the Lonsdale Quay Market. It's home to more than 60 locally owned and operated businesses. Green Leaf Brewing is easy to find, right at the entrance. For future bannock-eating reference, I note the sign: "We allow outside food and drink to be brought in and enjoyed alongside our drinks."
I order a flight of four beer samplers, highlighted by the incredibly refreshing and tart Raspberry Sour. Gazing toward the white sails roof of Canada Place on the downtown Vancouver waterfront, I reflect on how our understanding of Indigenous culture and history has evolved since those white sails first went up for EXPO 86, the 1986 World's Fair.
My last Spirit Trail stop before returning my bike is Beere Brewing, just minutes away on Esplanade. At this 2017-founded, family-owned brewery, the inventive, fun beer list ranges from Coming Soon! — a delectable sour with pineapple, yuzu, and sake — to Mental Floss, an accessible, double dry-hopped IPA. I pick up a four-pack of tall cans to go.
---
Right next to downtown Vancouver, more First Nations culture awaits in Stanley Park. The forested 1,000-acre urban park was once the site of a native village called X̱wáýx̱way, located near Lumberman's Arch. You can book a Talking Trees Tour with Talaysay Tours, which sheds light on edible plants in Stanley Park, from licorice fern to salmon berries.
Today, the most-visited attraction in all of BC is the extraordinary collection of nine totem poles at Brockton Point. In 2008, artist Susan Point, who was born in Alert Bay and hails from the Musqueam Nation, added three red cedar portals. They represent male and female welcome figures, the bond between grandparents and grandchildren, and a Salish dancer and a killer whale respectively.
After visiting Brockton Point, it's an easy stroll to the Stanley Park Pavilion, where you can sip Yellow Dog Brewing's Chase My Tail Pale Ale or Neighbourhood Brewing's Way of Life Hazy IPA on the patio.
---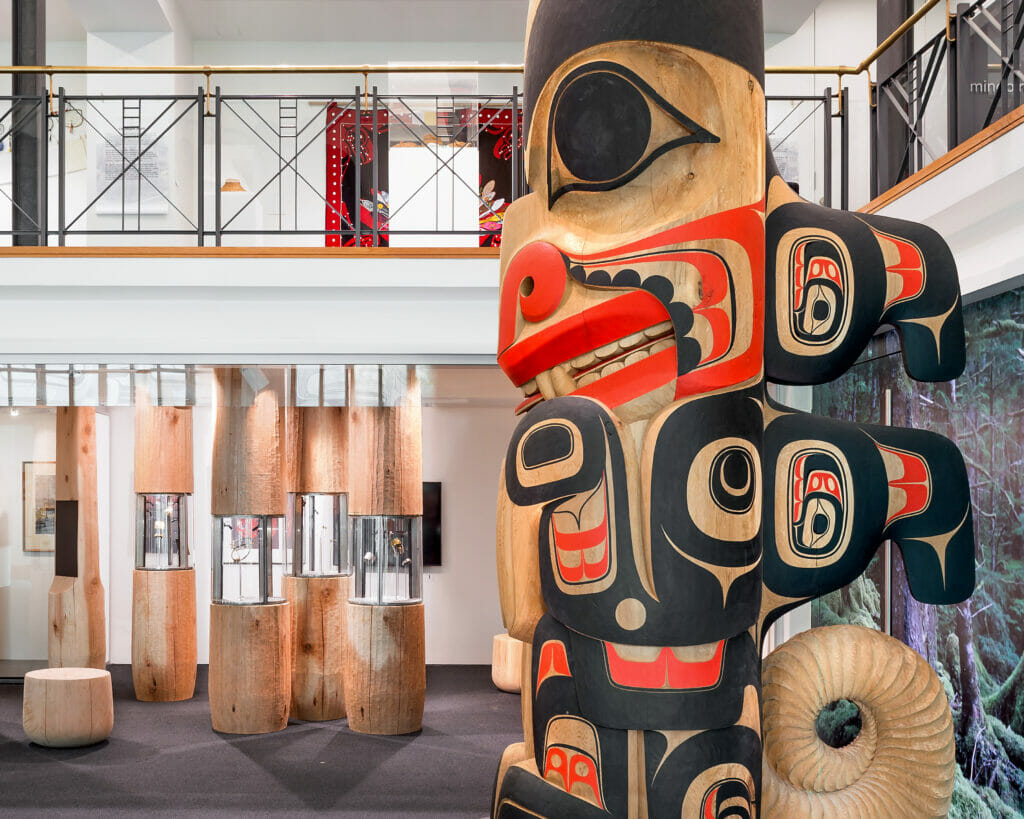 There's much more to explore. The Bill Reid Gallery in downtown Vancouver is dedicated to contemporary Indigenous Northwest Coast Art, celebrating the Haida master artist Bill Reid (1920 – 1998) and the diverse living cultures of the Northwest Coast.
Takaya Tours offers guided, interpretive paddles in replica ocean-going canoes, similar to those used historically by the Tsleil-Waututh Nation. Guests gently paddle in the protected waters of the Burrard Inlet and beautiful Indian Arm while guides from the Coast Salish Nation sing songs, tell legends, and point out ancient village sites.
I'm looking forward to viewing Blanketing the City IV: Cathedral Square, a public mural installation that dynamically evokes Coast Salish weaving traditions from three local First Nations. It attracts supporters of the annual Vancouver Mural Festival, and is less than a 10-minute walk from Steamworks, which has offered great craft beer in Gastown since 1995.
I've also set my sights on visiting some First Nations-affiliated breweries further afield in Metro Vancouver. For instance, in Abbotsford, the 2014-founded, family-owned Ravens Brewing makes award-winning beers like Corvus Lingonberry Lime Gose. Co-owner Jocelyn Sweeting's biological mother is Ojibwe.
Ravens Brewing states: "We would like to acknowledge the traditional ancestral shared territory of the Sumas First Nation and Matsqui First Nation. These two First Nations are part of the Stό:lō Nation. The Stό:lō people have lived in the Fraser Valley for 10,000 years. It is for this reason that we acknowledge the traditional territory in which we reside."
In 2020, New Westminster's Another Beer Co. produced its limited-edition Askî Oci Saison. Incorporating local BC spruce tips, this beer creatively celebrated the heritage of Cree brewery co-owner Nadine (Hansen) Jopson, Métis artist Kayla MacInnis, and Métis herbal therapist Vanessa Prescott.
Canadians still have a long way to go on the path toward reconciliation. Still, the choices we make with food and drink can bring us all closer together, and that's never a bad thing.
For more information, visit Indigenous Tourism BC.