Wolf
Brewing

EST. 2010 | Nanaimo
Swing by the brewery in the south end of Nanaimo to visit Wolf's "beer room."
Originally founded as Fat Cat Brewing in 2000, this brewery located on the south side of Nanaimo changed ownership in 2010 and changed its name to Wolf in the process. The new owners also expanded and revitalized the brewery with a snazzy new on-site tasting room. It is the perfect spot to fill a "howler" (couldn't resist…) or pick up a bottle or two featuring label artwork by a local artist.
Recommended Beers
Fancy a flight? Here are some sampler suggestions for Wolf Brewing
View All Beers
Pint Glass
Golden Honey Ale
Pint Glass Dark
Porter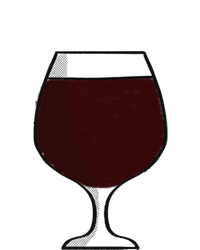 Snifter Dark
Black & Tan
Fun Fact:
Wolf brews a beer called Dead Whale Ale. The unusual name is a reference to Luna, an orca that was born in Puget Sound in 1999. Luna was separated from its mother while still young and became habituated to human boaters, often interfering with them in the waters off Vancouver Island. Eventually, conservation officials decided it would be best to capture it and place it in captivity for its own protection, but a nearby First Nations group intervened, saying Luna was the incarnation of one of its past Chiefs. Luna died in an accident with a tugboat in 2006.
Wolf Brewing is hoping the beer will remind people of the importance of preserving our coastal lands, waters and wildlife. Partial proceeds from sales of the beer support education and conservation programs at the Raincoast Conservation Foundation.
"We saw a perfect storm gathering, and they sat around and did nothing, and now we've got a dead whale! It's incredibly tragic and frustrating." – Michael Harris, the Orca Conservancy (2006).