brewery
Strathcona Beer Co.
EST. 2016 | Vancouver
Contact & Directions
A world-class brewery and pizza kitchen in the heart of Vancouver's oldest neighbourhood.
This popular brewery is named for the Strathcona neighbourhood, Vancouver's oldest residential area, which is home to families, artists and a variety of light industry and local businesses. When the brewery opened in 2016, its lineup featured mainly traditional European beer styles, but over the next few years the focus shifted towards sours, fruit-forward beers, and IPAs, while keeping its Czech-style Pilsner. Today it is best known for its Beach series of fruity radlers as well as its Love Buzz series of fruity Berliner Weiss-style sours.
The brewery occupies a large building with a sizable tasting room that has a modern industrial design, featuring lots of open concrete, white fir bar and table tops, and neon highlighting—a nod to Hastings Street's history of 1950s-era neon signs. It has cozy booths and two long communal tables. An outdoor patio space is also open during the pandemic (weather permitting). Strathcona Beer Co. is also well known for its excellent pizzas, prepared to order on-site. Between the beer and pizza, you certainly can't go wrong.
Fun Fact
Strathcona Beer Co. acted as the brewing home for Superflux Beer for two years while they were developing their own brewery nearby. That relationship served both companies well. Superflux's expertise with cutting-edge IPAs rubbed off on Strathcona while Strathcona's sour specialty was a positive influence on Superflux. With Superflux's own operation now open less than 10 minutes walking away, fans of both breweries can easily visit both.
Recommended Beers
Fancy a flight? Here are some sampler suggestions for Strathcona Beer Co.
View All Beers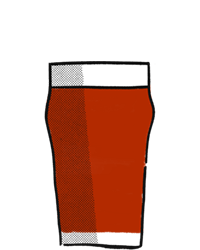 Pint Glass Red
Beach Radlers
Tulip
Love Buzz Sour Series
Pint Glass
Big Sexy Funk IPA