brewery
Small Block Brewing Co
EST. 2018 | Duncan
Contact & Directions
Duncan's newest brewery celebrates classic car culture alongside "precision made" craft beer.
There are lots of things in common between brewing beer and working on classic cars. Each requires hands-on experience, some technical know-how and a willingness to get dirty and sweaty. And when the job is done, you get to enjoy the results: a well-tuned motor that purrs or roars as desired and a delicious beer that slakes your thirst.
Small Block was founded by Cate Scally, who discovered homebrewing when husband Aaron broke his arm a few years back and needed something to keep himself occupied. As Cate and Aaron's beer got better and better, they started talking about opening their own brewery, which is where we are today. Cate is now the Head Brewer backed by an assistant brewer and fantastic servers in the taproom.
What's the car connection? Aaron is a helicopter mechanic with a fascination for 1950s/60s hot rods. You'll see that reflected in the decor of the welcoming tasting room, as well as in many of the names of the beer they serve.
Next time you get your motor runnin' and head out on the highway, be sure to stop at Small Block.
Listen to the Cascadian Beer Podcast episode featuring Small Block Brewing.
Recommended Beers
Fancy a flight? Here are some sampler suggestions for Small Block Brewing Co
View All Beers
Tulip
TNT IPA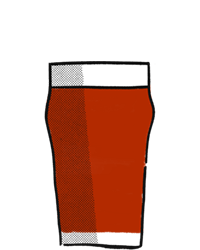 Pint Glass Red
Nail Head Canadian Pale Ale
Pint Glass Dark
Miss Lead Oatmeal Stout