Forbidden
Brewing Co.

EST. 2015 | Courtenay
This nano-brewery's welcoming tasting room serves up a selection of styles with a focus on organic beers.
Named for the Forbidden Plateau region of central Vancouver Island, this tiny brewery is based in Courtenay's Westerley Hotel. The founders work day jobs: The brewer is a Grade One teacher who takes a day off each week to brew the beer. They can't brew enough beer to justify packaging it for sale outside of the tasting room, so the focus is ultra-local. Some nights the tasting room features live music, and if you're lucky you might bump into world-famous violinist Sarah Neufeld, who is a co-owner. She grew up nearby and likes to visit when she is in town.
Recommended Beers
Fancy a flight? Here are some sampler suggestions for Forbidden Brewing Co.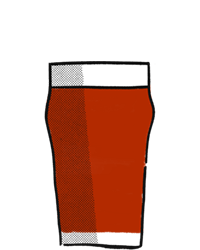 Pint Glass Red
Organic Pale Ale
Pint Glass
Blonde Ale
Stange
IPA
Fun Fact:
So what's a nano-brewery anyway? Basically, it's a really small brewery. Governments began using the term "microbrewery" in the 1980s as a label for taxation purposes (microbreweries are tiny compared to the big international breweries) and then someone started using "nano-" in place of "micro-" for places like Forbidden, which make microbreweries look giant in comparison. But being small doesn't equate to less work. In Forbidden's case, the brewing equipment consists of six 50-litre brew kettles being used to fill a 1,000-litre fermentation tank; in other words, they have to run three batches through those brew kettles to fill the tank. Talk about a labour of love!