brewery
Dog Mountain Brewing
EST. 2019 | Port Alberni
Contact & Directions
Port Alberni's second brewery has a rooftop patio with stellar views and is ready to welcome you all year round.
Founders Andy and Robin decided to move to Vancouver Island from Edmonton with the goal of opening their own brewery. Robin obtained a Biological Science degree at the University of Alberta where she managed a yeast biotechnology lab. When they moved to BC she augmented that foundation by taking Simon Fraser University's Craft Beer and Brewing Essentials course and then got her feet wet at Russell Brewing before they moved to Port Alberni to build the brewery. Since launching Dog Mountain, Andy and Robin brew as a team — his thirst for new styles is what keeps their beer menu changing regularly.
While the brewery does have a tasting room inside, the highlight here has to be its rooftop patio, which is covered and heated and will eventually be able to hold over 100 people. It offers sunset views of the Alberni Valley and the Alberni Inlet, and definitely will become one of your favourite spots to drink a beer on Vancouver Island.
You can also listen to this Cascadian Beer Podcast episode featuring Dog Mountain Brewing.
Recommended Beers
Fancy a flight? Here are some sampler suggestions for Dog Mountain Brewing
View All Beers
Pint Glass Dark
Stouty McStoutface
Weizen
Lit Wit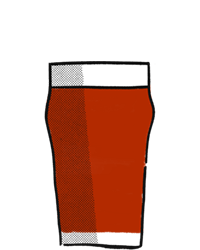 Pint Glass Red
Red Yeti