Boardwalk
Brewing

EST. 2021 | Port Coquitlam
Slow down to enjoy the beauty of coastal life — paired with the perfect craft beer.
The newest addition to the burgeoning Fremont Village brewery scene (Ferment Village, anyone??), Boardwalk's name is inspired by a nearby riverside boardwalk at Citadel Landing that is part of the popular Traboulay PoCo Trail. The brewery's mission is to produce quality-driven beers and experiences that embrace the trailblazing spirit of the Port Coquitlam community.
The brewery is owned by a group of PoCo locals and shares a connection with Electric Bicycle Brewing in Vancouver. Brewer Drew Sinden leads the brewing team for both breweries and designs all the recipes here.
The space is airy, bright and comfortable, with a two-level, open-concept tasting room that looks out into the brewery. To go along with the delicious range of beers on tap, Boardwalk has a full-service kitchen with table service — the menu is Southern California-inspired with offerings including tacos, nachos, ceviche, and other small plates and bowls.
Recommended Beers
Fancy a flight? Here are some sampler suggestions for Boardwalk Brewing
View All Beers
Pint Glass
Falling Backwards West Coast Pale Ale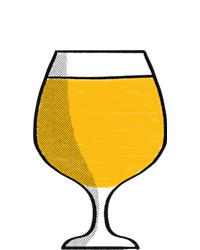 Snifter
Affirmation Dry Hopped Sour
Tulip
Last Night's Eyes IPA
Fun Fact:
While Boardwalk was under construction it received some unexpected media attention when two brewing tanks were stolen from its exterior loading dock where they were being stored until they could be installed inside. Both tanks were eventually found by the RCMP — one was damaged beyond repair, but the other was inspected and cleaned up and now sits in the brewery where it is used for sour beers.