brewery
BNA Brewing Co. & Eatery
EST. 2015 | Kelowna
Contact & Directions
More than just a pretty space, BNA serves delicious beer and gourmet food, and is a big part of the local community.
This is a fine example of how a dream can become reality. When BNA's founders first saw the interior of this building as they scouted locations for their dream brewery, they knew they could turn it into something special. And they were right. Located in the heart of Kelowna's cultural district, it is a beautiful space enlivened by old wood and bricks, giant pillars, and an eclectic assortment of old and new furniture. Lounge on a couch, join a group of new friends at a long table, or tuck into a booth with a special someone. There's a shuffleboard table, an indoor bocce court, and even a bowling alley upstairs. The tasting room features Skee Ball, arcade videogames, and a dart board to keep you occupied while you're sipping the delicious beers on offer.
BNA works with local companies, and its chef sources ingredients locally to feature in his gourmet creations. Award-winning Chef Justin Best's creations can be enjoyed in both the Tasting Room and the Eatery. Both menus feature an eclectic mix of classic pub favourites and internationally-inspired dishes, each with his signature flavourful style.

The beer lineup, which is an exciting mix of solid standards and innovative experiments, has become so popular that BNA had to add fermentation tanks in a building a couple doors down — with the beer getting piped over the roof of the business in between.
Fun Fact
BNA is named after the building it occupies. The British North American Tobacco Company built it to dry tobacco leaves and roll cigars in the early 1900s. Later, when fruit became the main agricultural crop in the area, it became a fruit cannery, but since the 1960s, the space was largely unused — until BNA's founders saw it and began dreaming about what they could do with it.
Recommended Beers
Fancy a flight? Here are some sampler suggestions for BNA Brewing Co. & Eatery
View All Beers
Tulip
Brilliant Idiot NE IPA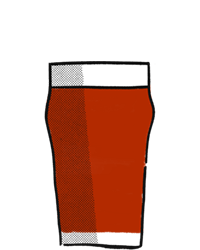 Pint Glass Red
Purple Rain Sour
Tulip
Big Mario NW IPA