October is not just the month of pumpkin-spiced everything and Thanksgiving: Since 2011 it has been proclaimed BC Craft Beer Month. Beer lovers province-wide enjoy a month brimming over with beer events, perfectly timed to keep their minds off the return of darker, wetter days.
Pull out your favourite sweater, dust off your stylish boots, don your toque and buffalo plaid jacket, and get out there to enjoy the best BC has to offer!
One of the best parts of BC Craft Beer Month is that it falls squarely in fresh-hop season. Fresh hops, those fragile flowers bursting with oils that impart flavour and aroma to beer, are harvested in August and September. But the beers made from them are available in, you guessed it, October! Some of the most sought-after beers are those created from the harvest to kettle race brewers engage in each autumn. The unique flavours of fresh-hopped beers are eagerly anticipated by beer lovers, and made more special by their limited availability and need to be drunk right away.
BC Hop Fest, the unofficial annual kick-off to BC Craft Beer Month, featured fresh hop beers and a cheers to the month ahead. Fresh-hop beers were also the focus at Victoria Beer Week's Fresh to Death in Victoria. It was a celebration of the fleeting nature of wet-hopped beers, held in a brilliant bit of juxtaposition, in a beautiful heritage building.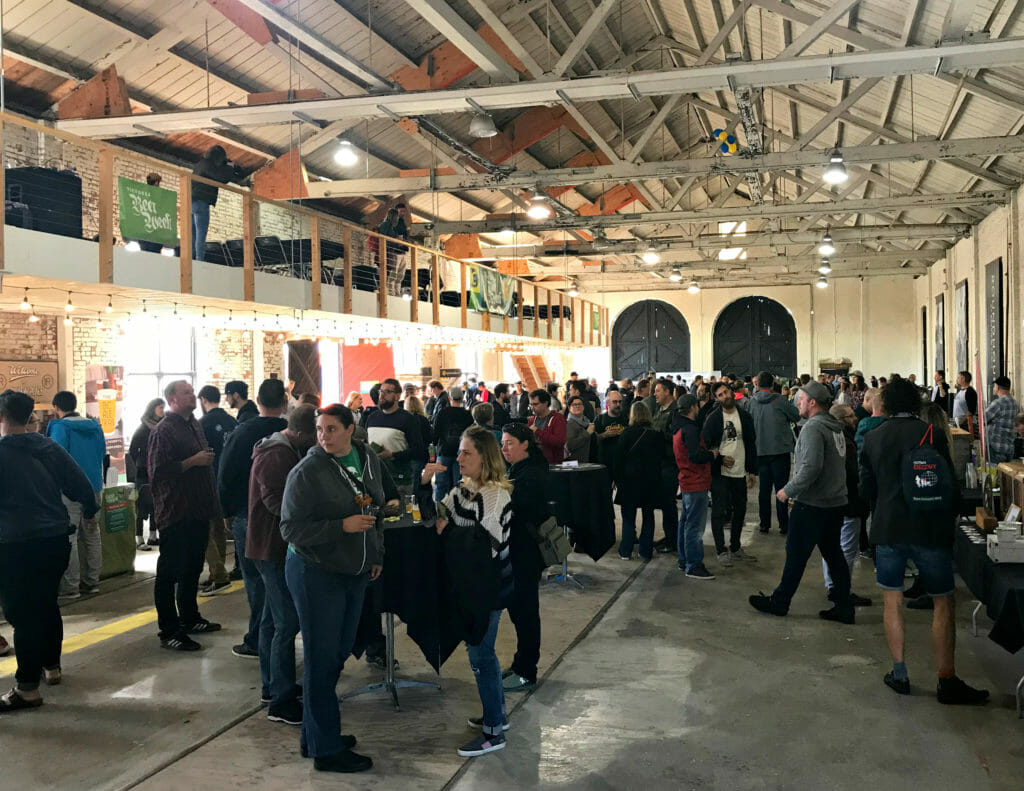 If you missed those events, never fear!  You've got three more weeks of beer events still to come, several of which offer the opportunity to get your fresh on!  There are cask nights, tasting festivals, educational classes and seminars; Oktoberfests and tap takeovers and awards, oh my! Here are a few highlights.
Trenchtoberfest
Celebrate the first annual Trenchtoberfest and enjoy German beer & food. Featuring live polka music, Steingames, and the Hop n Hog food truck on site. Tickets available now in the tasting room. You'll find Trench Brewing & Distilling in Prince George and on our newly launched Northern BC Ale Trail.
October 13, 2018, from 5:00 p.m. to midnight. More information.
Moody Ales 4 Year Anniversary
Founded by homebrewers Adam Crandall and Dan Helmer, Moody Ales prides itself on its large, welcoming tasting room and award-winning beers. In the spirit of its homebrewing roots, the brewery features weekly experimental casks and small batches, and their flagship beers are some of the best in British Columbia. As the westernmost brewery on the beer relay known as Brewers Row, Moody Ales represents either the starting block or the finish line on the Port Moody Ale Trail.
October 13, 2018, from 12:00 p.m. More on the day's festivities.

Fresh Hop Harvest
Explore fresh hopped beers with The Thirsty Writer, Joe Wiebe at Fresh Hop Harvest. Eight fresh hopped beers will be sampled, for participants to compare and contrast. Learning while you drink beer: that's the best kind of continuing education I can think of!
October 18, 2018, 6:30 – 8:00 p.m., Vessel Liquor at 1609 Fort Street, Victoria. Tickets.
BC Craft Brewers Conference
Not just for brewers and brewery owners, the BC Craft Brewers Conference hosted by the BC Craft Brewers Guild has something for all beer lovers.  Go for the continental breakfast and lunch, stay for the networking, educational seminars and breakout sessions. Bart Watson, Chief Economist for the Brewers Association is one of the Keynote Presenters.
And then there's the BEERED SCIENCE after party.  Get in touch with your inner child as you explore Science World, while enjoying adult beverages. Conference tickets include entry to the after party or you can purchase them separately.
There are still tickets left at the writing of this post, but they're going fast so don't hesitate!
October 19, 2018, Conference 8:00 a.m. – 6:00 p.m., Croatian Cultural Centre at 3250 Commercial Drive, Vancouver. Tickets. BEERED SCIENCE – 7:00 p.m. – Midnight, Science World at 1455 Quebec Street, Vancouver. Tickets.
Vancouver's North Shore Craft Beer Week Launch Party
Kicking off  Vancouver's North Shore Craft Beer Week, the Launch Party at the Pipe Shop boasts live music, food trucks, and five North Shore breweries, as well as three "coming soon" North Vancouver breweries pouring your favourite beers including the new VNSCBW collab brew! VBSCBW runs from October 19 to 26th with several events daily. Let Vancouver's North Shore Ale Trail help you plan.
October 19, 2018, 5:30 p.m. to 10:00 p.m. Tickets.
BC Beer Awards & Festival
The month culminates in the BC Beer Awards on October 20th.  Half awards show and half beer tasting festival this is a don't-miss event. Now in their 9th year, the number of beers submitted for judging was the highest yet – 1,085 entries from 113 BC breweries.  There are awards in 30+ beer categories, as judged by accredited judges from Cascadia and across Canada, and trophies for the Creative Industry as well.  In keeping with growing this event every year, I understand there will be a prestigious new award unveiled this year.
Tickets were sold out long ago, but they will be live-streaming the awards this year so everyone can find out who wins the coveted Best Beer in BC (Best in Show) award.  Past winners include Brassneck One Trick Pony, Steamworks' Flagship IPA and Swans/White Sails' Oktoberfest Flammenbeer.  Check back here for a list of all the winners.
Don't forget to try the official 2018 Collaboration Brew, named Group Project.  The first ever BC Beer Awards collaboration brew paired last year's 2017 Brewery of the Year, Mount Arrowsmith, and Rookie of the Year, Backcountry Brewing, with collaboration-focussed Brewhall to create a fresh-hopped Kolsch. Proceeds from the fresh-hopped Kölsch will be allocated to a newly established grant benefitting students enrolled in SFU Continuing Studies Craft Beer and Brewing Essentials Program. Get it at the festival, Mount Arrowsmith, Backcountry, BREWHALL and select establishments around Vancouver.
October 20, 2018, 4:00 – 9:00 p.m., BC Beer Awards. Croatian Cultural Centre at 3250 Commercial Drive, Vancouver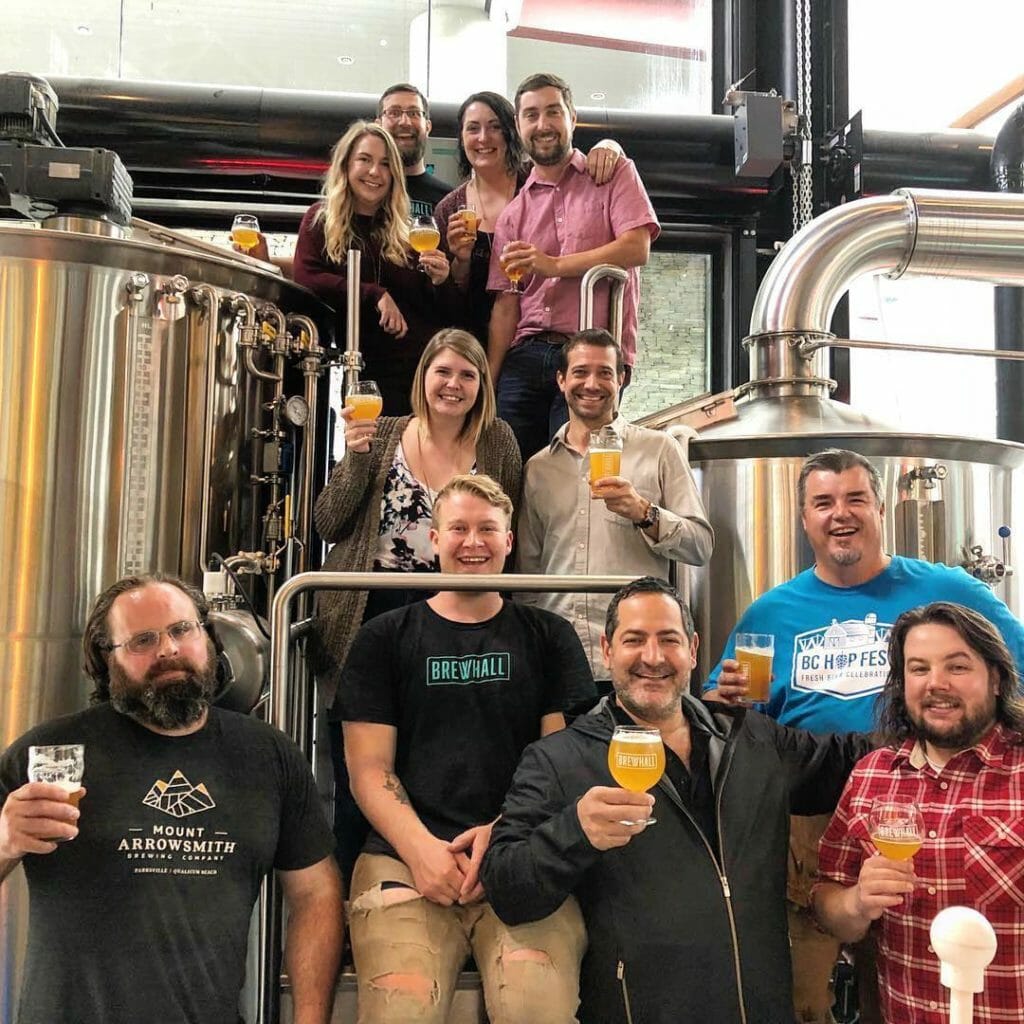 For a full list of BC Beer Month events, check out the website at bccraftbeermonth.com