"The BC Craft Brewers Guild and the BC Ale Trail are ecstatic with the unprecedented success of eight of our member breweries who won medals at the World Beer Cup®. With our breweries taking home three gold medals, four silvers and two bronze, these results reinforce a fact that local beer enthusiasts and beer tourists to this province already know: British Columbia is a world-class beer destination." Ken Beattie, BC Craft Brewers Guild Executive Director
Last night, the Brewers Association (BA)—the not-for-profit trade association dedicated to small and independent American craft brewers—announced the results of the 2018 World Beer Cup awards. The awards were presented at the conclusion of the Craft Brewers Conference & BrewExpo America® at Music City Center in Nashville, Tennessee. 
The biennial World Beer Cup® awards was the largest to date. 8234 beers were entered from 2515 breweries in 66 countries. 101 beer style categories were judged by 295 judges, from 33 countries, over three days. Canada won 14 medals, finishing 2nd of the 66 countries entered and BC breweries won a whopping 9 of the 14 medals awarded! Below we list BC's winning breweries along with a spotlight on and quote from Riot Brewing, Ravens Brewing and Powell Brewery. 
BC's Winning Breweries:
Riot Brewing Co: GOLD – Working Class Hero Dark Mild (English-Style Mild Ale), and BRONZE – Breakfast of Champions Coffee Lager (English-Style Mild Ale)
Ravens Brewing Co: GOLD – Corvus Lingonberry Lime Gose (Leipzig-Style Gose or Contemporary Gose)
Powell Brewery: GOLD – Old Jalopy Pale Ale (Extra Special Bitter)
Coal Harbour Brewing Co: SILVER – Smoke & Mirrors Imperial Smoked Ale (Smoke Beer)
Steamworks Brewing Co: SILVER – Scarlet (Wood and Barrel-Aged Strong Beer)
Four Winds Brewing Co: SILVER – Juxtapose (American-Belgo-Style Ale)
33 Acres Brewing Co: SILVER – 33 Acres of Euphoria (Belgian-Style Tripel)
Whistler Brewing Co: BRONZE – Black Tusk Ale (English-Style Mild Ale)
Riot Brewing Co, located in Chemainus and on the Cowichan, Nanaimo and Parksville Qualicum Beach Ale Trail is the only brewery on Vancouver Island to take home World Beer Cup medals, let alone two, and within the first two years of being open! Founders Aly and Ralph were active members of the Vancouver beer scene throughout the 2000s–she as a brewer and he as her best bud and wingman. They decided to make the jump over to Vancouver Island and open their own brewery, but it took quite a bit longer than either imagined, seven years in fact. Never mind, better late than never and finding the humour in their plight, they affectionately named one of their beers the "Sorry We Took So Long Saison". Unfortunately the team from Riot was unable to attend the awards themselves so they live-streamed the presentation at the brewery. Have a listen to their reaction to winning Gold! 
"We're absolutely stoked – speaking politely – to win gold for our Working Class Hero Dark Mild, and a Bronze for our Breakfast of Champions Coffee Lager, the result of some serious hard work from our incredible team," says Aly Tomlin, owner of Riot Brewing Co. "BC's beer scene is growing and we're proud to be part of the success of our industry, especially on an international scale."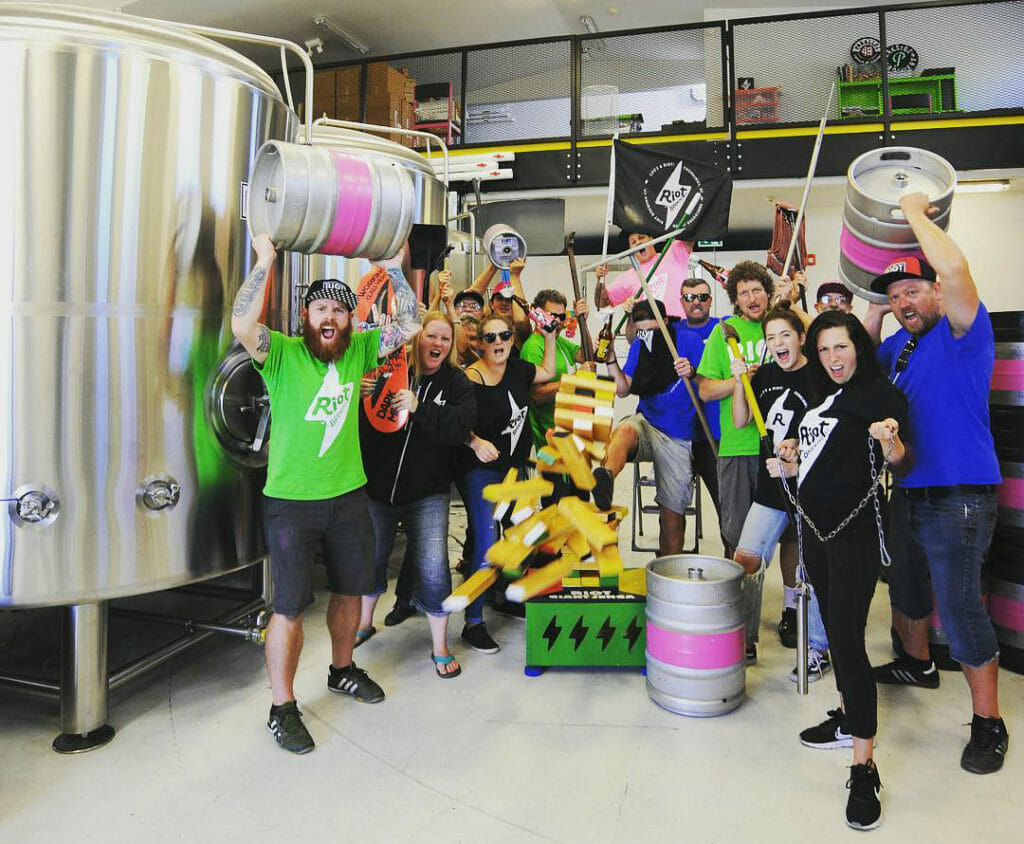 Ravens Brewing Co, founded in 2015, is located in Abbotsford on the Fraser Valley Ale Trail. It produces a mix of European and West Coast beers that often hold a strong connection to the community's agricultural roots by including local ingredients such as raspberries, rhubarb and evidently, lingonberries. Corvus Lingonberry Lime Gose is a sour, salty, wheat beer made with tart, red lingonberries along with lime and lastly, Pink Himalayan Salt to give it "a bright sparkle that makes the whole beer shine."
"The Corvus was first launched last summer and immediately became a favourite in the tasting room and throughout BC, "said Paul Sweeting, owner of Ravens Brewing. "Corvus won third place in the BC Beer Awards in 2017, earning gold in the World Beer Cup is an amazing recognition of the exceptional quality of beers made by our Head Brewer Dan Marriette and our hard-working staff."
Powell Street Craft Brewery, opened in 2012 as one of BC's first nano-breweries, and within just six months, their Old Jalopy Pale Ale won Beer of the Year at the Canadian Brewing Awards. In 2016 it won again, this time Bronze at World Beer Cup. Fast forward to 2018, Powell Brewery (as rebranded in 2016) is quite at home in its substantially larger brewery just down the road from its original location, with ample room for a burgeoning barrel-aging program and a walk-in cooler the size of the original brewery. Yesterday's win must feel like the icing on the cake for David and his team! 
"We are so excited to see the sheer number of awards being won by all the BC breweries," says David Bowkett, owner of Powell Brewery. "When we saw our name come up for the gold medal win, we all let out a large cheer and continued to celebrate through the night. We're all still in shock but so very happy! We never expected anything like this."
"The quality and creativity of the BC craft beer industry is evident on a global stage," says Joe Wiebe, partner with the BC Ale Trail. "In fact, British Columbia won more than most countries that entered, which is a testament to the growth, quality, and size of our industry."
Indeed, well done all! Enjoy your celebrations which are sure to last all weekend. Cheers!