Yes, 2020 has been a horrible year in a lot of ways, but we have also demonstrated amazing resilience, generosity and kindness throughout. 
I've been thinking long and hard about how to approach this end-of-year blog without simply using the clichés about 2020. It's too easy to label December 31 as the end of the worst year most of us have endured. After all, it's not like the sun will rise tomorrow morning on a world without COVID-19, Donald Trump, racism, poverty, and too many other injustices to list here. 
Don't get me wrong. I'm certainly not going to celebrate 2020. I will be just as happy as you to see this year come to an end. This graphic from Slackwater Brewing sums up my sentiments quite well…
Needless to say, the past year was tumultuous for BC's craft breweries. Back on January 3 — before any of us know what was about to happen — I wrote a blog called "Looking Back at the Biggest Decade in Craft Beer History," which finished with this hopeful toast: 
Here's to the 2010s — the most exciting decade in craft beer history since the microbrewing movement kicked off in the 1980s. And looking ahead to the future, there's no reason to think that the 2020s won't be just as interesting. Cheers!
Well, I got that last bit right. No question: the first year of the 2020s has certainly been interesting. Can you imagine being a business owner about to launch your brand new brewery in early March? Kudos to Kelowna's Jackknife Brewing for doing just that.
View this post on Instagram
Jackknife wasn't the only brewery to open during the pandemic. Back at the start of the year, I published a list of more than 20 breweries expected to open in 2020. It was mostly correct: 16 of the breweries I mentioned did in fact open this year with a handful still in the works, but there were several others that had slipped under my radar at that point. Indeed, 20 new breweries opened in 2020. Two more breweries came very close to opening as well: Studio Brewing (Burnaby) and Morrow Beer Co. in Salmon Arm will both likely open early in 2021.
2020 in Numbers
Simply looking at the statistics implies that the pandemic did little to affect the expansion of the craft beer industry here in BC. After all, since 2013, the average rate of growth has been about 22 or 23 new breweries per year. Arguably, since breweries typically take 18 months or longer to open their doors, many of these new breweries may have been too far along in their development to pause for the pandemic. Once a new brewery takes occupancy of its space, rent or mortgage payments have to be made every month, and equipment manufacturers need to be paid. If construction was already significantly underway when COVID-19 arrived, it's probably best to just keep building. The only way to offset those outgoing expenses is to get the business open so that beer can be brewed and — most importantly — sold.
That said, there were a few prospective breweries that did choose to hit the pause button. Merridale Ciderworks had started digging at the site of its new brewery and distillery on Harbour Road in Victoria, but, when COVID-19 hit, they chose to wait on continuing construction. Two breweries were supposed to open in Grand Forks, but neither has. A few others expected to open in 2020 are now scheduled for 2021, including Devil's Bath Brewing, Hornby Island Brewing, Lakesider Brewing, and Rusted Rake Brewing, among others. I'm not saying they were all postponed because of COVID-19, but it likely played a part in their delays.
Perhaps the biggest surprise is that very few breweries actually went out of business because of COVID-19. There were a few ownership changes resulting in renamed operations: Axe & Barrel became V2V Black Hops Brewing, Boundary Brewing became Welton Brewery, and Postmark became Settlement Brewing. Of those, V2V Black Hops opened before the pandemic; Welton opened in the early days of COVID-19, but Boundary had been struggling financially for a long time already; and Postmark's ownership was complicated since the brand had been purchased by Craft Collective (a Vancouver contract brewing operation originally called Factory Brewing that failed and was rebranded as TBA Beverages, which is now known as MOD Beverage). While V2V Black Hops says it is struggling to stay open, the only brewery I know of that has actually closed because of the pandemic is Flashback Brewing in Chilliwack. Its owner told me in October that he hopes to get the business open again soon.
Of course, we all probably know of local restaurants that have closed because of the pandemic. Sadly, a couple of iconic, one-time brewpubs have recently closed: Central City closed the Red Racer Taphouse (previously Dix Brewpub) in downtown Vancouver and the Central City Taphouse (previously the Central City Brewpub which kicked off the Red Racer brand when it opened in 2003). Both of those brewpubs were important gathering places for the craft beer community in their heydays.  
Another aspect of the craft beer industry that has definitely suffered is beer events. Indeed, looking back at our early 2020 stories, January and February featured blogs about several different events, including Dine Around Victoria, the Weathered Beer Celebration, Hopwired, and Victoria Beer Week, which I have been involved in producing since it launched in 2014. VBW2020 opened on March 6 just as word of COVID-19's progress began appearing in the mainstream media. Needless to say, we didn't manage to complete the full slate of events, and no other beer events have taken place in BC since then. I won't spend any more space on that subject here, but if you want to dive deeper you can check out this article I wrote for The Growler.
The spring was all about uncertainty. We spent several weeks in a near-total lockdown. Breweries were allowed to produce beer, but they couldn't open their tasting rooms, and neither could bars and restaurants, so the only way breweries could sell their beer was to liquor stores or through direct delivery to customers. For some breweries that relied solely on a tasting room model, this was a huge challenge, but most were able to adapt quickly, either by installing new packaging equipment or by working with one of several mobile canning companies that support the industry here.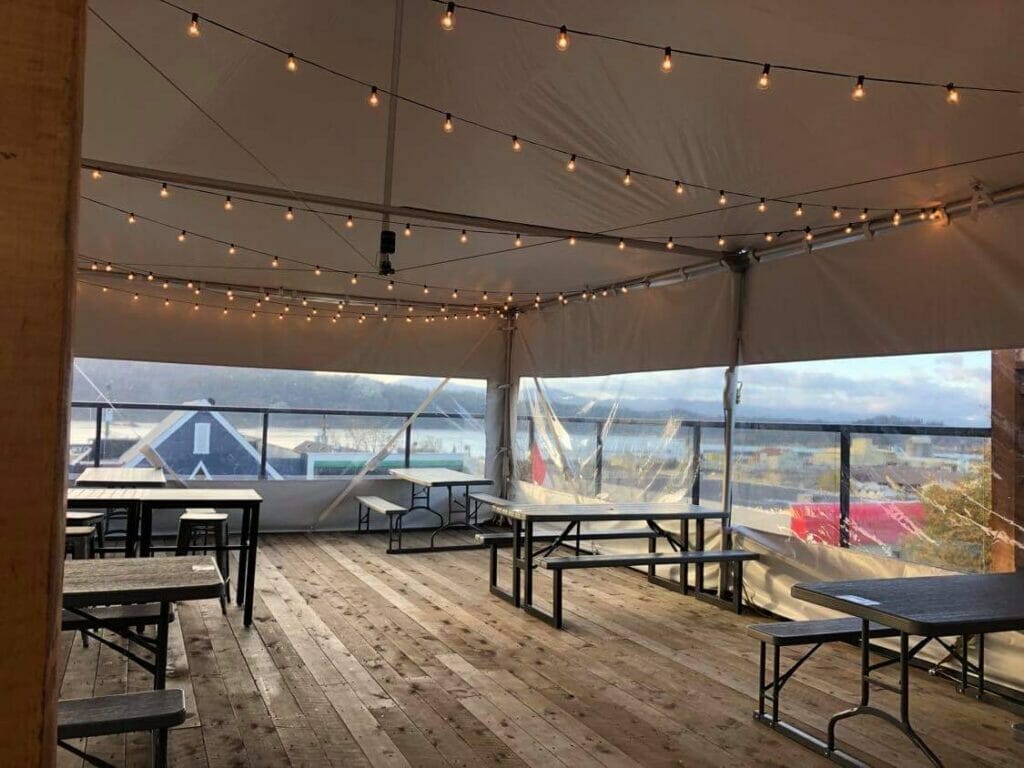 When the lockdown ended, breweries were able to re-open tasting rooms with limited capacity and spacing requirements. To augment this, the province allowed breweries to expand outdoor service areas and, earlier this fall, that temporary allowance was extended to October 31, 2021, giving them more certainty about how they can operate as we slowly make our way out of the pandemic. 
Throughout the summer and into the fall, BC's craft breweries worked hard to keep their businesses afloat while ensuring they could provide a safe workplace for employees and a safe experience for customers who choose to visit them in person. This was perfectly exemplified by Port Alberni's Twin City Brewing, which was awarded our third annual Best Brewery Experience Award in November. This winter's increase in COVID-19 infection rates and the resulting travel restrictions have definitely challenged breweries that are seeing fewer customers in their taprooms once again, but by now most breweries have packaging and delivery in place so they have other ways to sell their beer.
If there is a silver lining to running a brewery during a pandemic, I think it has to do with the way breweries have adapted and become more versatile. This idea was summed up well by Tony Dewald, brewmaster at Trading Post Brewing in Langley, who I interviewed for an article in The Growler a few months ago:
"We all hope that when there is a renormalization that all of our businesses are in much better shape because we've had to examine every small part of it and make all the cost savings we can and look for every sales opportunity. And we think that will help us in the long term."
Looking ahead, we all know that there is a long stretch of road left to cover before we will see COVID-19 in the rearview mirror. We have to be careful over the next several weeks and months as we make our way out of the winter lockdown. Vaccinations are starting to happen, and spring will bring with it more opportunities to spend time outside. Slowly but surely, life will return to normalcy but, until then, we need to be careful, avoid unnecessary travel, and do our best to support local businesses. 
From all of us at the BC Ale Trail, Happy New Year to you and your loved ones.